We are accustomed to the fact that if you can see the label on the device JBL, then it is something expensive and not less quality. But recently, the American manufacturer has decided to broaden its audience and began to slowly produce affordable portable speakers. Last year, it went on sale JBL Clip, and this is their continuation – Clip +. But today we will focus on the most affordable wireless speakers from JBL. Ladies and gentlemen, I ask to love and favor – GO, the expressive Speakers JBL GO.
Contents of delivery: expressive speakers JBL GO
Supplied expressive speakers JBL GO in the translucent package, which can be detected inside the documentation and charging cable.
Design: expressive speakers JBL GO
The column is small and neat, is made in a rectangular form factor. The main materials of the shell is a soft-touch plastic, but do not be afraid of fingerprints, they are practically invisible. Front grill metal, it can see the emblem of JBL.
In appearance GO resembles a miniature guitar cabinet at the bottom of the foot even placed. Left handed eyelet lace, carabiner can attach and hang the speaker to anything.
Ergonomics: expressive speakers JBL GO
Model compact (68.3 × 82.7 × 30.8 mm) and weighs only 130 grams, it will be appropriate in locations where there is access to large columns.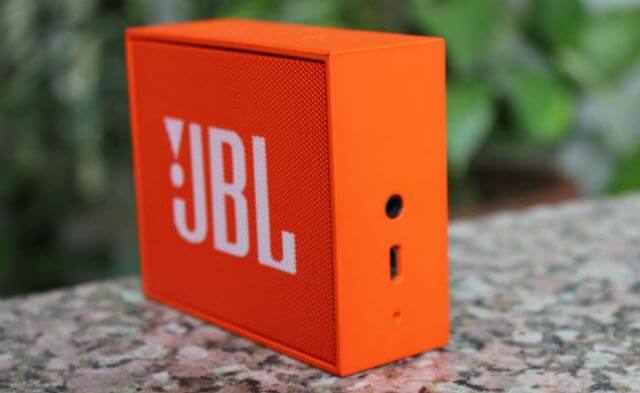 With such weight and dimensional parameters and form a column, you can fasten your smartphone and watch videos from YouTube, which is very convenient.
The speaker closed damage it hard so that the mini-speakers can safely toss in a bag and not worry about the safety. The case is not waterproof, it is necessary to consider when listening to music on the beach.
Connection management: expressive speakers JBL GO
The primary interface for the connection is Bluetooth 4.1, at the same time may involve only one device. Also, one can see the connector's mini-jack 3.5 mm for wired audio sources and for Micro USB charging.
Responsible for managing the keys handed down from above: volume control, pairing, answer a call, on / off switch.
Sounding: expressive speakers JBL GO
The sound quality and volume before us the leader in its price range (in keeping, of course, we did not take the Chinese any name). Column expressive speakers JBL GO playing times better than the recently Foreseeable Xiaomi Square Box and approaching the more expensive the solution from the Chinese manufacturer – Mi Bluetooth Speaker. But at last, the truth is more voluminous bass. JBL GO boasts a clarity and smoothness, even at maximum volume, which is rather high.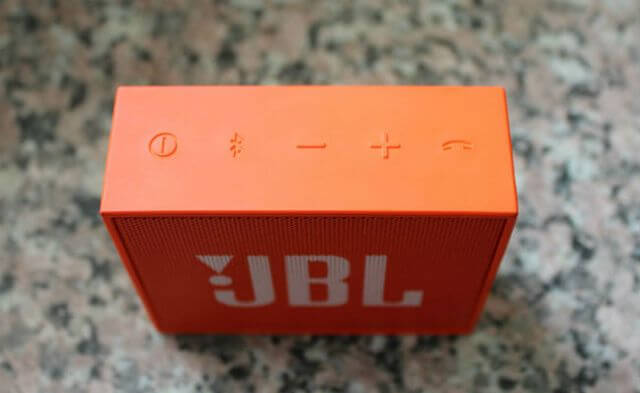 I was the main speaker music system at home for a week. And the conclusion is: for an apartment with 40 m2 of this solution is sufficient to create the background – heard anywhere. Pity is not supported by proprietary technology JBL Connect, which allows you to combine the two into one stereo speaker, but that would be too cool for such a price.
Functionality: expressive speakers JBL GO
The most interesting thing is that the price tag of $ 30 model has a microphone for use as a speakerphone. There is also a functional feature should include the provision of mini-jack 3.5 mm, not all competitors can connect wired or wirelessly.
Autonomy: expressive speakers JBL GO
The built-in rechargeable 600 mAh allows you to play on the middle column of the volume and connect via Bluetooth about 5-6 hours. Yes, it's not a record figure; there are models that quietly work out more than 10 hours. Charging from the computer is to last 1.5 hours.
Results: expressive speakers JBL GO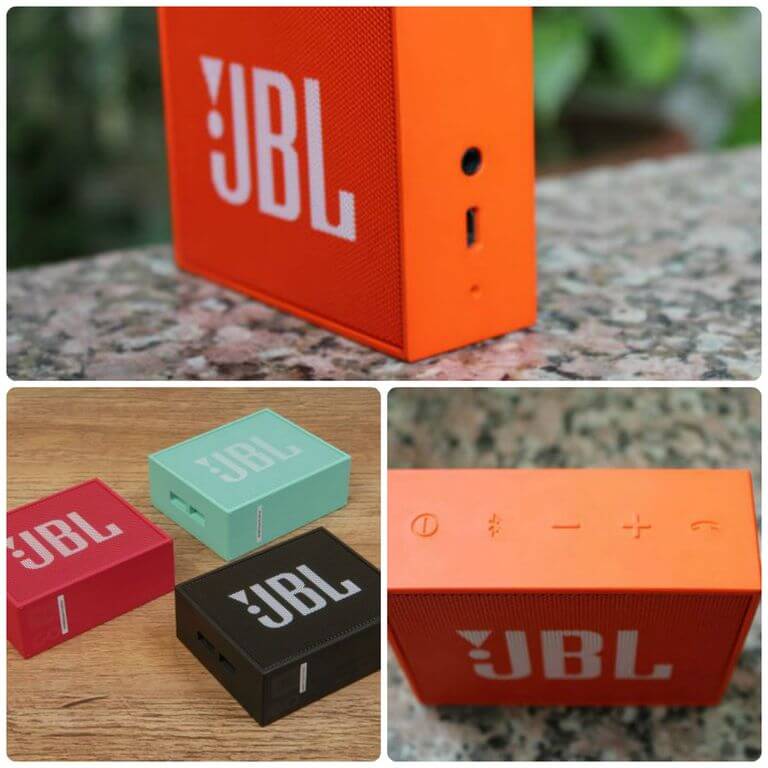 Surprisingly, but JBL has released one of the most worthy candidates among inexpensive wireless speakers. At $ 30 model looks nice, it is made of quality materials; quality plays for its size and has good functionality. The only thing you can find fault, it's autonomy to 5-6 hours, But it is not a significant disadvantage, and many a time enough work.
Pros of the expressive speakers JBL GO:
External appearance, body materials, bright colors
Sound
Function
Price
Compact size
Cons of the expressive speakers JBL GO:
Source: Digit
Look a video from russian roads: