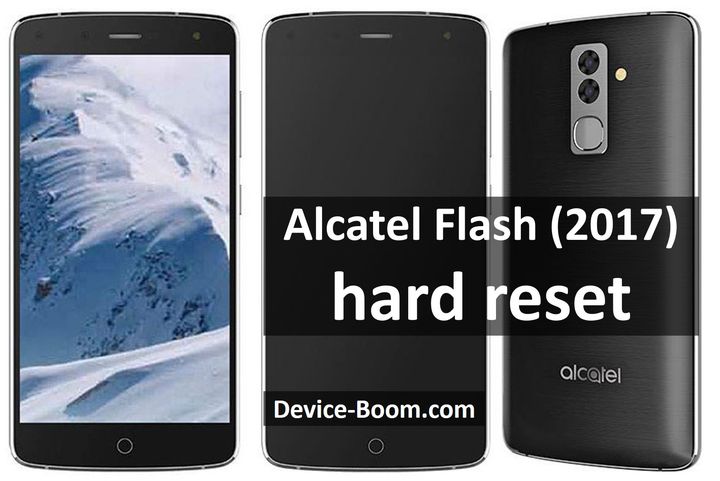 Hello! I continue to write instructions for hard reset on different smartphones, and today I want to tell you how to make Alcatel Flash (2017) hard reset. Also you can find many other instructions for hard reset of Alcatel smartphones.
As always, I want to give a briefing before reset. The main thing that you need to remember, hard reset on any smartphone, including Alcatel Flash (2017), clears internal memory.
It means that if you have important files on your phone, it can be contacts, messages, photos, documents, etc., then copy everything to another device or back up data. If you do not have important files on your smartphone, then do not do anything.
Also recall that hard reset allows you to solve some problems with the smartphone. Most often, the user applies instructions when lock pattern is forgotten. In addition, you can make a hard reset when you find any software error, applications do not open, the phone restarts and so on.
In general, most likely you know why you need to make a hard reset, so let's start!
Alcatel Flash (2017) factory reset
We start with power off the smartphone, if it is still on.
Next, you need to find three keys on the right side of the smartphone. I think it will not be a problem. So, you have to hold Power UP and Power keys simultaneously and hold until Alcatel logo appears.
As soon as you see the inscription Alcatel, you need to release Power key.
Here you can select language. I recommend you to choose English.
Then you see the android robot. This is a kind of protection against accidental keystrokes. To go further, just press power button.
After that you should see the menu, as in the image below.
We are interested in "Wipe data / factory reset" option. It performs a reset operation.
Remember I warned you that all files on the phone will be deleted? Now the phone warns you about this, and if you agree, choose "Yes – delete all user data".
Done! Now we have to exit menu. The "Reboot system now" option will help with this.
If you have any questions, you can see the video below how to make Alcatel Flash (2017) hard reset.
Look a video from russian roads: