This week Fenix brand introduced a new version LED flashlight Outdoor E25, the novelty was called Fenix E25 Ultimate Edition and the whole is almost completely different from the basic version, retaining only the general features of the design. The new model manufacturer allocates power LED as well as the ability to use a variety of batteries, including conventional alkaline batteries.
Feature of the new and powerful LED flashlight from Fenix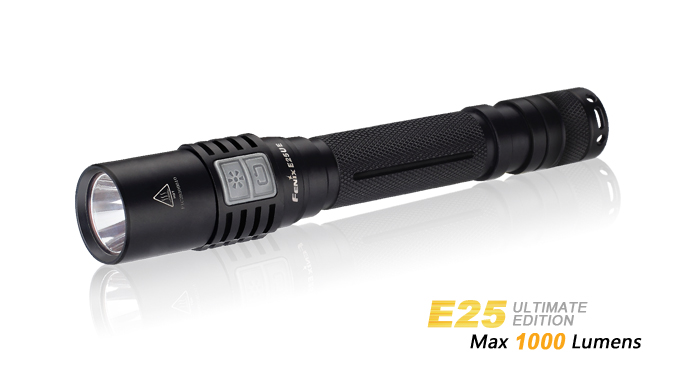 LED flashlight Fenix E25 Ultimate Edition is in a sealed aluminum alloy casing with anodized coating protects the LED mineral glass with anti-reflective coating. According to the manufacturer, the lamp is capable of maintaining performance after falling from a five-foot height and immersion in water to a depth of two meters (IPX8). The total length of the lamp 161 mm, the diameter of 25.4 mm bezel, the overall diameter of 19.6 mm. Product Weight 87 grams without batteries.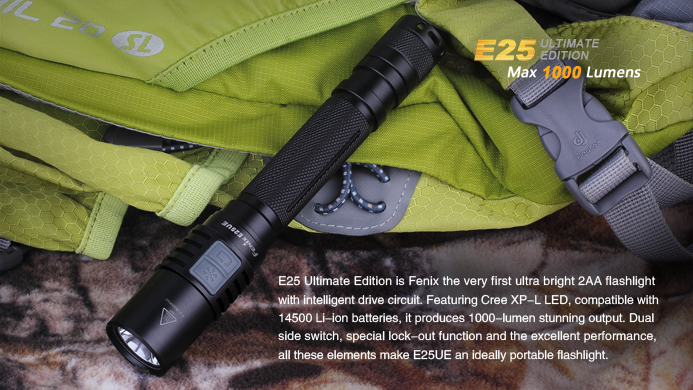 Inside E25 Ultimate Edition installed bright white LED flashlight Cree XP-L V5 LED with a maximum output of 1000 lumens, the stated range of illumination up to 200 meters. As part of the power can be used two lithium-ion battery size 14500 (are included) or two batteries standard format AA (Ni-MH / Alkaline). Powered lamp in five modes, except Strobe and SOS, which are divided into Eco (5 lum., 95 hr.), Low (50 lum., 16.30 hr.), Mid (160 lum., 5.5 hr.), High ( 350 lum., 2.15 h.) and Turbo (1000 lum., 0.5 hr.). Indicators are inclusive of the use of lithium-ion batteries 14500.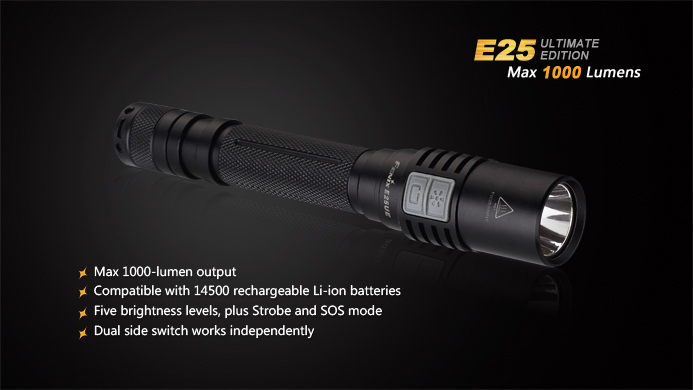 New LED flashlight Fenix E25 Ultimate Edition has already started to appear on the reservation in some specialty stores, the approximate cost of new items will be $ 50.
Source: Fenixlight
Look a video from russian roads: