Sometimes every user need to perform hard reset computer Windows 7, 8, 10, Dell and others. It allows to return PC to factory settings.
You may need to hard reset computer if your device was infected with a virus, if the operating system has been damaged or you want to sale PC, so you need to remove all personal data.
Whatever the reason, let's see how to hard reset Dell computer and others to factory settings.
There are two different ways to perform hard reset computer Windows 7, 8 and return it to the factory settings, except the reinstall Windows from scratch. Also late we will tell about an even easier way to hard reset computer Windows 10.
The first method is using backup program. If someone wants to restore computer in case of problems on the drive, but with working system, it is convenient to backup disk, make a picture identical to another hard disk (also outside) and then restore it.
If your operating system has been fraught with problems, or if you want to sell your computer, you do not need to do a full backup of disk. You just need to save important data to another hard disk, and then restore your laptop or desktop PC to the factory setting.
Step 1: Save your files and folders.
Recovery System, which is provided by computer manufacturer, of course, allows you to backup data, however, it is better to use special programs. Hard reset Dell computer and others completely formats the hard drive. All the data will be lost. You should use reliable program to do data backup.
Step 2: Start Recovery Program.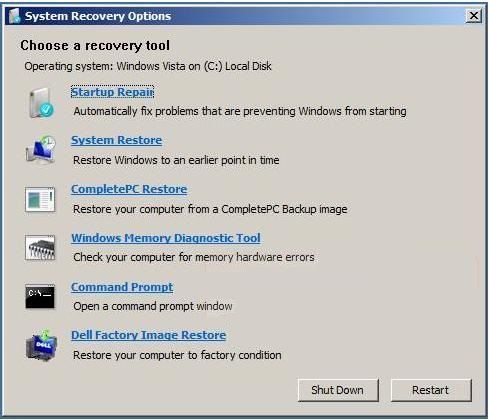 There are two ways to perform hard reset computer Windows 7, 8 and higher: the simpler one with more time-consuming, and longer solution to reinstall Windows from scratch.
We recommend to use recovery programs from manufacturer. Although the names of these recovery programs can vary, you should look for software on your computer, which has a brand name and the word recovery or restore.
Depending on the manufacturer, you should find:
Acer – Acer eRecovery
ASUS – ASUS Partition Recovery
Dell – Dell Factory Image Restore
HP – HP Recovery System PC
Sony – Wizard Sony Vaio Recovery
Toshiba – Toshiba Recovery HDD
Lenovo – Lenovo Recovery
Recovery programs allow hard reset Dell computer or others even when Windows does not boot.
You should look at black screen that appears as you turn on your computer. It tells you keys to press to access recovery system. For example, the keys may be following:
Acer: Alt + F10
Asus: F9
Dell / Alienware: F8
HP: F11
Lenovo: F11
MSI: F3
Samsung: F4
Sony: F10
Toshiba: 0
Step 3: Restore Factory Settings.
Each computer manufacturer has its own solution for recovery, so there is no way to provide a comprehensive guide for each supplier. Nevertheless, the hard reset computer process almost always works well.
Firstly, it will begin to reset Windows with removing data. After confirmation, we will wait along with a progress bar, which can last half an hour or several hours, depending on the computer.
I recommend not to interrupt the process of restoring and reinstalling the system. This may damage your computer.
Step 4: Completion.
Ideally, hard reset Dell computer and others restores everything that you need for working computer.
But sometimes you need to install drivers. You have to go to the manufacturer's website in the support section and download drivers.
Hard reset computer Windows 10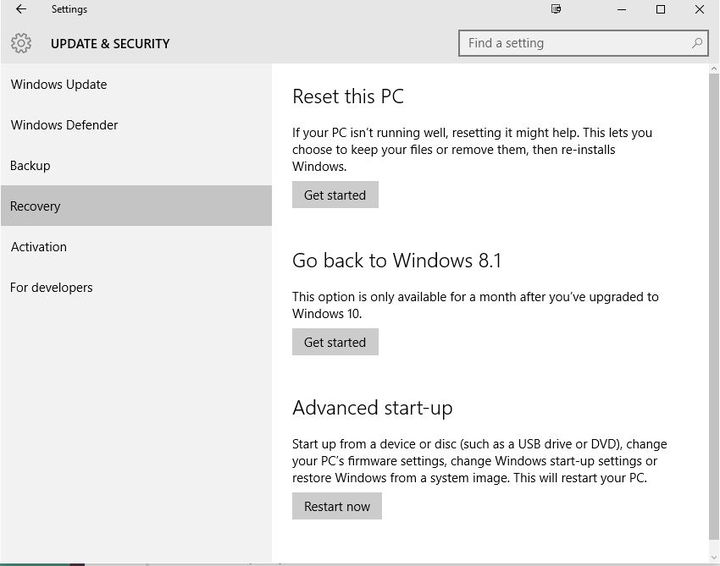 If you have a computer on Windows 10, the process is much easier. You do not have to do any steps described above.
Also you can hard reset computer Windows 10 without losing personal information.
So, if the manufacturer already set up recovery partition on computer, then you can use it easily by going to Settings> Update and Security> Recovery.
When you restart PC, blue screen asks you to choose an option. Then you can select the solution of problems and find the option to return to factory settings.
Look a video from russian roads: