It took less than a month, we met with HP Pro Slate 10. Today we look younger model – a corporate tablet HP Pro Slate 8, which was introduced earlier this year. It has a stylish appearance, good build, IPS-display with high resolution. However, it is interesting not only that. The HP Pro Slate 8 works in conjunction with a stylus HP Duet Pen, which can be written not only to display but also on plain paper. These and other raisins gadget you learn from the review.
HP Pro Slate 8: Design
Housing HP Pro Slate 8 is made in two colors. The main color is gray, the front surface – partly black. Despite the fact that it is a business device, the design does not look too severe, partly because of the angles that are significantly rounded. Maybe that's why the tablet is very comfortable to hold.
On the front side of the HP Pro Slate 8 can be seen the direct display, two stereo speakers, front camera lens, and light sensor. The back panel is decorated with the logo HP, as well as a rear camera. Interestingly, the reverse side of the tablet is a soft-touch plastic, which is very pleasant to the touch and does not slip out of your hands.
The build quality HP Pro Slate 8 and durability no complaints. For example, pressing the rear body does not affect the display, i.e. not on the surface of any divorce. And the attempt to twist the HP Pro Slate 8 to nothing lead. Apparently, the tablet can be sure to take with them not only for meetings or conferences but also to ride with him on business trips. Incidentally, the frequent trips a weight of 350 grams and dimensions of the body 207 x 137 x 8 mm.
HP Pro Slate 8: Display, sound, webcam
Screen HP Pro Slate 8 has a diagonal of 7.9 inches with a resolution of 2048×1536 pixels and an aspect ratio of 4: 3. Thus, the pixel density of 326 ppi. Apart from that, the glossy display, there are other advantages in the form of a durable glass Corning Gorilla Glass 4 and IPS-matrix. The latter is known to provide excellent visibility, allowing you to view the screen from any angle and see the undistorted color and clarity. By the way, there are no claims to the brightness of her figure exceeds 400 cd / m2.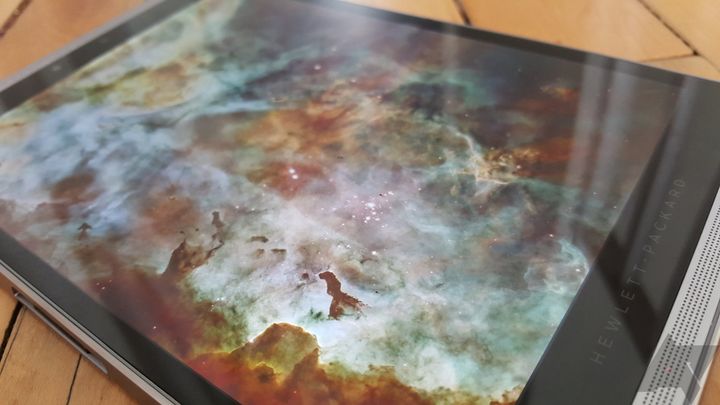 The touch screen HP Pro Slate 8 supports 10-finger multi-touch and responsive to touch without delay. This is another bonus in the treasury of the tablet. What would have to be reconciled, and so with a glossy surface? She often reflects glare.
In the tablet HP Pro Slate 8 using two cameras. Front with a resolution of 2 megapixels, the rear – 8 megapixels. Both do well with their tasks. First – ideal for video conferencing, the second – for shooting photos and videos. The main camera is equipped with autofocus and can shoot quality in dark places.
As for the acoustics, the HP Pro Slate 8 has two speakers and support for DTS Sound +. Using this program will improve the sound. However, fans listen to audio tracks better connect headphones, the sound of them will be more balanced.
HP Pro Slate 8: Keyboard
When you type in the search box on the display standard keyboard Android. Its keys are of normal size, so the number of errors in the set will be minimal.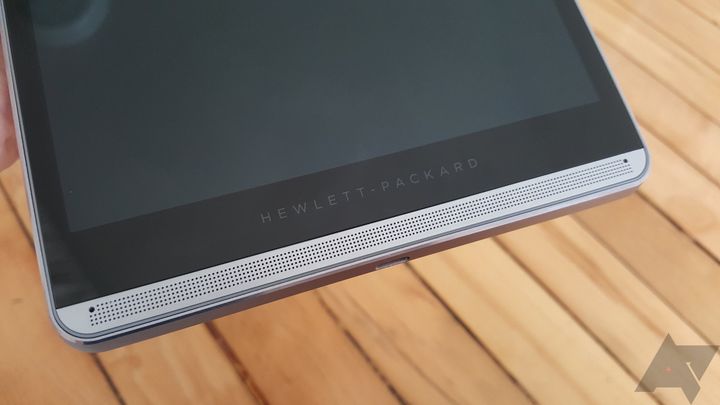 Perhaps one of the most important moments can be considered HP Duet Pen – ultrasound stylus that can write not only on the surface of the touch screen but also on plain paper. Just one press and one tip are replaced by another.
With the support of Qualcomm Ultra Sound, written or drawn on the paper easily digitized and transferred to the information plate.
HP Pro Slate 8: Performance
Tablet HP Pro Slate 8 (K7X64AA) works on the operating system Android 5.0 Lollipop. As a selected quad processor, Qualcomm Snapdragon 801 MSM8974AB clocked at 2.3 GHz and the second-level cache of 2 MB. The chip is built on 28-nm technology HPm, and its core Krait 400 can cope with much modern computing. By the way, among the 801 Snapdragon features the ability to encode and decode video 4K UHD.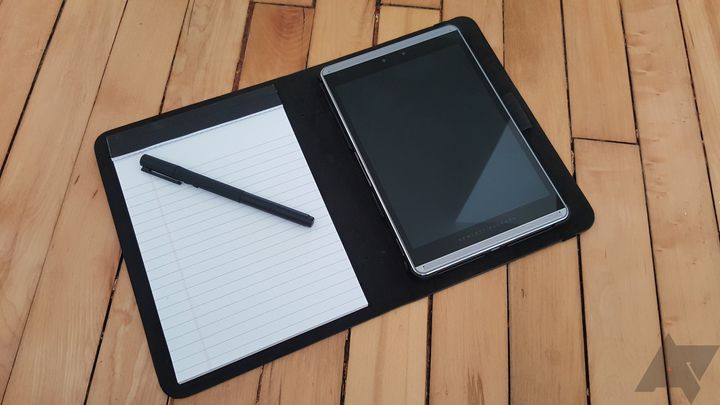 The SoC also provides built-in Adreno 330 graphics card, running at up to 550 MHz. Graphics support OpenGL ES 3.0, and OpenCL 1.2. Its performance is sufficient for many applications, including for a number of games, for example, Asphalt 8. For despite the fact that the tablet refers to enterprise-class users will often use it at your leisure.
The HP Pro Slate 8 is an optimal amount of RAM 2 GB of standard LPDDR3-800 MHz. That's enough for the smooth operation of running applications and device health in general. With regard to the internal memory, this grade provides 32 GB, there is a configuration with a smaller 16GB. In any case, the capacity can be increased at the expense of memory cards micro SDHC, supporting up to 32 GB.
HP Pro Slate 8: Ports and Communications
The HP Pro Slate 8 is provided at least ports. On the right side of the case, there are no interfaces, only button on the tablet and the volume keys. Left – card reader micro SD, the slot for Nano-SIM slot and Zero-Force (ZIF) with spring contacts, which is compatible with many accessories, such as a docking station, keyboard.
Below you can see the only port Micro-USB 2.0, and the top – headphone output / microphone input. If a Micro-USB adapter to connect SlimPort, it will transfer the image in Full HD resolution from the tablet to an external display.
Wireless communication HP Pro Slate 8 is not limited to Wi-Fi 802.11 ac / a / b / g / n, 4G and Bluetooth 4.0 + LE. Additionally, you can communicate at close range using NFC, and send content via Miracast. We should also mention the receiver GPS, which helps to locate. Unfortunately, there is no support for voice communication.
In addition, the tablet uses an accelerometer, gyroscope, compass, Hall sensor, light sensor, and proximity.
HP Pro Slate 8: Battery
The device HP Pro Slate 8 comes with a lithium-polymer battery capacity of 21 Wh. It's nice that the battery allows you to work without charging plate about 12-13 hours if playing video. True, this will have to reduce the resolution to 1280×720 pixels and reduce the brightness by 50%. Probably, to view documents, emails and other office tasks time margin will be higher if you leave these settings.
HP Pro Slate 8: Conclusion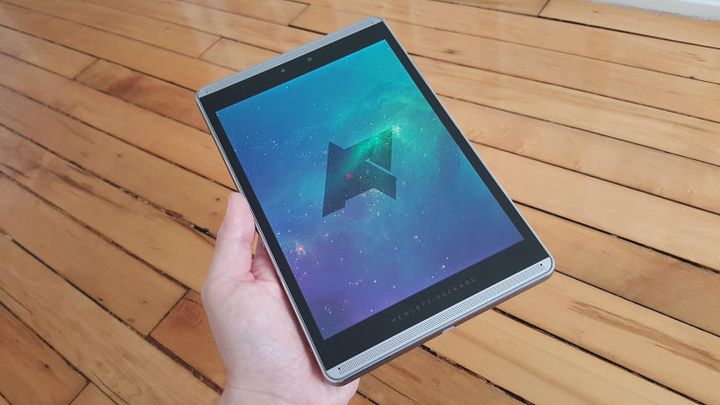 In the face of this tablet, you will find a suitable and relatively inexpensive solution for businesses. To begin with, the HP Pro Slate 8 has a wide range of wireless communications, which means that you can stay connected almost anywhere. Also, the tablet can operate without recharging for a long time and provide good performance for both enterprise-class devices. To do this, in the case set Qualcomm Snapdragon processor 801, 2GB of RAM, graphics Adreno 330. In addition, there is provided IPS-display with a resolution of 2048×1536 pixels high, a good 8-megapixel main camera, reliable and practical housing. It is unlikely that you will find significant deficiencies, which will be able to spoil the reputation of HP Pro Slate 8. It remains to add that the cost of $ 800 invested you will justify the means.
Source: Androidpolice
Look a video from russian roads: