Infiscal seven-inch tablet Iconia B1-730 appeared successor – Acer Iconia Tab B1-750. In fact, this new gadget is carrying on board more modern stuffing. Thus, in the device using the same platform from Intel, but not Atom Z2560 dual-core and quad-core Atom Z3735G, 1 GB RAM and 16 GB of flash memory. However, the model gives a special charm to a variety of colors (black, blue, green, red, pink, etc.), Which, of course, emphasize the individuality of each owner. 
Acer Iconia Tab B1-750: Technical characteristics
| | |
| --- | --- |
| Processor: | Intel Atom Z3735G 1300 MHz |
| Memory: | 1GB LPDDR3L 1333 |
| Storage: | 16 GB of internal memory |
| Display: | 7 "1280×800 WXGA LED IPS, glossy |
| Graphics card: | Intel HD Graphics (Bay Trail) |
| Wireless: | Wi-Fi 802.11 b / g / n, Bluetooth 4.0 |
| Audio: | 2 speakers |
| Interfaces: | Micro-USB 2.0, card reader microSD / SDHC, headphone output |
| In addition: | 0.3 megapixel front webcam, a 5 megapixel rear webcam |
| Battery: | 1-cell Li-Polymer 3420 mAh |
| Dimensions and weight: | 193x114x8.6 mm, 320 g |
| Operating system: | Android 4.4 KitKat |
| Options: | Acer Iconia Tab B1-750 19GV |
Acer Iconia Tab B1-750: Design
The appearance of the gadget is interesting in several respects. At first attracted the attention of the choice of different colors, with which everyone will feel stylish and vibrant personality. It is also good to see the texture pattern by which the body not only looks interesting, but also practical. So, if you hold the tablet in his hand, he will not slide, and scratches are less visible than on the other surfaces. By the way, on the reverse side of the tablet, you can see the logo of Acer, grille that hides the speakers, as well as the rear lens webcam.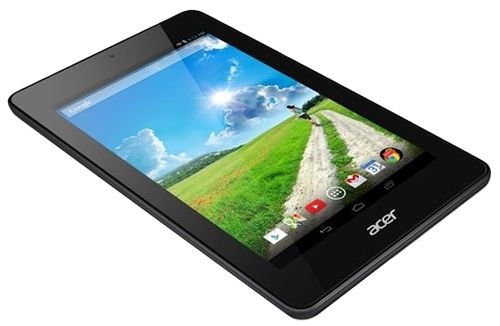 The display also has a plus – oleophobic coating. With it, you will not worry about the remaining greasy fingerprints. This will remain a screen cleaner. With regard to materials, the plastic used here is not the most durable and reliable material. However, the tablet with dignity endure frequent travel, although in reverse operation panel can creak and sag a little.
Dimensions Acer Iconia Tab B1-750 up 193x114x8.6 mm. And with a weight of 320 grams it will not burden the travel bag while traveling. Of course, this is not the best indicator, there is a lighter model, for example, the same ASUS Fonepad 7 FE375CXG or Lenovo IdeaTab 2 A7-30HC weighing less than 300 grams.
Acer Iconia Tab B1-750: Display, sound, webcam
The tablet is equipped with a 7-inch multi-touch display with a resolution of 1280×800 pixels and excellent IPS-matrix. Visibility of the screen is very stable. No matter how much you deviate from the right angle, the picture will still be bright and good color. But the sharpness and saturation it will add support for technology Zero Air Gap. By the way, the characters are visible on the screen is normal, the information in the system tray is easy to read.
With regard to the sensor, it is sensitive to the touch, so that everything is done very quickly. Separately want to note the high contrast. Even in sunny weather picture will not have a long time to treat.
The speakers are arranged on the back plate of the housing. Their hides grille. Perhaps, when you hold the gadget in portrait or landscape dynamics will overlap with your fingers, making the sound output will not be as loud. Overall, the gadget sounds good, but it is better if you will listen to music or watch videos through a connected headset.
Housing plate decorated with two cameras. That that on the back side, has a resolution of 5 MP, with the front – only 0.3 megapixels. Considering that the front camera for video calls are such a small resolution will suffice.
At the same time, a 5 megapixel – a perfectly acceptable option for taking pictures when you want to capture interesting moments, such as when traveling. By the way, using the main camera can also record video 1080p.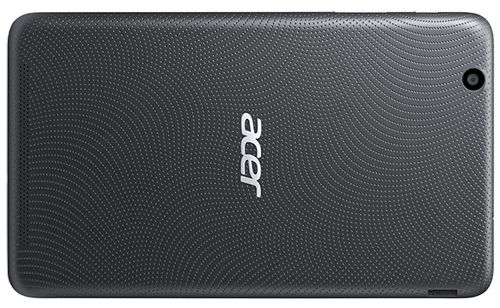 Acer Iconia Tab B1-750: Keyboard
The Iconia Tab B1 only on-screen keyboard. Nothing special, it does not stand out, text input is carried out traditionally. Also, the tablet has navigation buttons. Among them: "Back", "Home" and "Menu open applications."
Acer Iconia Tab B1-750: Performance
Gadget Acer Iconia Tab B1-750 19GV runs on Android 4.4 KitKat. Additional toppings can be noted quad-core Atom Z3735G, built to the standards 22 nm process. The chip has a cache of 2 MB and a clock frequency of 1.3 GHz. Processor core allows it to process four data streams simultaneously. We can not say that the performance of Atom Z3735G high, but for simple computing operations, play HD-content in its entirety enough.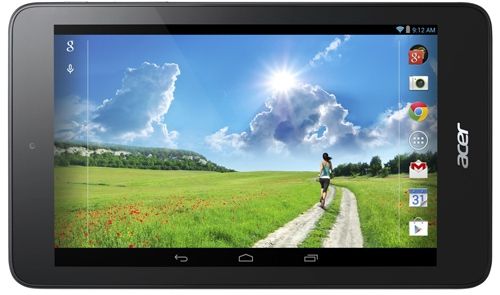 The SoC includes a built-in video card Intel HD Graphics (Bay Trail). It has only 4 EU, and supports DirectX 11. The maximum frequency of the graphics accelerator is not more than 646 MHz. Of course, Intel HD Graphics (Bay Trail) will play in many popular android games, for example, Bike Mayhem Mountain Racing, Earn to Die 2. Yes, and other entertainment will be, as they say, the green light.
As for RAM, the tablet it is not enough, all 1GB LPDDR3L-1333. Perhaps some demanding applications, this will not be enough. But the internal memory of 16 GB is provided, and in addition you can use the cards microSD or microSDHC up to 32 GB. Overall, the total should be enough for a lot of software, photos and more.
Acer Iconia Tab B1-750: Ports and Communications
At Acer Iconia Tab B1-750 very few ports and connectors. The right side of the tablet they are missing, there are only two buttons. One includes a gadget, you can adjust the level of the second volume.
On the opposite side has a slot for memory cards. But Micro-USB 2.0, as well as the headphone jack at the top of the device. Via USB you can transfer data and charge your tablet.
Wireless communication gadget – Wi-Fi 802.11 b / g / n and Bluetooth 4.0. Because the sensor has an accelerometer, also provides GPS-module, allowing to determine the location. In general, the sensors too little.
 
Acer Iconia Tab B1-750: Battery
The tablet is set Simplex lithium-polymer battery capacity of 3420 mAh. With her Acer Iconia Tab B1 will last about seven hours, which is very good when you consider the frequent travel, in which the tablet is often claimed.
If the device is in sleep mode, it can lead to a working state by double-clicking and go directly to the application you need. This is possible thanks to a proprietary technology Acer Touch WakeApp.

Acer Iconia Tab B1-750: Conclusion
Tablet Acer Iconia Tab B1-750 – this is a good budget gadget quad-core Intel Atom Z3735G. With it you can have fun and work, take with you on trips. Of course, the device has only 1 GB of RAM, but this is outweighed by the IPS-display, practical and attractive texture, good autonomy and performance, the existence of GPS. The cost of about $ 110 tablet is unlikely to scare off potential buyers. It is likely that the Iconia Tab B1-750 will be no less fans than its predecessor.
Look a video from russian roads: