Microsoft will teach you to save even mobile machinery of its own production. It's no wonder it has released new product – Microsoft Surface 3 with an official price tag of five hundred dollars. In our view, this is not much of a budget, but compared with  Surface 3 Pro, which is available online for $ 799, it is cheaper and thinner and smaller. Externally gadget practically does not change, the same comfort, differ only specifications. Also retained the ability to transform the tablet into a laptop with an external keyboard, and it is based on a complete operating system Windows 8.1.
MICROSOFT SURFACE 3: Technical characteristics
| | |
| --- | --- |
| Processor: | Intel Atom x7-Z8700 1600 MHz |
| Memory: | 2 GB DDR3 1600 MHz |
| Storage: | 64 GB of internal memory |
| Display: | 10.8 "1920h1280 Full HD LED, glossy |
| Graphics card: | Intel HD Graphics (Cherry Trail) |
| Wireless: | Wi-Fi 802.11 a / b / g / n, Bluetooth 4.0 |
| Audio: | Dolby Audio, 2 speakers |
| Interfaces: | Micro-USB, Mini DisplayPort, USB 3.0, card reader microSD, headphone output |
| In addition: | 3.5 megapixel front webcam, 8 megapixel rear webcam |
| Battery: | Lithium Ion 27 Wh |
| Dimensions and weight: | 267h187h8.7 mm, 622 g |
| Operating system: | Windows 8.1 64-bit |
MICROSOFT SURFACE 3: Design
Compared to Surface 3 Pro, Surface 3 was a bit thinner and smaller and lighter. Still, after the latest version provided 10.8-inch display instead of the huge 12-inch. Thus, the size of the new device are 267h187h8.7 mm, weight 622 For the rest, the tablet looks repeats previous versions range Surface – silver colored casing is made of durable magnesium alloy, has a well-defined edges and lines that retain the device of the premium gadget. Of course, the stand – the card series, is also present, it is exhibited in three positions, but ease of use is retained as to work with a stylus or keypad, and, for example, in a kneeling position.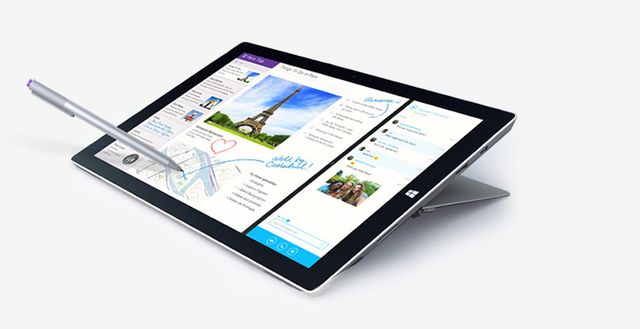 The company's engineers are very attentive to the quality of materials used and the assembly as a whole. All this, combined with excellent premium design and excellent opportunities, Surface 3 makes an ideal option for those who are not used to save on the performance of his dreams.
But if the choice is stopped on such a device, you have to repeatedly decide as what you will be using this equipment – in the role of a tablet or ultrabook. And let the concept is not new, and many other manufacturers offer similar tricks, but Microsoft, seems to carefully approached the realization of this project – Type Cover -klaviatura and cover all rolled into one. Incidentally, the keyboard module is attached to the bottom of the tablet by means of magnetic latches, it is extremely easy to use and part is protective, closing touchscreen tablet from scratches and damage.
The screen is limited to a fairly broad framework on which the: button Windows, a pair of front speakers, a microphone and a camera with LED. Behind the eye can detect a rear camera and stand decorated with the company logo Microsoft.
MICROSOFT SURFACE 3: Display, sound, webcam
The Microsoft Surface 3 used 10.8-inch touchscreen display with a resolution ClearType 1920h1280 pixels and an aspect ratio of 3: 2. It supports 10-finger multi-touch and offers excellent opportunities for quality leisure and work. The screen is clear, bright, with excellent color rendition. However, due to the high resolution, reading or surfing the web have to scale the font and images. Varnish, unfortunately, guarantee that you will pursue reflection and glare, especially when working outdoors. This gives additional preconditions for corporate digitizer Microsoft Surface Pen, which is not provided in the kit, and is commercially available as an optional accessory.
The quality of sound to the Surface 3 the user is unlikely to appear claims, as it is in this sense is very good. Dolby Audio Technology and a pair of front speakers ensure that listening to music or watching movies you will enjoy free use of headsets and speakers.
The front camera has received permission 3.5 megapixel rear 8MP. Each is able to record video in 1080p, with main further leverages the autofocus that allows you to capture good quality, using the tablet as a "Soap".
But the front camera is well suited for communication in to Skype.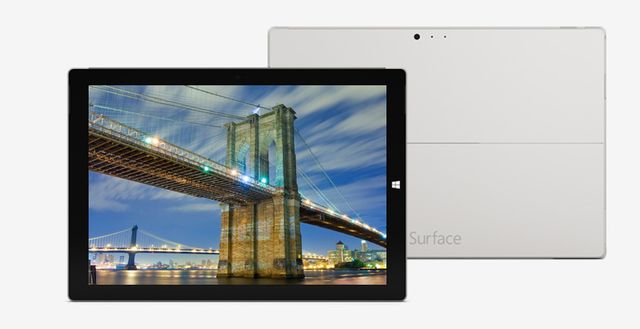 MICROSOFT SURFACE 3: Keyboard
In addition to the touch pad, which is available in any of the tablets, Microsoft Surface 3 cooperates with an external keyboard Type Cover. By the way, this is a business card Gadgets Surface, without which use the device in the form of a laptop would be an impossible task. Colour keyboard is impressive variety: red, purple, black, blue and light blue. In general, for every taste. Design Module Classic, he received the backlight, and is available for sale for $ 130.
This type of keyboard has a magnetic fastening, and in the closed position to protect the touch screen tablet from damage. In this mode, are inactive and a removable accessory keys and touchscreen tablets.
Cover very easy to use. The QWERTY keyboard offers a full range of function keys [F1] – [F12], buttons to control the media, Windows and others. The touchpad is very compact, it is logical for such a limited space, it has a hidden mouse button and excellent sensitivity.
Do not forget about corporate stylus Microsoft Surface Pen, it supports 256 levels of taps and handwriting, working on Bluetooth, offering quick launch OneNote, a program for creating notes.
MICROSOFT SURFACE 3: Performance
Microsoft Surface tablet 3 is running an operating system Windows 8.1 with the possibility of a free upgrade to Windows 10 after release. In addition, the buyer receives a 1 TB memory OneDrive year and free use of Office 365.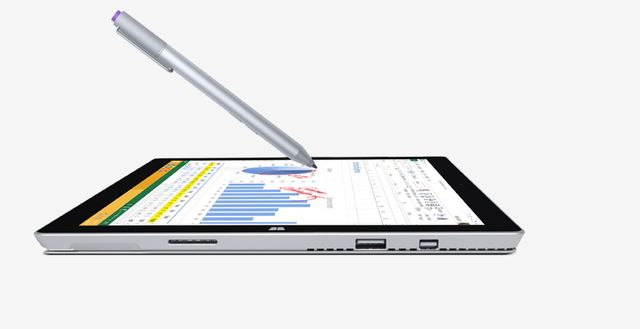 Modifications to the device on sale a bit, and they differ only in the amount of RAM and internal memory. At the heart of any instance is the latest quad-core SoC Intel Atom x7-Z8700, presented recently – in March 2015. She clocked at 1.6-2.4 GHz based on the 14-nm platform Cherry Trail, which is characterized by very low power consumption of 4 watts. This chip is specifically designed for tablets and Windows Android, it has 2 MB of cache. Resources Atom x7-Z8700 allow you to perform various operations Surface 3 without inhibitions and hang-ups even in a large number of open tabs, multiple windows and applications running at the same time communicating in to Skype.
Built-in video card Intel HD Graphics (Cherry Trail) supports DirectX 11.2 and is working with 16 units at a frequency of 600 MHz. Accelerator support 4K / H.265 videoaksseleratsiyu and performance takes place between Qualcomm Adreno 330 / PowerVR G6430 and Adreno 420 / PowerVR GX6450. That will be enough for older Windows games like Counter-Strike: GO, which will be used on low settings.
The RAM is 2 GB of DDR3-1600 MHz, and 64 GB internal. Also commercially available is a version with 128 GB and 4 GB of RAM, respectively. To so many gigabytes is not enough, you can use a memory card – a slot for it in the device is provided.
MICROSOFT SURFACE 3: Ports and Communications
In the matter of the connectors in Surface 3 something has changed, and it appeared Micro-USB, used for recharging. He handed on the right side with the Mini DisplayPort, a full-size USB 3.0 for connecting peripherals and audio jack for headphones. MicroSD card slot is hidden under the stand snaps. Left completely empty and the lock button and volume brought to the upper end. Below is a magnetic connector for an external keyboard.
Wireless communication is carried out with the help of Wi-Fi 802.11 a / b / g / n and Bluetooth 4.0. For improved signal reception in the upper housing plate of magnesium alloy strip of plastic is provided. You can also purchase a version with LTE-modem, but of course it will cost more than $ 100.
A set of sensors is standard: light sensor, proximity, compass, gyroscope, and accelerometer. They will play comfortably use the tablet in a different light or as a navigator.
MICROSOFT SURFACE 3: Battery
Battery capacity is 27 Wh tablet – it is 60% less than was available in the three Microsoft Surface Pro. The manufacturer claims 10 hours of autonomy, but the reality is slightly more than six hours of web surfing in a plurality of tabs open, watching 1080p video from YouTube and social media monitoring. In principle, this average results are typical of many of today's tablets.
Incidentally, unlike the tablet Pro, a new version is charged through the Micro-USB, rather than through the magnetic proprietary connector.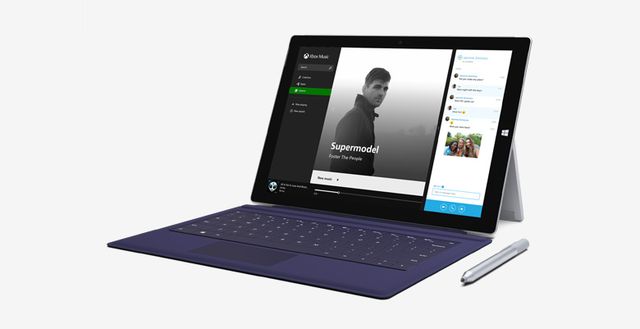 MICROSOFT SURFACE 3: Conclusion
So, we have yet one of the cheapest tablet line Surface. But is it profitable to buy, really? Let's count, considering the price of the official site. The cheapest configuration of the device will cost $ 499, the cover keyboard costs $ 130, if you need a digitizer (and want to buy it), you need to add another $ 50. In result, we have US $ 680 for 10-inch device, of convertible tablet ultrabook. Let's just say the budget here and does not smell, but against other devices Microsoft this gadget looks quite appetizing. Especially that the novelty has good filling, excellent screen and the prospect of upgrading to Windows 10 for free. The plate was really good – here and say something is not necessary, but the fact of the high cost is difficult to argue.
Look a video from russian roads: