Ecosystem Home Theater Systems is changing: the cumbersome system gives way to a more compact and flexible solution. But how to combine all of the devices in convenient? Looks like Bose have a suitable answer.
The US company Bose, the eminent designer and manufacturer of premium audio systems and Home Theater Systems, offering solutions for every taste. Its founder, Dr. Amar Bose was a professor of the notorious MIT and patented more than 100 solutions in the field of acoustics and psychoacoustics.
Want to experience the maximum immersion Home Theater Systems and presence in movies and games? For you, provided a set of Home Theater Systems Bose Lifestyle 535-III. Do you want to supplement the smartphone speaker quality, but save space? Your selection – Home Theater Systems Bose SoundTouch 20 II. That's so simple!
High tech 
Bose Lifestyle 535-III

and

SoundTouch  20 II

Set Home Theater Systems Bose Lifestyle 535-III – the most advanced surround sound system 5.1 in the line Bose. It includes a low-frequency module Acoustimass, four satellite, and center channel Jewel Cube, as well as the control module.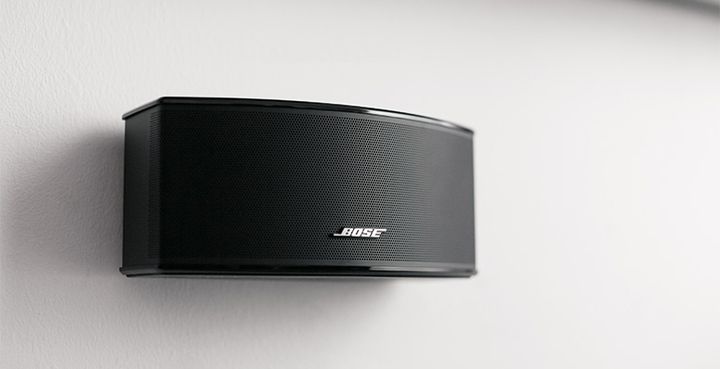 The first thing you notice – small size satellites: they literally fit in the palm of your hand! This is easy to place speakers in any room. What can I say, the whole Home Theater Systems Lifestyle 535-III small enough, even the low-frequency module and the management console will not eat a lot of space compared to the traditional AV-components.
The design of the Home Theater Systems, as expected, embodies corporate identity, Bose. Once you have seen the system Series Lifestyle, you already imagine what it looks like the version of the 535-III. The system is available in two versions: black and white. They are united by a selection of high-quality materials used in the decoration. Each module – a combination of plastic and metal trim with the characteristic texture of Bose.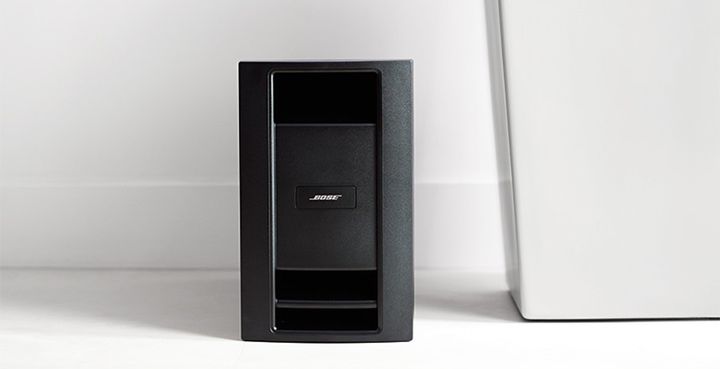 Stylish satellites like Jewel Cube consists of two "cubic" halves, each of which contains the dynamics. Unlike systems CineMate, all subwoofers Lifestyle wired systems. This is due to the fact that the system Lifestyle originally designed for larger premises where it is impossible to guarantee the stable operation of the wireless communication. Still, in the modern home, and without a lot of wireless devices that generate interference each other. Therefore, Subs made here wired to a maximum stable operation at distances of over 10 m.
The control module carries all required interfaces: 4xHDMI, optical digital input and analog interfaces. This simplifies switching, you can connect all the equipment through the Bose sound system and make general management from a single console. The control operates on a radio signal that passes through the wall of the furniture. Therefore, all components, including the control console can be hidden in a cabinet, to preserve the purity of the interior. Needless to say, in Bose is careful to make life easier to the user: the system is responsible for this UNIFY – animated interface with prompts in Russian, which helps to connect and configure, and manage all the connected equipment.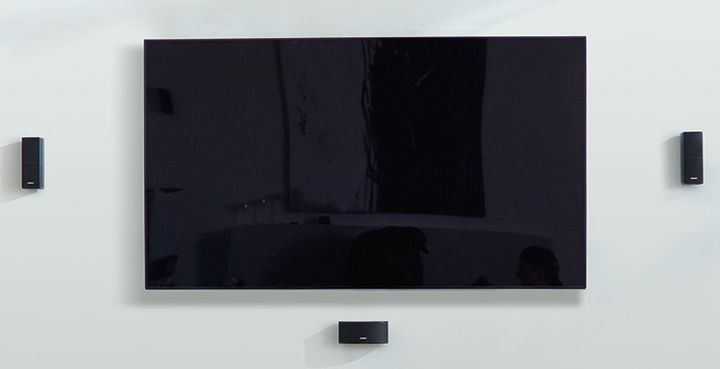 In rethinking the idea of Bose Home Theater Systems. Now any home system Bose – is an element of multiroom. But now ceased to be a multi-expensive toy with complex switching and programming. Now any home Bose Home Theater Systems is connected to your home Wi-Fi router and is controlled from a smartphone or tablet through a special free application. Moreover, it is possible to start with one system, and optionally other its complement. Ecosystem Bose includes a set of home theater series Lifestyle and CineMate, as well as one-piece music system, bedside radio, embedded speakers (including the spill-resistant for bathrooms and saunas), and even outdoor speakers that will bring music in the garden or on terrace. The application allows you to run the same music on all your devices at the same time or split them into separate audio area with an unlimited number of audio streams – just to have enough performance of your router.
In our review, we have added a compact one-piece Home Theater Systems SoundTouch 20 Series II. Audio Bose SoundTouch 20 II – a great companion for mobile devices, especially if their manufacturer is Apple. The wireless Home Theater Systems uses AirPlay, to broadcast your music from your device, and synchronizes with your iTunes library, and online music services (Pandora, Spotify, Deezer, iHeartRADIO). It is a pity while they work in Russia only Deezer.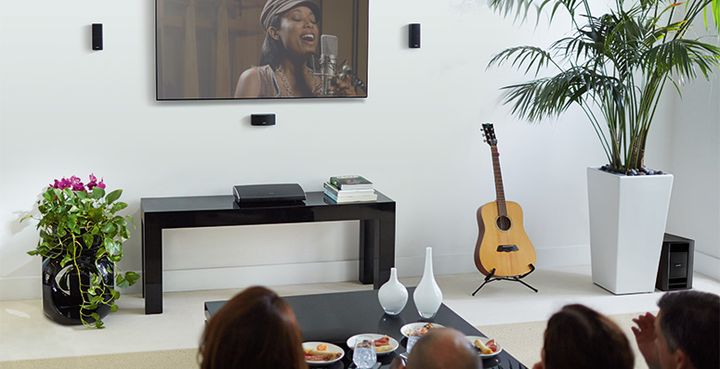 Audio allows you to program selected 6 presets that can be controlled through the firmware application SoundTouch. Actually, hence the name of the system – "the sound of one-touch." You simply press the button to the desired preset and did not even need to look for an application or a playlist.
Generally speaking, the utility SoundTouch unites all Home Theater Systems Bose (that supports this feature) in your home. It is available for all popular computer platforms: Windows 7-8 and MacOS X, and an application for smartphones and tablets – for iOS and Android. With it, you can easily organize your own music collection and you can choose which device to listen to it.
Gorgeous sound 
Bose Lifestyle 535-III 
Set Home Theater Systems Bose Lifestyle 535-III seemed designed to break down stereotypes about the compact acoustics. For a long time, it was thought that the really good sound is only possible in the full acoustics. Well, Bose – is a case where even the last skeptic will think about how to change, or at least mitigate its opinion.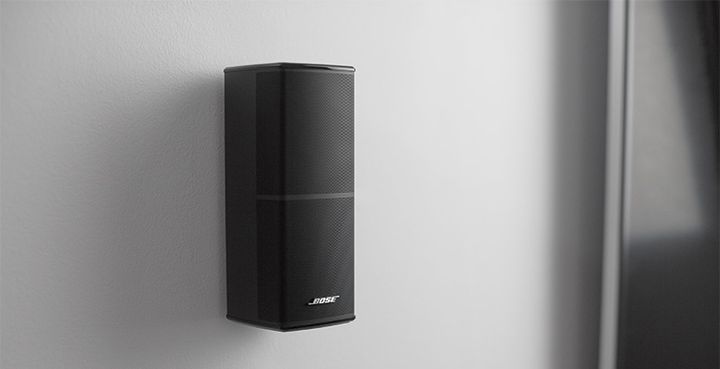 The sound field is achieved Home Theater Systems Lifestyle 535-III, substantially exceeds the dimensions of the system. The fact is that Bose uses a combination of direct and reflected sound to fill a room the sound and create the optimum balance for the listener. Deep spatial effects, clean dialogue and explosive bass without distortion – that's what characterizes the sound of Home Theater Systems Bose Lifestyle 535-III.
The word "entertainment" fits perfectly – Bose does manage to convey the atmosphere of movies and games, where the sound is an integral part of the whole experience. Incidentally, the control module has a decoder audio tracks Dolby TrueHD, DTS MasterAudio format, and uncompressed LPCM – no detail is hidden from you in a bright and detailed sound.
A significant role is played here by the automatic calibration function ADAPTIQ, optimizes the sound of the multi-channel system is up to your room and location of the components. It's no secret that good sound is largely dependent on the correct placement of the acoustics, but it is not always possible without too much interference in the interior.
Initial setup of Home Theater Systems Bose Lifestyle 535-III is already addressing this nuance. It will offer to use a special microphone (supplied) to assess the individual characteristics of the sound in your room. This allows you to compensate for unwanted variations of frequency and reflection. Simply put – the maximum level the sound exactly where will be listeners and viewers.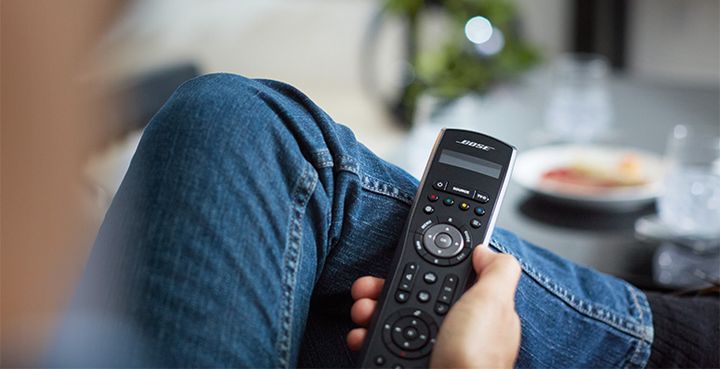 The entire setup procedure takes just 5 minutes and is accompanied by detailed voice prompts in Europe so that the task is easy to handle each. Upon completion of setting the processor system will always ensure that the audition was as comfortable as possible. And as the sound is adjusted five-point of the room that you choose for yourself, you can be sure that the sound of music or soundtrack of the film will delight all listeners.
You can forget about the strict rules regarding the placement of the speakers and the listener to focus on the pleasure of listening.
As for the audio Home Theater Systems Bose SoundTouch 20 II, then it is optimal for the sound of compressed music formats. The system skillfully conceals the defects of compression and focuses on useful sound, which is very important for the streaming of music from Internet radio and other services. Total focus, despite the size, it is necessary to bass: In this case, popular music sounds quite fast even at a moderate level. Incidentally, Volume II SoundTouch 20 is enough for the average room.
Summary 
Home Theater Systems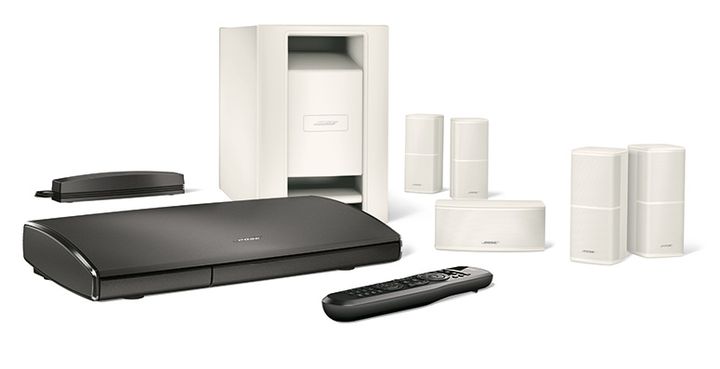 Audio Home Theater Systems Bose Lifestyle 535-III and Sound Touch 20 II have a different incarnation, but being combined into a single system, serve the same purpose – to fill your home bright and recognizable sound. They easily fit into the interior, thanks to its stylish design and compact size, and good governance will surprise you with convenience. Whether it is a universal remote or application SoundTouch smartphone – your Bose sound system is always at your fingertips in any room.
Source: exceptional-av, bose
Look a video from russian roads: