Is it worth spending $ 850 on a player Pioneer, if the model with the highest quality work and an expanded list of smart features can be purchased for one-sixth of the price?
Even an award-winning player Panasonic DMP-BDT640 $ 250 Pioneer inferior perfection of edges. Picture LX58, probably the most clear, what we've seen in this price range; its energy attracts the viewer to the screen and fully immerses him in the film.
Snowy landscapes favorite Coen brothers movie "Fargo" like go to the screen. Deep black tires, shoes and suitcases buried in their background looks even more intense; extremum both grayscale only detailed.
Clean and strong colors – vibrant and authentic, natural skin tones differ warmth. Colorful palette a little more lively than it should be (in the example is a bright red bloody snow), but not so as to seem oversaturated.
We can say that the BDP-LX58 draws the finest strokes; forest stands in the background noticeably sharper than the Panasonic. Even episode nightfall in the supply of Pioneer is very clean and detailed.
Scaling processor masterfully controlled from DVD. Contours in the movie "Who Framed Roger Rabbit?" Delightfully distinct. Red buses, green advertising signs, yellow gloves of the Rabbit – all colors are amazingly bright and energetic.
Screen almost no noise, even in the most episodes of rapid movements the picture is not smeared.
The sound quality does not disappoint; acoustic space in "Fargo" distinguished balance and sharp focus. Shots served strongly and firmly, as well as breakable windows in an episode of the abduction.
For Blu-ray-player this category at Pioneer excellent quality music playback, as well as an unusually wide range of supported formats (including – files in HD, as well as SACD and DVD-Audio). Sophistication, organization and study of the nuances he concedes specialized CD-players are the same value, but the piano in the song Alicia Keys' If I Is not Got You sounds lively and tight.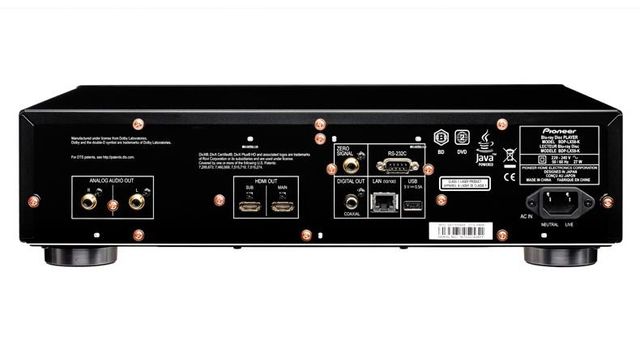 BDP-LX58 is two times less than his older brother, but the functionality of him almost as: zooming in Ultra HD 4K (infrequent in this category), and 3D playback support for HD-format files DSD 2,8 MHz and PCM up up to 24 bit / 192 kHz.
Even the list of connections is almost the same as that of BDP-LX88, with the sole exception of the balanced audio output. However, coaxial and RCA pair certainly enough for everyone. There are also two HDMI-input and two USB-ports, one of them – wheel. Finally, LAN connector provides access to compatible applications YouTube and Picasa.
More suited mighty amplifier than subtly models Blu-ray-player, strong body Pioneer (made of aluminum and steel, and even reinforced iron plate) seems to be very reliable. Workmanship and finish – very high for this category, which is not surprising: in spite of the difference in prices, apparently BDP-LX58 and BDP-LX88 as like as two peas in a pod.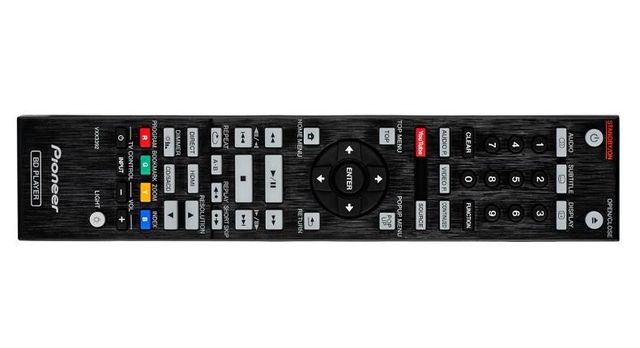 The new BDP-LX58 – another undoubted achievement Pioneer. He is not the most complete set of intelligent features, but this can be forgiven for the excellent work. If you plan to another (and probably last) stage of transformation of their system in a real home theater, Blu-ray-Player Pioneer is an excellent option source.
Price: $ 850
Rating: 5
PROS: A clear, bright, energetic picture; realistic color palette; scaling; application; strong and robust housing; zooming in 4K
CONS: Smart functions not so much
VERDICT: Player for those who value quality above all
Look a video from russian roads: