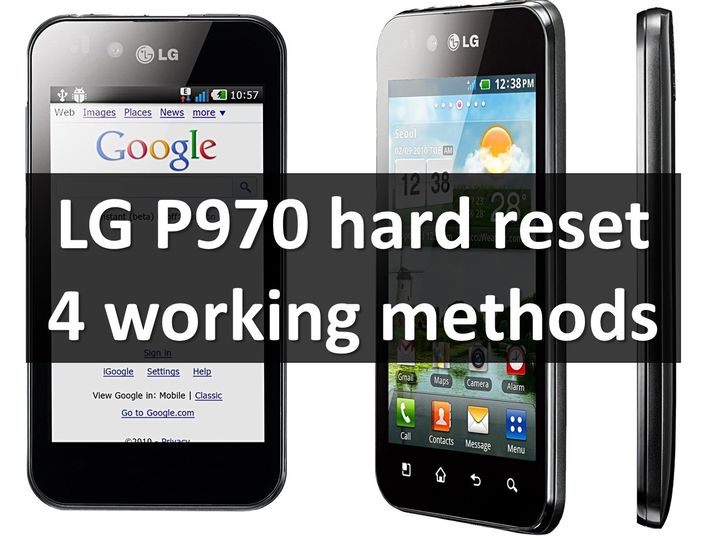 We will tell you about four methods to perform LG P970 hard reset.
The methods are ordered from the simplest to the more complex. However, if you cannot perform hard reset using method 1, use method 2, etc.
So, let's start!
LG P970 hard reset: Method 1
This method is useful if you can turn on your LG P970. If your smartphone does not turn on, go to the method 2 or method 3.
Turn on your smartphone.
Go to the Settings menu.
Open "Backup and reset".
Click on "Factory data reset" button.
Carefully read and follow the instructions on the screen.
LG P970 hard reset: Method 2
Turn on the smartphone.
Open Phone dialer.
Type the following service code: 3845#*970#.
Select Factory reset and once again Factory reset.
Carefully read the warnings and confirm the start of hard reset process.
LG P970 hard reset: Method 3
If you cannot turn on your smartphone or if it just freezes and does not respond to your clicking, do not worry, this method will help to solve the problem.
Turn off smartphone if it is still on.
Remove battery for some seconds and put it again.
Then press and hold three buttons: Power + Volume Down + G (located under Volume Down button).
When LG logo appears, release power key, but continue to hold two other buttons.
After some time you will see green Android robot. Release all buttons.
Wait until LG P970 hard reset process will be completed.
LG P970 hard reset: Method 4
For this method LG PC Suite is required.
Download LG PC Suite by this link.
Install program on your PC.
Open LG PC Suite.
Connect smartphone to PC through USB cable.
Select Device in the top menu and click on "Back/Restore". If this option is not available, then click on "Emergency software recovery".
Follow instructions on the screen.
As you can see, there are many ways to perform LG P970 hard reset. Use them to fix errors in your smartphone.
Look a video from russian roads: