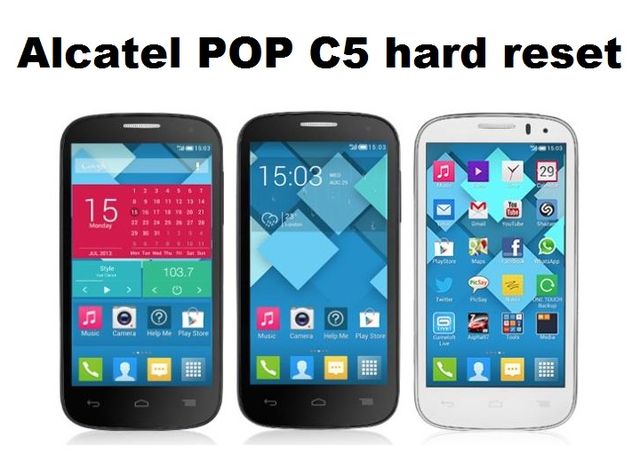 If you are interested in the question how to make Alcatel POP C5 hard reset, then you have some problems with your smartphone. Perhaps you have forgotten your unlock pattern or PIN, and you cannot turn on your smartphone. Or you have a system error, which badly affect the work of smartphone. Another situation – you've decided to sell your smartphone, so you need to remove all personal data from your smartphone. Hard reset cope with all these problems.
Today we'll find out how you can make Alcatel POP C5 hard reset.
As we have said, after a hard reset all your will be deleted, so if you have important files, we recommend that you make a backup.
How to make Alcatel POP C5 hard reset
First, you need to turn off your phone.
Then you have to press Volume Up button and Power button. Hold both buttons until your phone's screen appears Recovery menu.
Touch screen does not work in Recovery menu, so you need to use volume up/down to navigate through menu and power button to select menu item.
Then you need to select "wipe data/factory reset".
On the next screen you will see "Yes – delete all user data". Choose this option. After that all setting of you smartphone will be automatically reset to the factory.
Then you will be returned in first menu, where you need to select "Reboot system now". Wait until smartphone turns on.
That's all! You have done Alcatel POP C5 hard reset.
Look a video from russian roads: