Ukrainian startups Ivan Pasichnyk has developed a device that will change the idea of the energy efficiency of the house or apartment. The miniature device is connected to the household power and is able to determine which technique is currently enabled and consumes energy. Logs he even burning light bulb, and all the information in real-time reports on the smartphone or PC. So wherever you are, always be able to know whether the iron is off, it does not matter if your child is in the console and if the refrigerator door is closed.
The intelligent monitoring system includes its own electricity Ecoisme Tracker device and software for smartphones running iOS and Android, as well as computers. By analyzing the incoming data, the software will give advice on how to reduce energy consumption, and warn of the need to turn off devices that pose a potential danger (irons, boards, etc.). By the way, Ecoisme tracks and your location, and if something is left energized to write you a message asking you to come back and turn off appliances.
The creator of the device said that Ecoisme banal logic and help you control everything that happens in the house at a distance without the use of video surveillance systems. Indeed, the kettle clearly demonstrates that your "half" woke up, and Xbox – that your son still does not sleep. So the list of funds that could theoretically protect against the zombie apocalypse, and other emergency situations, Ecoisme definitely worth adding.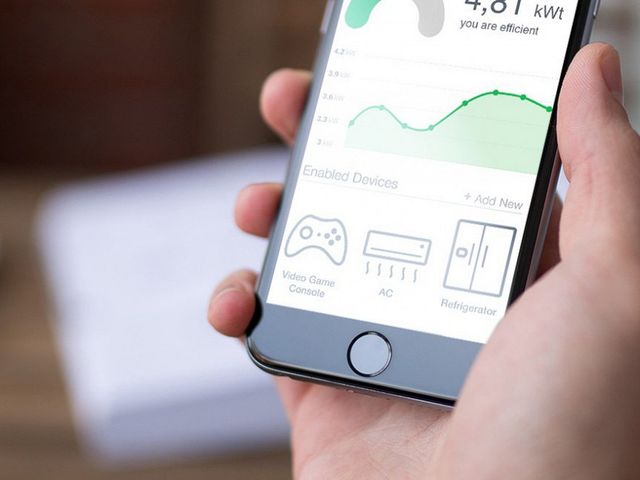 Ecoisme can be integrated into the popular "smart home» – Nest, Belkin, NetAtmo et al., As well as interact with the equipment Philips, D-Link, CrockPot etc. Special attention is given communication interface gadget with solar panels – Ecoisme show the number of the received energy and to help calculate how much it will be enough at the current load in the power supply.
Installing Ecoisme takes less than 10 minutes – just connect the device to the main cable to the panel and insert the power plug into the nearest outlet. The adjustment is made longer, but also does not cause difficulties: after installation Ecoisme network connect technology and repeatedly switch on and off it, to remember the character of gadget power consumption by performing an analysis of power and the change in the spectrum. For devices with switching power supplies create a characteristic interference power, and by which they can be identified.
Project to raise funds to run Ecoisme was opened on the site Indiegogo Crowdfunding week and gathered 45% of the required amount. "The first swallow" the unit cost just $ 99; Sales Ecoisme appear at a price of $ 139.
Look a video from russian roads: