It would seem, what electronic "brains" bins? What functions can perform normal capacity for collecting dust, dirt and other waste in the house? Startups from Tulsa, Oklahoma, confident that their child Bruno facilitate cleaning. The device is a hybrid of the bin and the vacuum cleaner: it includes a roomy bag sensors and a small motor that sucks debris.
Bruno housing made of thin metal; manufacturer offers five colors – white, blue, gray, red and gray. Inside – a garbage bag, resealed; after filling it will be easy to change.
The top of the "smart" bin – an electronic unit, which includes sensors and control unit, the engine is started. When the sensors detect dust near the holes Bruno (it is located at the bottom – where in dumpsters is usually a pedal to open the lid), the engine is started and immediately sucks his placing in the bag. Bruno Powered by a rechargeable battery, a charge which is enough for a month.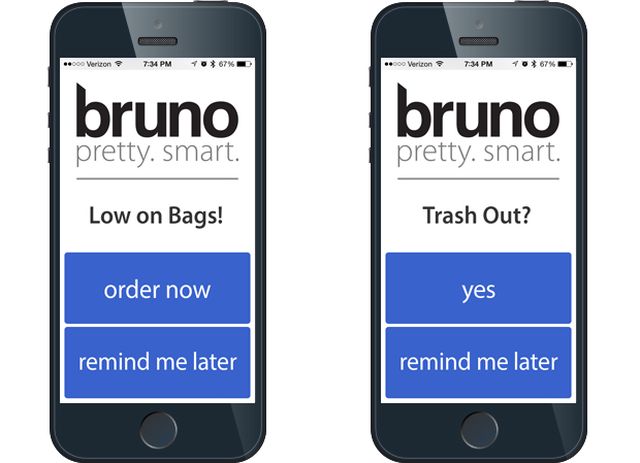 Thus, with Bruno enough to sweep the garbage in the room or in the kitchen, having collected it near the inlet, and everything else will make the gadget itself. Moreover, complete with Bruno – application for iOS and Android. It will provide a wireless "smart" bin to your phone and send a message if you need to shake the bag, or order a new (order also made of the application).
To raise funds for the project startups published the draft on Kickstarter. Basic set (Bruno and reserve replacement bags for three months) will cost $ 139; after the launch of a series it will have cost 229 dollars. A day after the publication of the project gathered 21 thousand dollars from the required 50 thousand, so the success of the project can hardly be doubted.
Look a video from russian roads: