Portable stereo speaker NFC Bluetooth Crocodile up to its name: a green and "impenetrable" like a crocodile. Speaker is intended for use in field conditions, as well it will fit for picnics and sports outdoor activities. In addition, wireless speakers will gain if the battery smartphone village.
Secure Portable PowerBank-column Crocodile is powered by its own lithium-ion battery capacity of 3600 mA / h, and, if necessary, can act as an external battery – PowerBank for charging mobile devices. This is a good quality for situations where untrained tourist or vacationer is no connection due to low battery smartphone.
Wireless speaker dressed in a durable rubberized housing military colors and can easily withstand a fall from a height of human growth. In addition to the impact resistance coated housing is resistant to scratches. Just acoustics conforms to IPX4 integrity and can work under little rain.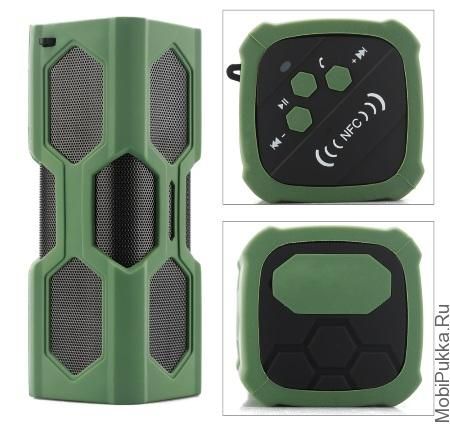 Speaker 2 includes a speaker at 5W and operates in a range from 20 to 20,000 Hz. Interface Bluetooth 4.0 has a range of 10 meters, is also supported by technology NFC. In addition, the port is provided for Micro USB, AUX In connector and 3.5 mm.
Model can work as a speaker on receiving calls. Dimensions of the device does not exceed 6.6 cm in width and height, and 17 cm in length. Product weight does not exceed 470 grams. Portable Wireless Speaker Speaker of ships around the world, the cost of one copy is 28 USD excluding delivery.
Look a video from russian roads: