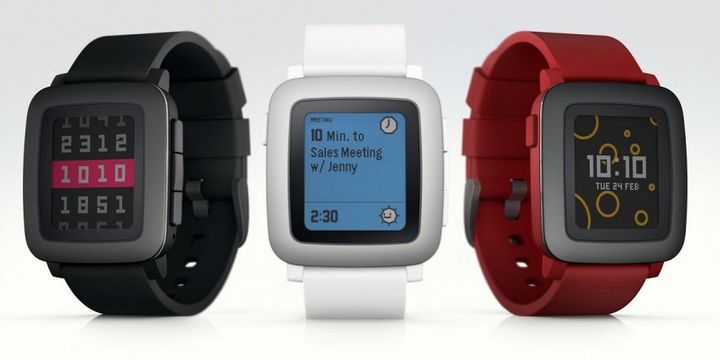 Pebble company officially unveiled its new smart watch Pebble Time, which is now equipped with a color display. Despite this move, the gadget is still built around the original concept a long time on a single charge – the manufacturer promises up to 7 days autonomy.
Pebble Time equipped with a color screen, using the same technology, the backlight is also in place. A set of sensors added microphone for voice control on the ground remains an accelerometer, compass and ambient light sensor. Will not go away, and protection from water – the gadget still stands 5 ATM. As usual, the battery company did not disclose, but promises up to 7 days autonomy, as in previous models. Smart watches have become somewhat thinner – it is now 9.5 mm (11.5 and 10.5 mm at Pebble and Pebble Steel, respectively).
New smart watch Pebble Time with a color display
Externally, the new is more like a metal version, but its edges are more rounded. The strap is the same as in the first generation, it can also be replaced by any other width of 22 mm. In sale gadgets in three colors: black, white, and became a classic for Pebble red. Facets hours stainless steel.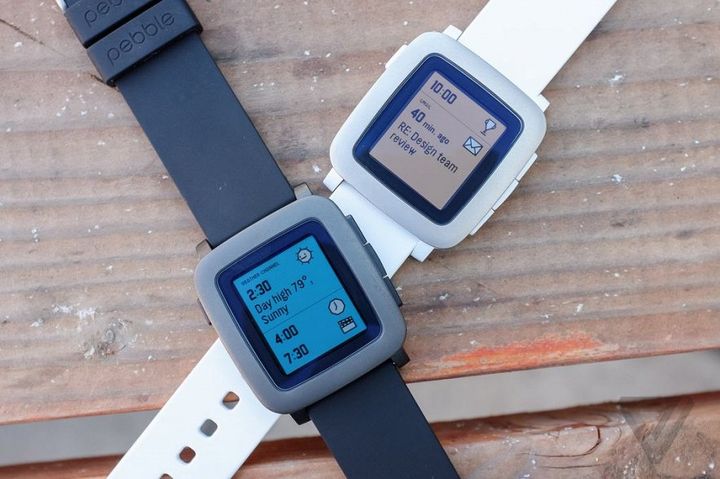 In Pebble created a completely new interface feature of which is the concept Timeline – all alerts are arranged in a single chain, and are divided into three categories: past, present and future. Each notification offers specific information that is relevant time. Smart watches received a large number of animations. Timeline will appear later and already on the market models. Despite the large number of innovations, the manufacturer continues to follow the original concept, which, according to the head of the company, is the only correct one, unlike its competitors.
The company was able to set a record on Kickstarter, gathered for the first generation of Pebble 10,2 million dollars in 2012. The subsequent appearance of Pebble Steel (review) helped a startup to sell over a million units in 2013. The new generation will be held again this way of financing on the site, or rather has already passed – in less than 20 minutes, people have donated the necessary 500,000 dollars.
To those who donate $ 159, will get new Pebble. The first customers will receive their Pebble Time in May. After the end of the device will go on sale at a price of $ 199. Previous generations were for 99 and 199 dollars for Pebble and Pebble Steel respectively, in any case, so far.
Source: kickstarter
Look a video from russian roads: