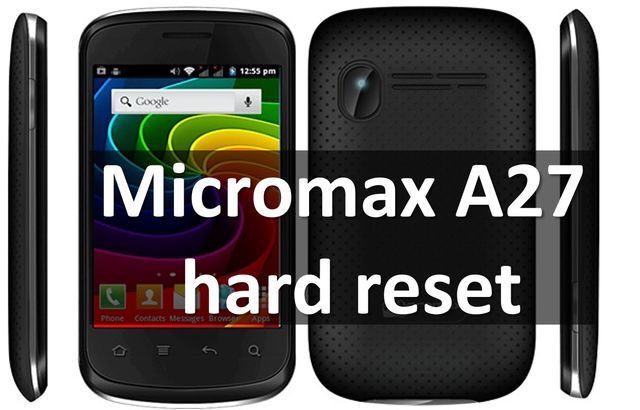 There are situations when you need to clean your smartphone from all the collected data, or return the device to factory settings. Let's find out how perform Micromax A27 hard reset.
What is hard reset?
Hard reset means that your smartphone Micromax A27 returns to the state in which you purchased it. Contacts, messages, personal data and installed applications are deleted from the internal memory. Also hard reset calls restore to factory settings or Factory reset.
Whey do you need to perform Micromax A27 hard reset?
You may need to perform Micromax A27 hard reset for several reasons:
If the smartphone was infected by Chinese junk or virus.
Prepare your smartphone for sale and to remove personal data.
Restore device after unsuccessful changes using Root access.
Fix application errors.
If you want to unlock the phone: forgot the lock pattern, key or password.
What you need to know about Micromax A27 hard reset?
All personal data, system configuration, Google account and installed applications will be deleted. This removal does not affect the data on the memory card or SIM card. Therefore, as far as possible you should make backups of important information.
In addition, it is important to remember that since Android 6.0 after hard reset protection system is enabled. The owner is required to enter Google Account. If you do not remember login and password from Google account, your smartphone will not work. In this case, you need to disable the protection in the settings menu or clarify Google account information.
Ways to perform Micromax A27 hard reset
There are three ways to make Micromax A27 hard reset: using the service code, using settings menu or recovery mode.
Micromax A27 hard reset using service code.
The easiest way to perform Micromax A27 hard reset is to enter the combination of numbers and characters in a dial app. For the specific model and the manufacturer will approach one of the codes:
*2767*3855#
*#*#7780#*#*
*#*#7378423#*#*
It is possible that none of these combinations will not work.
Main advantages:
The easiest method to perform hard reset, requiring a minimum of user interaction.
Main disadvantages:
Maybe you need to search for a special service code for your device.
Micromax A27 hard reset via settings menu
This method will be useful for inexperienced users, as well as the previous one.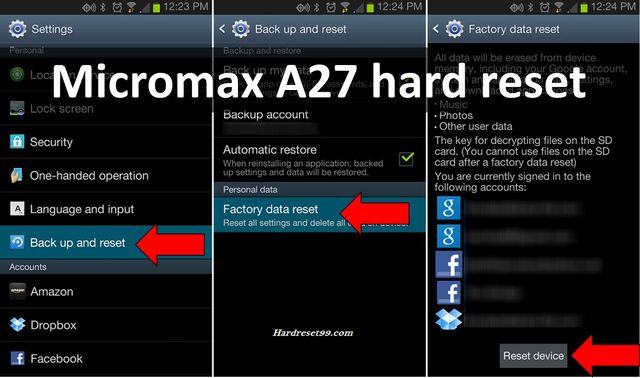 Instruction consists of three simple steps:
Go the settings menu and select "Backup & reset".
At the bottom of the list click on "Factory data reset".
A menu will appear, informing you about the removal of personal data. You need to press the "Reset device". Then your device will go into recovery mode, make cleaning and restart the system.
Main advantages:
User gets warnings and information about reset.
Main disadvantages:
Some smartphones have different menu titles
Micromax A27 hard reset via recovery mode.
This method is aimed for advanced users. It is useful when the operating system does not start or hangs at boot time. Also suitable, you can use this method, if you forget the password or lock pattern.
First, you need to get into recovery mode and then perform Micromax A27 hard reset. For this, turn off the smartphone. After that, you need to press and hold Volume Down + Power buttons. If it does not work, try another combination: Power + Volume UP.
Further, you will see robot lying on its back. Hold the Volume Up key and briefly press the Power button. If does not work, try pressing both volume buttons with the power key.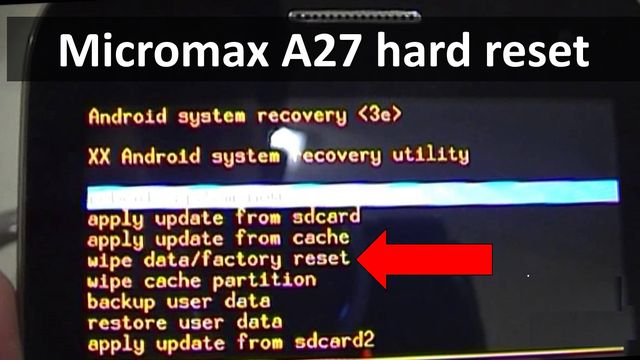 After successful manipulation the recovery menu appears. Volume keys are used to scroll through the list of options up and down, and Power button to confirm. Next on the list you should find the item «wipe data / factory reset». Then select "Yes – delete…". The cleaning process will start automatically and will take 1-3 minutes. Press the power button to select «reboot system now».
Main advantages:
Perform Micromax A27 hard reset even if the operating system does not boot.
You can monitor the reset process.
Main disadvantages:
You need to know the combination of buttons to enter recovery mode.
Conclusion
If installed applications slow down the system, the virus appeared or you have forgotten lock pattern and password – Micromax A27 hard reset will be the best option. It is important to keep the personal data, as well as to disable the protection system.
Look a video from russian roads: