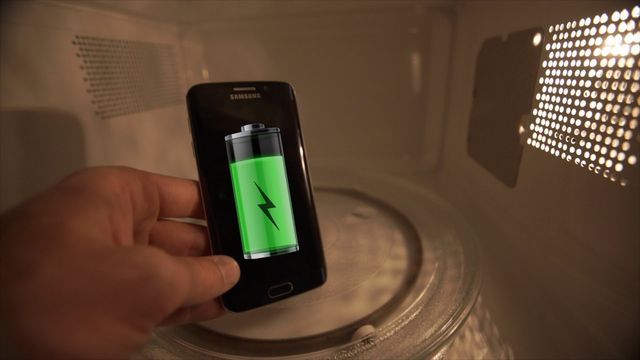 A couple of years ago on the web spread the theory that the iPhone can be charged in the microwave. Said that the device, depending on the model, requires 20-30 seconds to dial 100% charge. A charged whether in the microwave Samsung GALAXY S6? Video blogger who had once cooked South Korean flagship, decided to check it out.
The first call is limited to five seconds. Unbelievable but true: The battery charge has not increased to 110%, as we author the video – it fell from 74% to 69%! Second run lasted a little less, but the charge again fell by 5%. .
Note that the short-term torture South Korean flagship microwave seemingly had no effect on its performance. Smartphone include, touch screen operated, nothing is swollen and melted. As for the iPhone 6, which is also survived this test, it is just a little "break", although charge, thanks to the corresponding function in iOS 8 (the wave feature).
Flagship smartphone Samsung GALAXY S6 and Samsung GALAXY S6 edge (review), received yesterday on the shelves of Russian stores, inspire videoblogger to conduct crash tests better than iPhone. And not without reason. Both of these smartphones were unusually strong, and that's all I want to compete with them forces.
I must say that more interest among bloggers is expensive Samsung GALAXY S6 edge – he had already gone through a series of drop tests on him drive the car, threw him on the floor, they chopped nuts and broken robot to prove it bends better than iPhone 6 Plus. The most severe test that befell the Samsung GALAXY S6 edge was torture with a knife and a hammer, which he could not survive. But Samsung GALAXY S6 slowly catching up with him. He has already been cooked in boiling water along with the iPhone 6 and put pressure on the electric car Tesla Model S.
Look a video from russian roads: