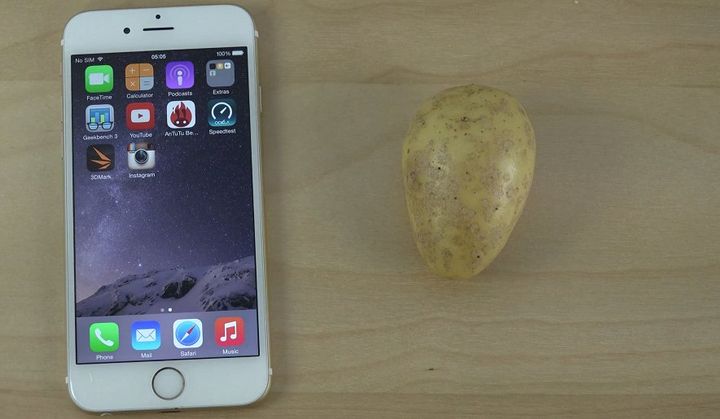 Apple introduced in September last year its flagship smartphone iPhone 6 and 6 Plus. Soup in a long time presence in the market had become heroes of many video and comparisons, including the Samsung GALAXY Note 4, domestic YotaPhone 2 and with the latest GALAXY S6. However, now it is the turn to compete with the American flagship potatoes.
"Only an 8-megapixel camera … annoying process of opening the application by clicking on the icon" – the flagship smartphone Apple is clearly losing the potatoes, the author assures a video. Of the main advantages, it highlights the opportunity to eat roots, unlike the iPhone 6, the latest version of iOS 8.2 (iPhone with earlier versions of the same could not be there).
Incredibly high price of the iPhone compared to the potatoes, which you can buy a great variety for the same money. In addition to potatoes can be attached to the keyboard (it is unclear, however, why). In the video, was preferred to that of Nokia 3310, although the choice is not limited to this legendary model.
In addition, the decline in potato does not lead "to its failure", unlike the iPhone, which is easy enough to break, for example, at the entrance to the store immediately after purchase. Even the flash will be surprised – potatoes can provide more natural light from the flame. I wonder if Apple included in the program Trade-in potatoes, as is going to do with smartphones competitors?
Exceptional modularity potato suggests that the iPhone is not a competitor to him. Now we wait for the comparison with potato Google Project Ara (video), which is also characterized by the ability to establish separate modules. Although such a cool "flash" and keyboard from Nokia 3310 to connect to it unlikely.
Source: Youtube
Look a video from russian roads: