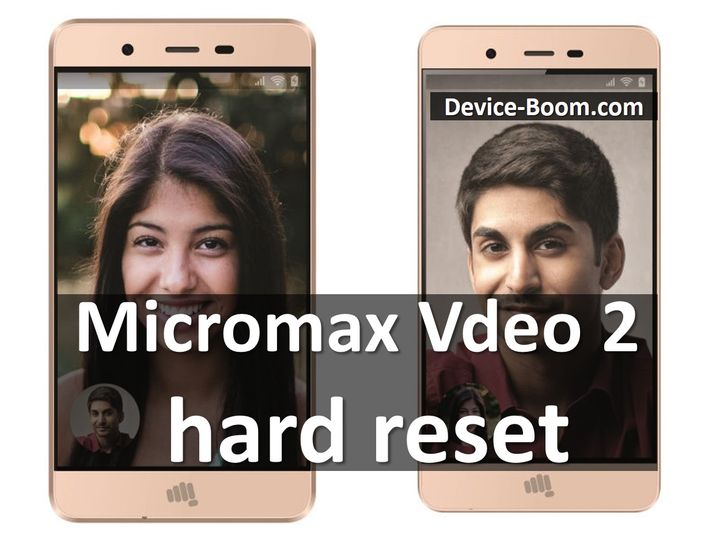 Micromax is the popular Indian manufacturer. One of the latest smartphones of the company is Micromax Vdeo 2. It was released in December 2016. In this article we want to show you two ways to make Micromax Vdeo 2 hard reset.
As you know, hard reset is built-in function in Android operating system. It allows to restore smartphone to factory settings. You may need it to bypass lock pattern, fix erros, install firmware, etc.
However, you should know that using this function you clear the internal memory of your smartphone. You need to backup before following steps below.
And now let's find out how to perform Micromax Vdeo 2 hard reset.
Micromax Vdeo 2 hard reset
You can use two methods to make hard reset Micromax Vdeo 2. It is the first one:
We start with the most simple step – power off Micromax smartphone.
Then carefully look at your smartphone. On its right side you will find three buttons. Here you need to press and hold Volume UP and Power.
After 3-5 seconds there is Android logo on the screen. It's OK. Now quickly release power key, and still hold down Volume UP.
A few seconds later you will see testing mode. It is a special mode for testing your phone. Here you can test different functions, such as board auto test, phone auto test, PCBA test result, etc.
In this diversity we are interested in "Factory reset".
Perhaps you will need to confirm hard reset process. Just select "Yes" option, or something similar.
Also, you can use another way to restore factory settings.
That's all! Two simple ways to perform hard reset on Micromax Vdeo 2 smartphone. We hope it was useful for you. If not, be sure to check other articles about factory reset.
Look a video from russian roads: