4K slowly but surely conquering the market. First TV manufacturers led to believe that Ultra HD is really necessary and viewing content that virtually no such authorization opens new boundaries of the visible.Among the laptops as there are more models with ultra-high-definition displays. Dell Inspiron 7548 is a stylish representative 7000th series, and offers us a thin aluminum casing, productive "iron" and IPS-touch display with a resolution of 3840 × 2160 pixels.
Dell Inspiron 7548: Design
Before us is a stylish work tool – so it would be desirable to describe the ultrabook. The model, with display of 15.6 ", has dimensions of 377,8 × 261,2 × 19,9 mm and a weight of 2.2 kg, which is, if not a record figure, something very close to it.
The body is made entirely of aluminum with a matte texture that is pleasant tactile and almost does not collect fingerprints. All items are made in the same style, which combines the rigor and elegance. Even the touchpad, display and switch button made with a hint of originality.
On the cover of a glossy logo only Dell. Glossy display is framed by a wide border. After the Dell XPS 13 (2015) no longer looks impressive, but still looks great. There is a downside – gloss strongly glare in the sun. The lower part collected on itself two broad perforation for output of heat, two rectangular rubber pads to stabilize the ultrabook on the surface and two speakers.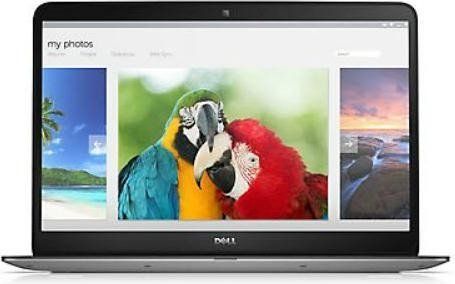 Assembling at a high level. Actually, this kind of product in this price range and we did not expect to see mistakes as a squeak or careless fitting parts.
Dell Inspiron 7548: Ergonomics
Dell to create the 7000th series would fit in a lightweight and durable aluminum body that can easily carry with you everywhere, the most productive filling. At the expense of filling will be discussed later, but with the ease of use in Dell 7548, things are good.
This is the case when the 15-inch model can be carried as a folder of documents and did not experience any discomfort. All is left to chance – use even in the park, even in the office. But should take into account the withdrawal of warm air downwards at high loads it will not allow a long time to keep the Inspiron 7548 on his knees.
The manufacturer promises that the model will operate with air temperature up to 65 degrees. As far as it is necessary in our area – I do not know, but for the people who frequent the various countries, this option is certainly the way.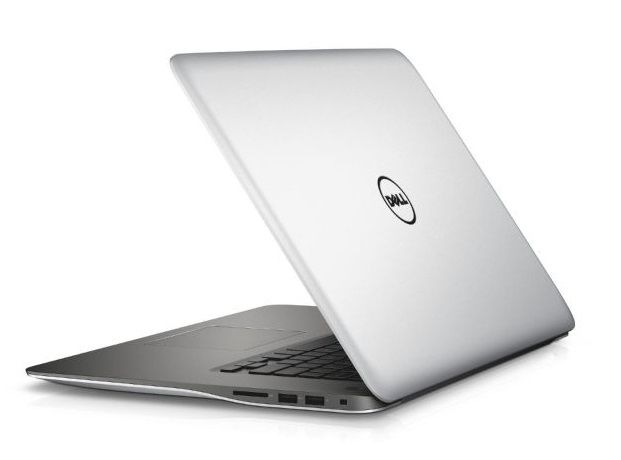 Dell Inspiron 7548: The keyboard, touchpad
Chiclet keyboard has a fairly short course, each key is designed to 1 million clicks. As they say themselves Dell: "So go ahead, finish your novel". Digital block is missing, although space for Num-panel abound. The keyboard was pressed down a little bit – at the same ASUSPRO BU401 key about 0.7 mm wider and higher, which in total makes the keyboard Dell almost 2 cm already.
The rest of the keyboard is comfortable, close to that of the MacBook Pro. She has light with two levels of illumination – minimum and maximum.
The touchpad is large and comfortable. Its bezel is made of aluminum and chamfer looks great. No individual keys as the touchpad itself is a key division into left and right side. It supports multi-touch, which works smoothly and accurately.
Dell Inspiron 7548: Connection, display
We have become accustomed to the minimum thickness = minimum connectors. With the Dell Inspiron 7548 is not so – there is everything your heart desires. The right side is collected to afford a slot for memory cards SD, USB 2.0, USB 3.0 and a hole for padlock. On the left are charging socket, HDMI v1.4a, USB 3.0 combo with PowerShare and mini-jack 3.5 mm.
The number of wireless technologies available Wi-Fi 802.11ac and Bluetooth 4.0, which are secured by the adapter Intel Dual Band Wireless-AC 7265 . Problems with their work were found.
Dell Inspiron 7548: Display
Important in Dell Inspiron 7548 – a stunning display. Manufacturers boast the presence of 4K and touch, but it is not the most important thing. The beauty IPS-matrix, which gives a rich, vibrant, juicy and high-contrast image. Viewing angles are maximized both horizontally and vertically. The graphs we can estimate how accurate color reproduction.
The minimum brightness of 14 cd / m², the maximum is at around 249 cd / m². In daylight, the image does not fade and remains readable and contrast. Such a high resolution is great – absolutely no visible pixels, and view high-quality content in 4K gives you a lot of fun, but … Content really is not enough, you can find just a few short clips and full movies in this resolution will have to wait for more.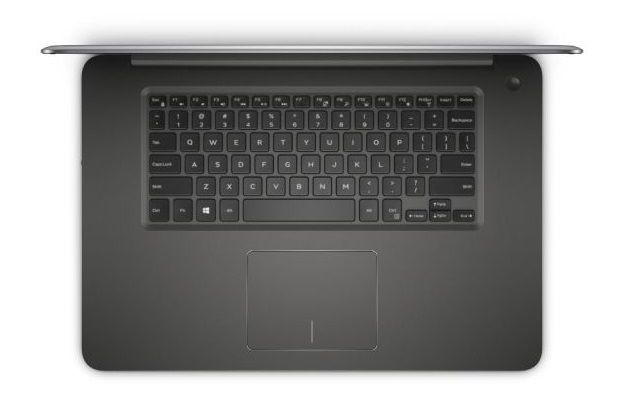 With a touch screen similar situation – he is, and that's great, but what is needed in the ultrabook remains a question. I only used it a couple of times to test, but otherwise this is an additional "bun". Recall of the glossy screen coating – good or bad, everyone decides for himself.
Dell Inspiron 7548: Multimedia
Dell Inspiron 7548 has a sound system Waves MaxxAudio Pro, which, according to developers, should provide crystal clear sound. In practice – nothing extraordinary, not bad for the size of Ultrabook. But the supply of the minimum volume in noisy places it would not be enough.
But the camera is excellent, the source communicating in Skype is immediately noted.
Dell Inspiron 7548: Functionality
The "heart" is a brand new laptop processor Intel Core i7-5500U , which is made on the 14 nm process technology, it runs at the base frequency of 2.4 GHz and has 2 cores / 4 threads. Available models are available from the 7000 series with a less powerful CPU, but more loyal to the price tag.
The processor has an integrated graphics Intel HD 5500, which will be enough for everyday tasks. But to run heavy applications provided discrete card AMD Radeon R7 M270 4 GB of memory.
RAM 16GB device, it operates at a frequency of 1600 MHz. Storage represented SSD drive with 256 GB.Last guarantee nimble launch any application, including Ultrabook and other operations associated with the store.
Supplied with the device is already pre-installed Windows 8.1 and a set of software from Dell.
For the first time he saw Dell Inspiron 7548 I had the obsession – would look like GTA V in 4K, and even more at 15 "? Unfortunately, even though it is a good stuffing, play in the resolution of 3840 × 2160 pixels at minimum settings betrayed indecent 5-7 FPS. Also disappearing texture on the palate, but it was decided driver update. By reducing the resolution to 1920 × 1080 pixels and a medium-high graphics settings ultrabook could give 30 FPS, demonstrating a remarkable picture. For this laptop is a good result.Display with natural color rendition provides just such paints that thought Rockstar Games.
During the cooling fan are two answers, which begin to operate only in heavy use, such as games and video editing. CPU temperature reaches the limit of 100 ° C during prolonged play GTA V, which is almost on the border of the permissible temperature of 105 ° C. From this it is clear that the time of use at the maximum load must be limited.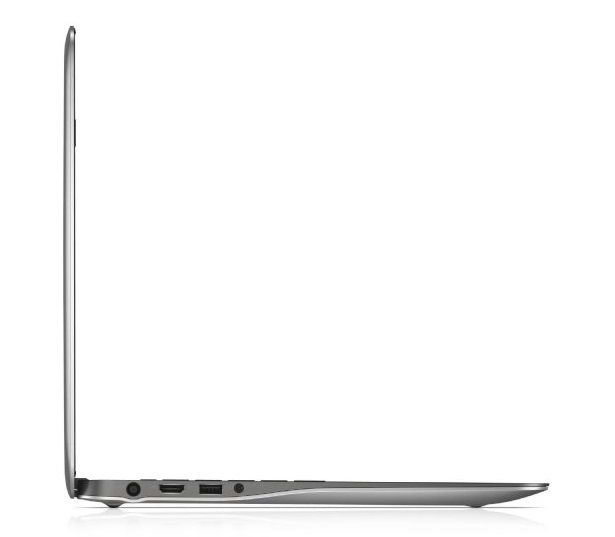 Dell Inspiron 7548: Autonomy
Battery Eater showed us 1:30 h. In high load and almost 5 hours. In the reading mode, the screen brightness was set to maximum.
Results
Surprise modern user is very difficult. Available on the market a great many very different laptops. But the Dell Inspiron 7548 is probably one of the best 15-inch ultrabooks with similar equipment and display. And the price? The price corresponds to the level.
Liked:
+ Design
Materials +
+ Build
+ Display
+ Equipment
Ergonomics +
I did not like:
– Price
– The lid does not open with one hand, slightly narrowed keyboard
Look a video from russian roads: