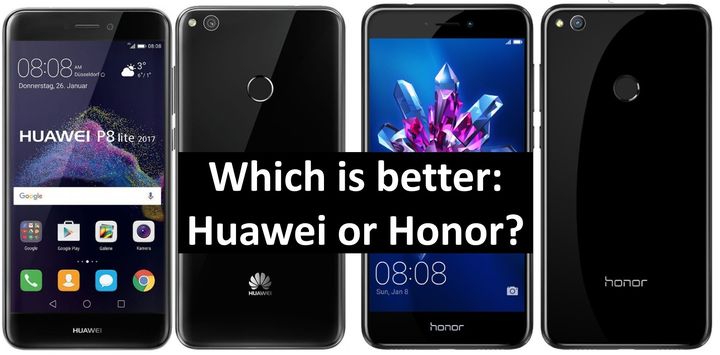 Many popular brands have its own subbrands. For example, BBK develops three subbrands: Oppo, Vivo and OnePlus; Lenovo manages Moto and ZUK; Xiaomi offers budget devices under the name Redmi.
Huawei also releases smartphones under the main brand and sub-brand Honor. So, many people have a question – which is better: Huawei or Honor? What is the difference between them?
Why Honor brand is important for Huawei
A few years ago, George Zhao (head of the Honor division) gave a clear explanation, why Honor is so important for Huawei. Subbrand was created to promote low-cost smartphones for an active youth, while Huawei produces smartphones for all categories. By the way, Huawei promotion is very similar to the marketing of Samsung. But Honor is mainly online sales and more aggressive pricing policy that is attractive for the clients.
Also Honor is more suitable name for the world market. As you know, Huawei is pronounced "wah-wye", but it's not easy for a European to say it exactly the way a Chinese does. The English word Honor does not have a linguistic problem.
Differences between Huawei and Honor smartphones
In briefly, both series have different devices, but competition in the market led to the fact that a clear distinction of brands was lost. Now the Chinese manufacturer simply develops both directions, and sometimes uses different names for different regions. The differences may be in supporting different communication standards, memory sizes and additional functions (such as NFC or fingerprint scanner). It says that we cannot say which is better: Huawei or Honor, because everything depends on the model.
Honor 8 Pro and V9 – the same smartphone, but the second model is for China, and it is equipped with 128 GB (instead of 64 GB) of memory.
If you look at Huawei P8 Lite (2017), here a little more complicated. It is sold under the name Huawei P9 Lite (2017) in Turkey, GR3 (2017) in India and Middle East, Nova Lite in Japan and Honor 8 Lite in Russia. The usual model is equipped with 3/16 GB of memory, and the Indian (which is quite strange) – 4/64 GB.
Huawei G9 Lite Model is the most powerful, it has got 3/32 GB of memory, but Huawei P9 Lite and Honor 8 Smart (Indian version) are equipped only 2/16 GB.
Huawei Enjoy 6S is also called Nova Smart and Honor 6C; Nova model has 2/16 GB of memory, and others – 3/32 GB.
Huawei GR5 (2016), with increased memory from 2/16 to 3/32 GB, is sold as Honor 5X. But the model with 2/16 GB is also presented under this name.
Huawei Mate 9 Lite is also rich in the version: in some countries it is known as GR5 (2017), and in Russia – as Honor 6X. They have no differences in hardware.
Honor Note 8 in China is known as Honor V8 Max, and the main differences are only in the standards of communication.
Honor 7 Lite (Chinese name) and Huawei GT3 (European) are the same, but Honor 5C (officially introduced in Russia) is identical in everything, except the fingerprint scanner (it does not have it).
Huawei Y6 Pro is known under the names Honor 5X Play and Enjoy.
Huawei Y3 II has identical design to Honor Bee 2 (Indian exclusive), but works on old MT6582 chipset without LTE, while the "Hindi" got MT6735 with 4G.
"Big Brother" Huawei Y5 II also works on old MT6582, and its twin Honor 5 Play – more fresh MT
Huawei Y6 II is known as Honor Holly 3, under this name the device is sold in India.
As you can see, there are a lot of smartphones that have similar design and hardware, buy different names. The manufacturer does not make a clear separation (for example, branding Huawei with improved versions): it happens that Honor is slightly better than Huawei, and sometimes vice versa.
Therefore, we cannot say which is better: Huawei or Honor, because it is impossible. In order not to be mistaken, it is better to take a version for your region.
Look a video from russian roads: