Today we will tell you how to make a backup of Android. Any Android device has a built-in function Nandroid Backup. You may use this feature, without additional applications. But all devices are different, and to get into the Nandroid Backup is not so simple. The article will also answer the question of how to make a backup of firmware Android phone, because we will use the same applications.
Fortunately, there are useful applications that can do everything for us. They are called ClockworkMod Recovery and TWRP Recovery. Of course, there are other similar applications, but we will focus on these two, as they should be quite enough to make backup of Android.
How to make backup of Android
It's simple enough, but you need to select an application that is suitable for your device. We will try both. ClockworkMod Recovery and TWRP Recovery have a lot of useful features, including a backup of Android, which may be necessary, for example, when you update the firmware of Android.
TWRP Recovery
Let's start with TWRP Recovery. The application has a menu as shown below: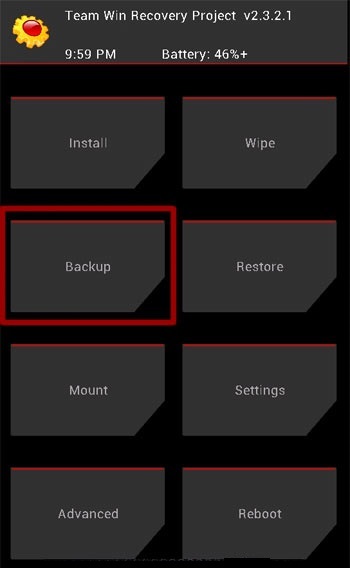 Select the menu item «Backup» and go to the screen for creating a backup of Android.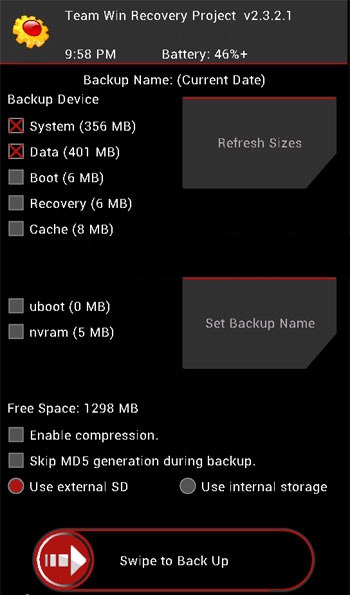 There are many options, so we list some of them:
System, Data, Boot, Recovery, Cache, Uboot, NVram allow you to select partition that will be saved in backup. If you select all partitions you will make a full backup of Android.
Free Space – the available free space on the selected drive.
Enable Compression – compression of the backup in TAR archive.
Skip MD5 generation during backup – disables file MD5 checksum backup.
Use external SD / Use internal storage – choose where to save the backup. Accordingly, an external memory card or the internal memory.
Refresh Sizes – update the information on the size of the system partition.
After clicking the confirmation button backup, Android starts a backup.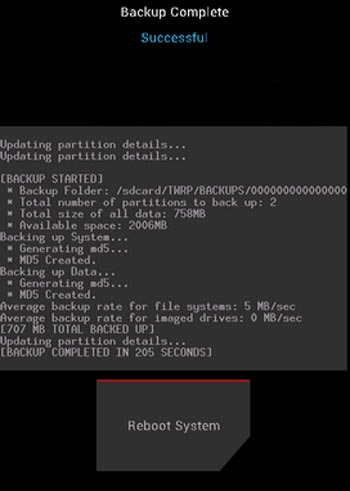 After the procedure, you need to restart Android device. So, you've created a backup of Android using TWRP Recovery.
ClockWorkMod Recovery
Now we'll show you how to make backup of Android using second application. ClockWorkMod Recovery has a similar list of main menu items. We are interested in «Backup and Restore»: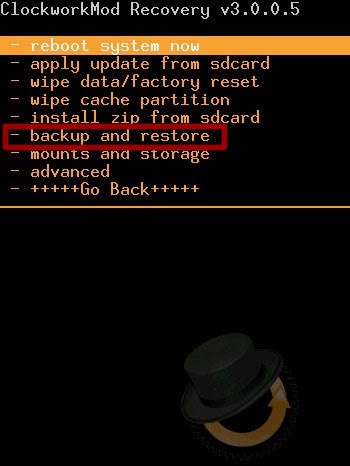 Unlike the first application, CWM Recovery does not have an expanded set of options when you create a backup of Android. CWM Recovery allows you to make a backup copy of all sections of the system.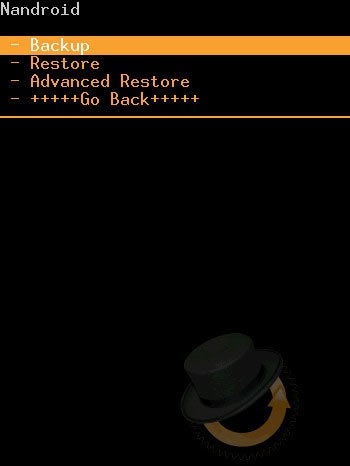 The procedure is even simpler and faster than TWRP:
Run the application.
Find the menu item «Backup & Restore» and go to it.
Select «Backup».
Agree, clicking «Yes».
Reboot your device by pressing the item «Reboot System Now».
When you use both applications, it is necessary to pay attention to one nuance. A full Nandroid Backup is possible with root access to Android. There are other applications that can make backups without root access, for example, Carbon Backup, Titanium Backup, MyBackup, GO Backup Pro, Orange Backup, Super Backup. But remember that without root the user does not have access to partitions, and therefore it is impossible to save them.
Look a video from russian roads: