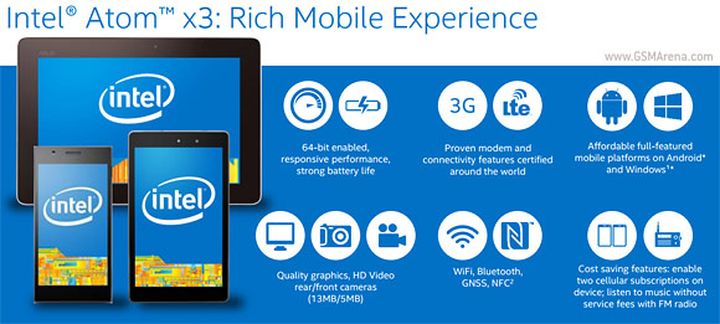 The exhibition MWC 2015 Intel introduced three new mobile chipset lineup Atom, which this year will be the hardware base for a wide range of devices – from budget to high-end. Separately, Intel said that these new products are "conflict-free", ie they do not contain materials (tin, tantalum, tungsten, gold) mined in war zones in the Democratic Republic of the Congo.
The most unpretentious device (smartphones, Phablet, tablets) get chipset Intel Atom x3, including modifications to the 4G-modem. Soup will get more expensive x5 and x7 – these chipsets allow to develop LTE-network speeds of up to 450 Mbit / s and have advanced onboard GPU.
Intel Atom x3
Chipsets line x3 get 64-bit processors will support as Android and Windows. They support two SIM-cards, 3G and LTE, Wi-Fi, Bluetooth, NFC, GPS and GLONASS. The line will include three modifications.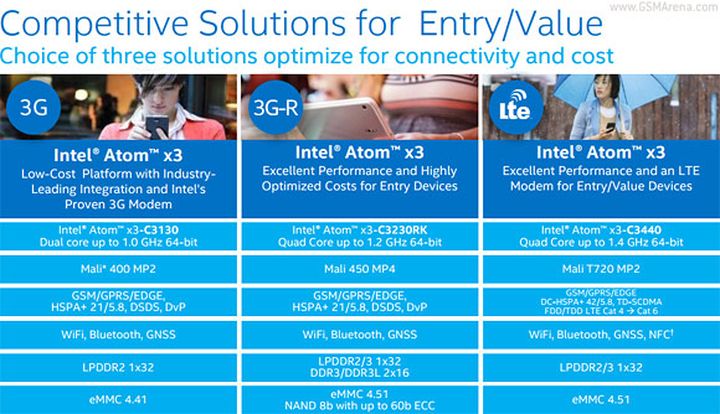 First C3130 dual-core processor with a clock frequency of 1 GHz dual-core and GPU Mali-400. I promise that this chipset will be 50% faster than the quad-making based on Cortex-A7. On board, we find C3130 modem HSPA +, which provides data rates up to 21 Mbit / s networks 3G.
The second and third modification C3230RK (1,2 GHz) and C3440 (1,4 GHz) will have quad-core processors with GPU Mali-450MP4 and Mali-T720MP2 respectively. Reported that C323RK be 80% faster Cortex-A7s. As for the top-end modification C3440, here there is a modem DC + HSPA +, which will develop a data transfer rate of up to 42 Mbit / c in 3G and support for LTE Cat.6. About the performance promised growth rate of 33% in comparison with the solutions quad Cortex-A53s.
The most inexpensive Soup for x3 Intel has placed in the price segment below $ 75. It is reported that over 20 companies, including ASUS and Jolla, decided to develop its own devices based on Intel Atom series x3. Note that it is on these chipsets discussed last spring – they should have had a family of Sofia.
Intel Atom x5 and x7
Intel Atom x5 (Z8300 and Z8500) and x7 (Z8700) – This is the first 14-nanometer chipsets. They represent a quad graphics solutions with Intel Gen 8 systems and modems, providing data transfer speeds LTE networks up to 450 Mbit / c. Average chipset x5 and x7 masthead can be found in a wide variety of Android and Windows-based devices – from low-cost 7-inch tablet cost from $ 120 to hi-end transformers for more than $ 350.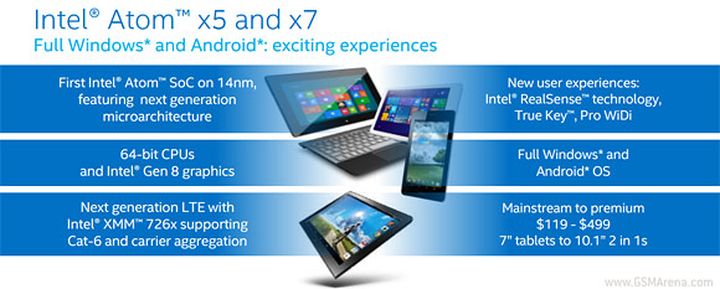 In comparison with current Intel Atom Z3795 with Gen 7 GPU on board, x7 double the number of points in the benchmark GFX T-Rex and 3DMark Ice Storm Unlimited.
Notes that will be released Wi-Fi version of the Atom x5 for devices in the price range of $ 150- $ 250, and to support LTE chipsets will be designed for the use of two SIM-cards. New on the announced chipsets will start to appear in the second half of this year.
Source: Intel
Look a video from russian roads: