I do not know about you, but I have a notion of "Chinese smartphone" has long ceased to be associated with something bad. There is no longer such a thing as an "A-brands" or "B-brands", where the company is required to classify their "coolness." Saying "thank you" for it can not one or even two manufacturers from China.
One Plus, Huawei, Xiaomi, Meizu and others – most of these brands are united not only need to have the ability to correctly pronounce the name of the company, but also the excellent quality of products each year.Today we will talk about the new product among the "Phablet", namely, the Meizu M1 Note.
Specifications Meizu M1 Note:
| | |
| --- | --- |
| Operating system | Android 4.4 KitKat + proprietary shell Flyme OS 4.2.0.3l |
| SIM-card | Two SIM-cards: micro |
| Display | 5,5 "IPS, 1920 × 1080 resolution, 403 ppi |
| Processor | MediaTek – MT6752, 8 × ARM Cortex-A53 (1,7 GHz), an eight |
| Random access memory | 2 GB, LPDDR3 |
| Flash memory | 16 GB or 32 GB memory card slot no |
| Camera | main: 13 Mn from Samsung, Front: 5 megapixel OmniVision OV5670 |
| Wireless technologies | Bluetooth: 4.0 BLE, Wi-Fi: 802.11 a / b / n, GPS, GLONASS |
| Battery | 3140 mAh (Li-ion) from Sony |
| Dimensions | 150,7 × 75,2 × 8,9 mm |
| Weight | 147 g |
Meizu M1 Note: Packaging equipment
What do you expect from the supplied Phablet, which stands as a budget smartphone? Nothing outstanding, apparently. From personal experience – all Chinese companies "please" only additional covers, by several on the screen, charging adapters, and other unnecessary junk that must necessarily give the impression that the producer concerned for the welfare of future gadget. So, all this, Meizu M1 Note no.White cardboard box unremarkable. Lies inside the device, cable USB, clip tray under the SIM-card and charging unit. Headphones not included, which is strange, because the place for them in there, but the manufacturer, you see, at some point just changed my mind to put them there.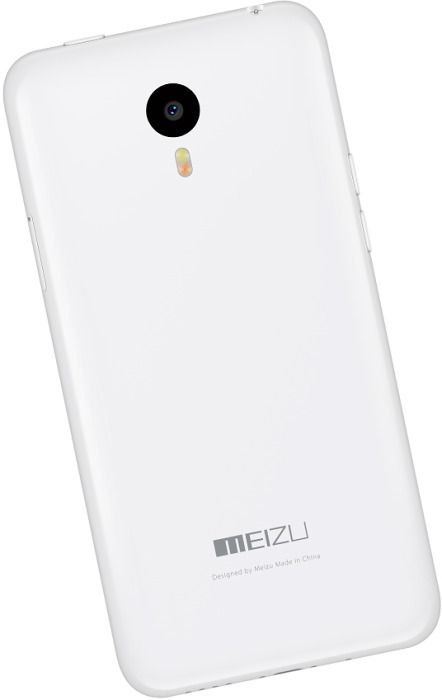 Meizu M1 Note: Design and usability
Say that the design Meizu M1 Note everything is not like – is a hoax. In my opinion, the company from the very beginning of its main line of MX did not hide the fact that smartphones anyway copying Apple iPhone.In turn, Meizu M1 Note similar to the iPhone 5C body, and on the iPhone 6 Plus size. Probably so would look like iPhone 6C Plus, if he left.
Body entirely made of plastic and has none of the metal element. More precisely, it is specially pre-painted polycarbonate. The cover is not removable. Me to the test got the white version of the smartphone, but there is a whole palette of colors that come to the court more girls. Glossy plastic, but white prints are almost invisible, that's a plus.
A set of standard controls. The volume buttons are located on the right side, have a distinct and pleasant course of depression. On the bottom hole of the main microphone, microUSB connector to sync and charge your device, as well as multimedia speaker holes. The left side is empty, although here and asks the on / unlock, but no, she migrated to the upper bound, which also features a noise-canceling microphone hole and a 3.5mm jack for headphones. So I want to scold and beat Meizu hands of the engineer, who placed the lock button on top. In such a case dimensions – 150,7 × 75,2 × 8,9 mm! But at the same time, I want to say thank you to the programmers who have found an elegant solution to this problem. Long press on the touch button "Home" on the front of the smart phone can be locked, and the double "tapas" on the screen, you can unlock. It is worth noting that such a solution is not new, but Meizu M1 Note it works in 10 out of 10 times.
The front side of the smartphone is completely black in all color variations of the housing. Her 5.5 inch screen, underneath the touch button "Home", on top of the earpiece, light sensor and proximity, as well as the front camera. No front company logo and it does not spoil the appearance of the device, as in most cases.
However, quite without the logo anywhere, it is behind the case, which also is the main camera and flash dvuhsvetodiodnaya. The camera does not protrude from the body and is protected by glass Gorilla Glass 3.
By assembling Meizu M1 Note no claims, no creaks or backlash. With such dimensions screen is not pressed and the case almost twisted. It is not surprising, because the inside hid magnesium alloy chassis.
In his hand is a good smartphone, but because of the glossy body and tries to slip. I think over time without the cover body Meizu M1 Note gather a lot of scratches and scuffs. The device does not create the impression of a premium, but if you remember his price, and from him that you do not expect. However, as the look and feel in the hand Meizu M1 Note I liked it. They are a pleasure to use.

Meizu M1 Note: Display
In Meizu M1 Note set IPS-matrix diagonal of 5.5 inches. Matrix IGZO IPS OGS from Sharp is protected by glass Gorilla Glass 3, and has a good anti-reflective coating. As a consequence, we have excellent viewing angles, good visibility in the sun. A display resolution of 1920 × 1080 pixels, the density of 403 ppi. By matrix M1 Note used proprietary technology Panel Self Refresh (PSR), which features low power consumption and brightness to 450nit reduced by 75% due to the reflection effect full lamination technology GFF. I think with such a diagonal is optimum densities points. Pixels are not visible picture with vivid colors and sufficient contrast. The maximum brightness is more than adequate, the bright sun clearly visible information. Again, if you remember the price of a smartphone, I would call the screen Meizu M1 Note perhaps the best among its competitors.
Meizu M1 Note: Camera
They are, as always two: the main module has a 13 megapixel production Samsung, and the front extension OmniVision OV5670 5 megapixel. The main diaphragm has f2,2. There are double flash with warm and cool shades. AF is responsible for the accuracy of special IR sensor, built-in sensor. Personally, I liked both cameras. Good detail, dynamic range, the correct white balance and all the basic features in the main chamber is normal.
I was pleasantly surprised by the built-in capabilities of the camera application where there is a mass filter settings panoramas up to 300 degrees, reading QR-Code, and, most importantly, fully manual settings. In this mode, you can select ISO, the length of exposure, exposure compensation and manual focus. The last parameter you can get a good close-up on the photo. In short, the possibilities are as good as the flagship of the same Meizu, except for the resolution of the sensor. Also present are "fashionable" modes like HDR and slow-motion video. About the latter is nothing good I can not say, it just is. But HDR … His work is in most cases a very good level. Rate is excellent, you can do continuous shooting up to 30 frames per second, but without autofocus.
The front has good detail, and thanks to the aperture f2.0 can be achieved good results in low light conditions. Angle of 69 degrees is not the biggest, but for quality self go.
Both cameras write video in 1080p. In the main no optical image stabilization is not present and some high-quality software, I just did not notice.
I was pleased with the main camera. Pleasantly surprised by its built-in capabilities, the need for third-party software is not necessary. As for me, a delightful result that does not hope to watch the budget Phablet.Thus, Meizu M1 Note you can shoot everything – from food to instagramma evening landscapes and close-up, all to get a decent shot.
Meizu M1 Note: Hardware Platform
In Meizu M1 Note set 28 nm chip production MediaTek – MT6752. It has 8 cores ARM Cortex-A53 and 64-bit architecture. The frequency of each core 1.7 GHz. Responsible for the graphics accelerator dual-core Mali-T760 MP2 frequency of 700 MHz. Phablet also got 2 GB of RAM LPDDR3. Digits numbers and smartphone running fast and smoothly. Of course, optimization is not at the highest level, sometimes still be found hang in games and programs, but still if you are not a sophisticated user, the performance will be satisfied. In synthetic tests Meizu M1 Note takes position near the chipset Qualcomm Snapdragon 800/801, and smartphones with this processor is still considered to be very productive solutions on the market.

Meizu M1 Note: Software Platform
Out of the box in the Meizu M1 Note installed Android 4.4 with a proprietary shell FlymeOS. Call her beautiful stock Android does not turn the language, but it does not cause disgust, rather the contrary. Nice icons and launcher. There are built-in apps calendar, notes, drawing tool, a voice recorder, alarm clock / clock / stopwatch, gallery, file manager, and even anti-virus. In the settings you all the features you need and more. I especially liked the ability to assign launch applications or actions of state Blocked smartphone.Just draw your finger on the letter off the screen and then run the application you want. Works fine. For example, I was appointed to the usual swipe from bottom to top unlock the smartphone, bypassing the lock screen. These fines largely play usability. Apart from the fact that you can install from the internal store and change almost the entire look of the system, you can also choose to toggly curtain notification functions to which you need quick access. Also pre-installed as the system keyboard TouchPal X and Fleksy, but when you consider the fact that the full version of the latest pay in Google Play Market, then it's even cool.
There is an interesting feature that will be helpful in such large dimensions and the little hands of girls, it is called – Smart Touch. Its essence is to facilitate the use of the controls on your phone, whether a button on the cabinet or in the system, smart gestures to a virtual "dots". It can be moved to any location on the screen and it will be there on top of all applications. I've seen a number of such applications in the vast Google Play, but for what Meixu did it on a regular basis out of the box, separate respect.
It is also possible to get ROOT-law almost in one click. After the registration FLYME appears this possibility without voiding the warranty.
Shell tolerable, I like it more than not. There are flaws with the localization, but minor. The manufacturer promises an upgrade to Android 5.0 Lollipop soon.
Networking & Communications
Of course, the most important advantage in Phablet from Meizu is possible to install two SIM-cards. There is support for frequencies 2G / 3G (900/1800/2100). Also declared support for LTE, but Ukraine is not advisable. While in Russia work on 4G Meizu M1 Note is not at all operators and not in all cities where available LTE.
To control the operation of SIM-cards in the settings menu there is A Corresponding section. In applications, the Dialer or SMS CAN Choose from A SIM-Card to Carry out A call or send A message. For many Will be the main argument of the availability of two cards, there are two Radio. Set the remaining Communication is standard: Wi-Fi (2.4 GHz and 5 GHz) standard a / b / n, Bluetooth version 4.0 with a puncture BLE, GPS, GLONASS support.
I personally would like to see the ability to install microSD card into the slot of the second SIM cards, it makes a number of other manufacturers, but this is nitpicking.
Meizu M1 Note: Sound
By the sound of Meizu, as I understand it, is a special thrill, because in the past the company has made a number of very tough players. In fact, everything is really good, but not amazing. Multimedia speaker loud and clear sounding, although at a high volume and heavy compositions can still hear the rattle. In headphones and all is well. Clean "top" and volume "lower classes". Standard application "Music" is the equalizer, which is quite correct settings by genre. So why are all the parameters is good, but not delicious?Maybe it's because I just expected more. In any case, I do not know who will use this Phablet as a player every day, because its size is significant.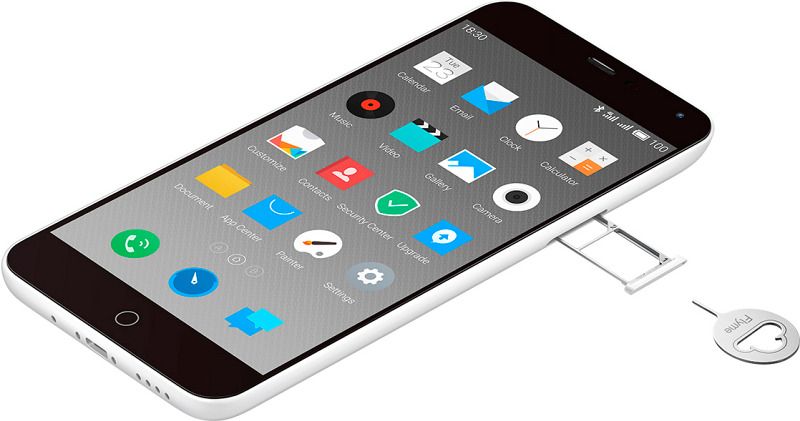 Meizu M1 Note: Autonomy
In Meizu M1 Note installed removable battery production capacity of 3140 mAh Sony. The manufacturer claims that the M1 Note built a special processor power management that optimizes energy consumption and supervised. I must say that autonomy is one of the main skate this Phablet. I was amazed rate in more than 6 hours of screen on the first day of use. And this mass of programs and use as a basic smartphone for a whole day. Reading articles in the browser, social networking, a few photos – all of this can not leave during the day. Meizu M1 Note is able to withstand any rush of activity. In the settings there are three modes of energy, "Energy Saving", "Balanced" and "High Performance". None of them has no effect on the overall speed of the system, the interface is drawn quickly and smoothly.
Conclusion
Sure, Meizu turned out just perfect budget Phablet. It is stylish, efficient, with an excellent screen and a good camera. Autonomy just happy every day. So I want to find cons to criticize, but significant virtually none. I can not believe that for such a modest sum you can get a very high quality product that is pleasant to use and can be safely advise buying friends. Those who are not afraid of large size and hunting for Phablet with two SIM-cards Meizu M1 Note would be the best choice at the moment.
Look a video from russian roads: