Last year we introduced you to the iconic models of full-length type headphones Sony MDR-1R. They all liked the wording and cons could not be found. Sony MDR-1A is a kind of update MDR-1R – although it is difficult to imagine what could be improved, but the Japanese engineers really did a good job on the model. And this is what came out of it – we will tell you in this article.
Sony MDR-1A: Scope of delivery
I remember the delight I felt at the sight of the box Sony MDR-1R – painfully premium it was. As paradoxical as it may sound, but the packaging MDR-1A I am personally not so impressed as packaging predecessor.
Removing the cardboard casing appears to us a box, inside of which all the same as in last year's hero complete: Case, two cables 1.2 meters (one for smartphones) and documentation. Special thanks to the developers for such a quality case that copes with safety headphones.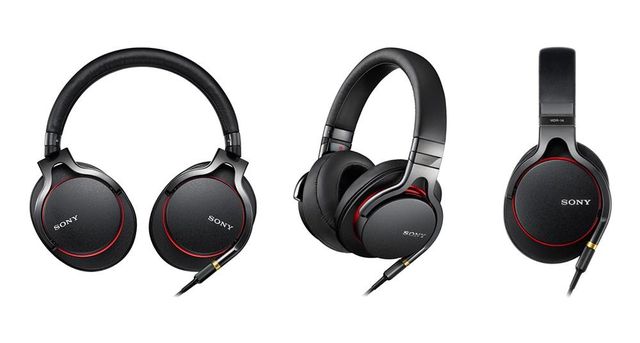 Sony MDR-1A: Exterior materials, assembly
Facelift catches the eye immediately, but the changes are. First – it's a little different structure of the metal deposition on cups, previously it was frosted, but now something like a simulation under the skin. Also changed the V-shaped mounting cups and connector cable – now he is with a bronze tip. Yes, there is no supernatural changes, but this is not required, because why change something that looks so wonderful?
Materials are absolutely identical with MDR-1R and presented His Majesty the metal at the base of the arc and the bowls, Madame Faux leather upholstery in the ear cushions and headband, and Mr. plastic in the rest of the unit. Assembly similar and nothing to complain about – it's like Mercedes, only in the world of headphones.
Sony MDR-1A: Ergonomics
Again, I want to compare with the Sony MDR-1A premium cars. Wearing headphones on his head immersed in comfort and do not want to shoot them. Ears as comfortable in soft ambyushury like your back in the chair S-class.
Nothing crushes, ears do not sweat, the model is sitting on his head tightly – honestly, I can not imagine a more convenient overhead / full-size headphones. Cup and the headband can be adjusted over a wide range, which allows the device to use almost any people. Sony MDR-1A are ideal for street and listening to music in the room. Weight of the model is smaller and now it is 225 g
Strong enough detachable cables have a cross section to prevent tangling and one of them has a remote control with microphone for portable devices and making calls. Something all very smoothly, you need to stick to anything, right? Otherwise, write in the comments that the paid review. So, minus the headphones is that the cable is microphonic, thereby sometimes heard in the left ear as he rubs on things.
Sony MDR-1A: Sounding
And that's where lie the most important differences between the Sony MDR-1R and MDR-1A, so it is in the design of radiators themselves. Now we modified 40mm HD-speakers with lightweight aluminum construction and diaphragm LCD polymer. It is possible to expand the frequency range up period of 3 to 100,000 Hz at a 24 ohm impedance and sensitivity of 105 dB / mW. Enough characteristics, let's listen.
We tested the headphones using the following sources: a computer and digital-to-analog converter ASUS EONE MKII MUSES, portable player Sony NWZ-A15 smartphone Samsung Galaxy S4 Black. Music has been used from the Prime Test CD # 1, and personal collections in lossless. Let`s ROCK!
In tandem with ASUS EONE MKII MUSES sound velvety and very soft, just like the ear pads, but no problems with blockages in certain frequency intervals. After my Creative Aurvana Live! it seems that low too much, but it is only an illusion, in fact, the balance is maintained. Same with high and medium frequencies – they are in perfect balance. In musical compositions quietly friendly drum barrel with violin and bass guitar with a bell. Instrumentation is clearly divided on the scene, the listener can easily understand where the vocalist, guitarist, drum set, and so on. D.
By musical genres I did not determine which direction is best to cope Sony MDR-1A. Any music played melodically and with scrupulous precision – from Dire Straits and Pink Floyd, to The Prodigy and Ivan Dorn.
Zvukozolyatsiya the limit for such a structure, in the street, of course, heard the noise through ambyushury, but it is quite muted. I repeat what I wrote in the review of Sony MDR-1R – in such high-quality headphones want to listen to the detailed composition in a relaxed atmosphere and to hear every note, and not to lose half the playback frequency range due to external noise.
High sensitivity and low impedance being felt – on the smartphone Samsung Galaxy S4 Black stock volume increased too, listen to the maximum impossible (for me). Of course, this fault is also a sound system
Portable player Sony NWZ-A15 perfectly friends with MDR-1A and showed a remarkable results. Listened constantly to 10-15 divisions of 30, which is more than enough even in the noisiest places. Clean sound of the player not all the charm of the headphones and the sound was very close to that when listening with a serious ASUS EONE MKII MUSES.
Results
Earlier in the price range up to $ 200 a benchmark for me were Audio-Technica ATH-M50, but now I consciously put Sony MDR-1A on the same level with descriptions from Audio-Technica. And if on the part of the sound patterns are similar in level, but each with its own flavor, the materials and ease in headphones Sony higher order.
As a result, we got a great upgrade an already great headphones. Sony MDR-1A began to sound more detailed and wider, a little thinner and a bit has changed in appearance. We have before us an excellent headphones, which cost is justified by 100% – we recommend to pay attention.
Look a video from russian roads: