Music high resolution – still fledgling chick to independent flight it is still far. One of the obstacles to it – the high cost of equipment and files; so that the output of the new Walkman in the initial price range is very good.
NWZ-A15 – the entry-level player with support for HD-formats and price of just $ 150. Quality of work and design, it gives competitors a premium, but is well suited to become a party to the revolution of high resolution.
Impressive equipment in this price range is not expected; NWZ-A15 is quite simple: it has no Wi-Fi, no applications, no more so Spotify or Miracast / DLNA.
But there are technology NFC, FM-radio and aptX Bluetooth. The screen diagonal of 2.2 inches with a matrix size of 320 × 240 pixels is nothing more than the display and does not support touch control.
This Walkman is controlled by physical buttons – the old-timers still remember this; in the bottom of the player is a diamond with a gamepad control button in the center.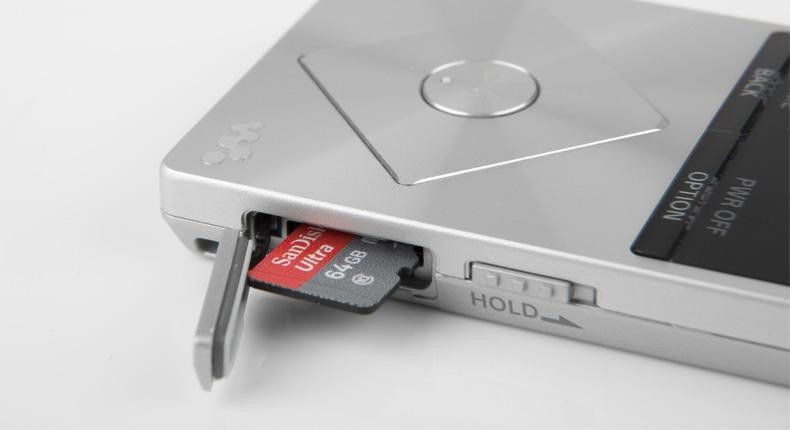 Design best described as functional. Textured aluminum front panel makes a good impression, but the matte finish and rear ends looks pretty cheap. We miss the luxury flagship model Sony NWZ-ZX1, however, she and costs three times as much.
Sony claims that it is the smallest and lightest in the world player with support for HD-music, and it's easy to believe. Given the size 10,9 × 4,4 × 0,9 cm and weighs only 66 grams, you run the risk of putting it in your pocket and forget about it completely.
Download music Walkman made by simply dragging files from your computer. When will built 16 GB of memory, come to the aid slot for microSD-card. In the list of formats – MP3, WAV, AIFF, WMA, AAC, HE-AAC, FLAC and ALAC; DSD decoding is not supported.
Content easy to find in the main menu, and if you do get lost, "Back" button will return to your itinerary. Users accustomed to the touch screen, an interface may seem archaic and not the most convenient.
Menu on the playback screen includes a variety of options sound settings, as well as some fun features available for music in formats other than HD. You may want to tinker with the settings and EQ sound modes; We have the same sound quite satisfied "by default".
We are delighted with the energetic and lively character of this miniature player. Could You Be Loved Bob Marley delights from the start listening; Walkman identifies all the textures – from traditional drums and guitar chords to a gentle tap on the drum "Quik" stick, wrapped with a damp cloth.
Due tonal balance is not underlined any frequency subbands. The sound is not very rich, but not so lean that it be called poor.
Previous models of Sony portable players were extremely accurate, but is not quite A15 is ideal in this respect: organized tools wisely placed on a sound stage, but not strictly rhythm and dynamics are not as expressive as we would like.
In general we can say this: if you want the best image quality and equipment, A15 – not your choice. If you just want to try the music:
Price: $ 150
Rating: 4
PROS: Highly detailed; compactness; slot for microSD-card; construction and decoration; Ease of Use
CONS: Rhythm and dynamics are not perfect; simple design
VERDICT: The player with no extra "bells and whistles" to explore the world of HD-music
Look a video from russian roads: