It has long been underway to develop such devices that allow you to not carry a mouse to your notebook and do not use in this case is not entirely comfortable touchpad. The same trend is observed in the wireless and keyboards. That is all that is needed is a sensor device that detects the position and motion of the fingers, and then interprets them according to the position of keys on a standard PC keyboard or laptop.
But the company Ractiv went even further and created a device Touch +, which converts virtually any flat surface into a touch panel. In this zone, you can "click the mouse", "typing" and even "record music."
Touch + is a standardized universal device for any computer that allows you to manage processes on any surface … even in the water when you take a bath! More than moving your hands between the keyboard and the mouse or do Caique something more complex action is not necessary. Perform functions simple hand gestures to instantly and easily! Dual cameras VGA Touch + to detect and high-amplitude and movement and is able to capture movements at a great distance.
This allows to use this device, not only in the immediate vicinity, but from a distance of several meters. For example, during presentations at some seminar or exhibition. You can also use it for recreational purposes during the games or in training, when a musical instrument.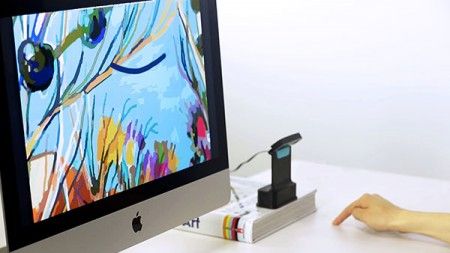 The authorship of this project belongs Ractiv. This name they formed from a broader term interacrive. The meaning of this decision, I think, all is clear. This is a team of engineers, designers and coffee lovers who share a common goal: expanding the limits of how we interact with computers. That which can reach computers is limited to how we can use them, and it – that they are exploring every day in their offices.
By the way, this is not the first novelty of the brave designers and the coffee. Last year, they launched a program to raise funds for your device Haptix.
Look a video from russian roads: