Startups say: not just a plate can be clever. Smart-function, they decided to use and more efficient use of water, which is especially important now, at a time of holidays and refreshing cocktails. On Kickstarter almost simultaneously opened two projects dedicated to "smart" bottles. The possibilities that these gadgets are and why they are more convenient conventional sports capacities?

Trago developers call the world's first "smart" bottle. Water makes up 70% of human muscle mass, so drink plenty of fluids during the day is especially important if you lead an active lifestyle and regularly go through weight training.
Inside the bottle – solid steel capsule, and is located at the top of the battery compartment of the "crown". You can use only cover Trago any bottle neck has a diameter of 1.2 inches.
Trago is connected to your phone over Bluetooth, and business application controls how much water you drink per day, helping to provide a comfortable level of hydration. The decision will remind that it is necessary to fill the bottle, give advice, if you want to increase or reduce water consumption. The calculation is performed based on your individual performance – age, gender, activity level.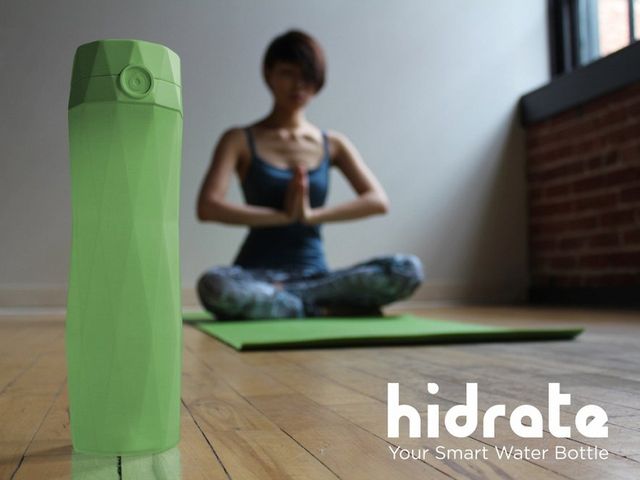 Trago project was launched on 2 June at the time of writing the material collected about $ 20 000 of the 50 needed. In fairness it should be noted that Trago – not the first "smart" bottle: so a day earlier on Kickstarter campaign was published HidrateMe – this gadget per day collected for the project required $ 35 000, and today the amount of investment has exceeded 102 000. By the way, both bottles were offered to investors at a price of $ 39.
Benefits HidrateMe to Trago – stylish design and wider functionality of the application: it keeps a history of your consumption of water and calculates the required volume, based not only on the main indicators of the body (sex, age, activity level, height and weight), but also taking into account temperature, humidity and altitude.
The bottle comes in five colors: black, white, pink, green and turquoise. The water tank 710 mL made of plastic that does not contain bisphenol A. The batteries suffice HidrateMe year.
Look a video from russian roads: