Since consumer drones increasingly become widespread, we seem to be seeing more and more certain tendency to "the creation of even more value added." In particular it relates to the in a position hang on the same level or place as necessary, but which can also switch to a faster and more efficient flight motion of the finger. Recent examples have shown us that in the best manifestation, remember even Skyprowler and X PlusOne. Now it was added, and the drone Vertex.
UAV by style duck has four independently leaning engines / propellers, controllable landing gear with wheels and wings, which can be removed when it is used simply as a kvadkoptera – they may also be replaced with longer wings for more efficient flight in gliding mode . Custom transition between the two modes of use by means of a switch on the remote control radio remote control makes the propellers rotate on a vertical axis or horizontal. According to statements by the designers of this drone, Vertex is able to hold their own in the air for some time, when suddenly there is some hitch with switching between use.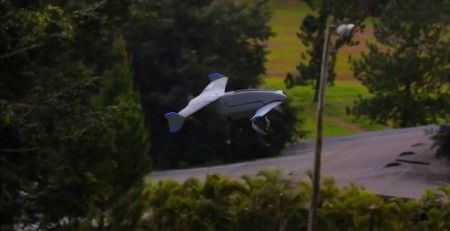 Installed by the user GoPro camera can be installed on the additional suspension with two axes for shooting spectacular aerial video. Although the drone is now managed entirely by hand, semi-autonomous flight system is already in development.
The energy of this baby provides a removable battery at 5300 mA / h, a charge which should be enough for about 15 minutes flight or a 35 minute flight planning. The latter figure may be increased if used longer wings.
Look a video from russian roads: