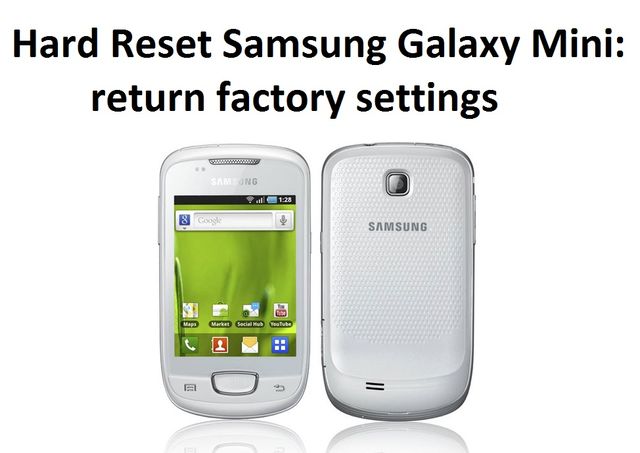 Samsung Galaxy Mini is one of the most popular smartphone among young people and those who prefer style and quality.
Once you have bought a smartphone, you are setting it for yourself: install apps, widgets, change desktop icons, etc. Any changes in the phone can cause problems. Don't worry, hard reset Samsung Galaxy Mini can solve different software failures. Also if you decide to sell you device, then you should make a hard reset.
But first you must copy all the important files from phone memory to microSD memory card or PC. In addition, it is recommended to remove memory card and SIM-card from smartphone for the duration of hard reset process.
How to make hard reset Samsung Galaxy Mini
You can reset your phone from settings menu. To do this, perform the following steps:
Open Settings menu and find the item Backup and reset or Privacy. There you will see option Factory Data Reset. Click on it. If you have a password on your device, enter it. After that confirm that you agree to remove all user data. The phone will begin hard reset process.
At this time, do not do anything with your smartphone, you just need to wait a few minutes. After that reboot your phone. Then you will see that phone returns to factory settings.
The second method to make hard reset Samsung Galaxy Mini is to use Recovery mode. It is used when your phone does not turn on, for example, freeze or you forget unlock pattern.
First, you should turn off your phone. It is recommended to remove battery for some seconds and then insert it again.
Then you need to press and hold special key combination: Home button + Power button.
After some time you will see Samsung logo or Android robot. You may release buttons.
In menu that appears you need to select "wipe data…"
Then confirm the start of hard reset process. Select "Yes…"
After process will be completed, you should reboot your phone. Select "Reboot system now".
That's all! Your smartphone will be loaded as new. Feel free to use the phone, install new apps, games and return necessary data. It should be noted that hard reset Samsung Galaxy Mini methods is suitable for all models of Samsung smartphones.
Look a video from russian roads: