It is no secret that the interest of buyers to many laptops spurred attractive price. And do not think that for a small price tag manufacturers save on everything. Anyway, when it comes to the laptop HP ProBook 11 EE G1, which we will consider in the review, at the cost of $ 600, he is able to offer good functionality, touch screen, and though not as strong, but modern stuffing.
Design: HP ProBook 11 EE G1
Despite the 11.6-inch form factor, the laptop HP ProBook 11 EE G1 on the move can not be called compact. Visually, it does not look too thin, also it seems that the weight and dimensions are slightly higher than the claimed 1.6 kg and 302h227h25 mm respectively. Perhaps this visual deception is obtained due to the body. For example, the HP ProBook cover 11 is a bar with a wide frame.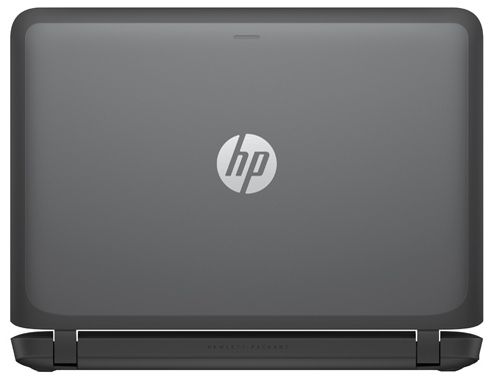 By the way, the entire notebook case mat, and he looks, one might even say, solid. On the outer surface provides a company logo, as well as an indicator of active wireless modules. In terms of practicality, too, everything is fine, for example, often use the laptop will not leave behind a lot of fingerprints.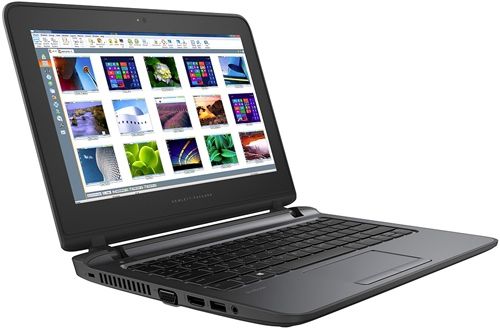 At the bottom of the unit are a large battery, and legs. Interestingly, the battery is not so easy to remove. There are no latches, it is necessary to remove the battery cover small rubber screws, unscrew them and only then remove the battery from the bay.
Display, sound, webcam: HP ProBook 11 EE G1
Laptop screen HP ProBook 11 EE G1 has a resolution of 1366×768 pixels and a diagonal size of 11.6 inches. Display area enough to normally surf the Internet, work with documents, watch videos, etc. By the way, almost matt surface glare and brightness of 220 cd / m2 entirely enough to work at home, in the office or, for example, the audience. Particularly pleased that the laptop screen has a coating with good touch sensitivity. Furthermore, it protects the display glass Gorilla Glass 3, characterized by high strength and resistance to scratches.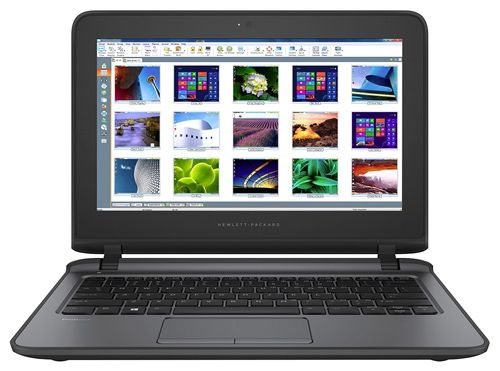 In the frame of the camera is integrated HP TrueVision, which can be used for video calls. Its resolution is 1 megapixel, so count on high-quality images is not necessary.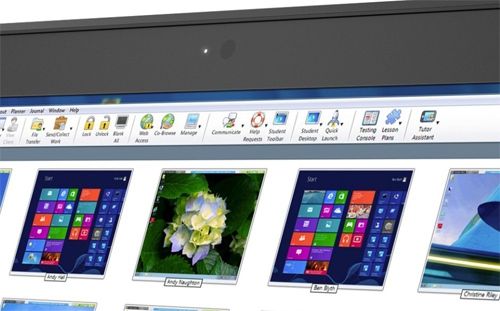 Dynamics of Space is just above the keyboard. This arrangement is convenient because the sound output does not overlap. To improve the sound quality helps DTS Sound +. As a result, even without headphones it will be balanced, however, the low frequencies are unlikely to hear, they will overlap high. Overall, the sound is clear, moderately loud, but for watching movies or listening to music is better to connect external speakers.
Keyboard and Touchpad: HP ProBook 11 EE G1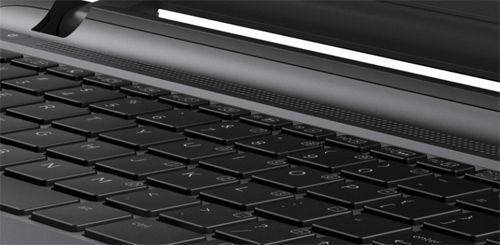 Given the small size of the housing, the keyboard looks very compact. All keys have a flat surface, clearly marked. Most buttons are normal for 11.6-inch notebook size, but for some fall is not always comfortable. Thus, reduced vapor control arrows and a few keys of the top row has long been accustomed to. At the same time the standard layout, so you will not have to be reconstructed during printing.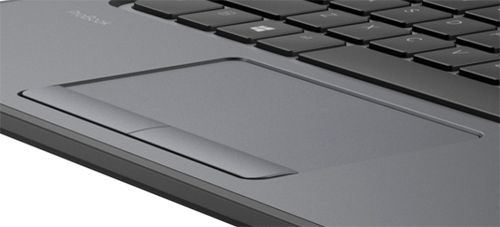 Below you can see the touchpad, made in the fact that neither has a traditional style – just below the touchpad are arranged convex physical mouse buttons. By itself, the manipulator depth, elongated, of medium size. Of course, cursor control is not particularly dispersal. However, the touchpad responds well to touch, so the commands are executed quickly and accurately. With regard to support multi-touch gestures, you can perform scrolling, zoom in or out of the image.
On HP ProBook 11 EE G1 (N0Y74ES) pre-installed 64-bit Windows 8.1. However, the manufacturer offers other options, for example, Windows 7, the new Windows 10 or even DOS.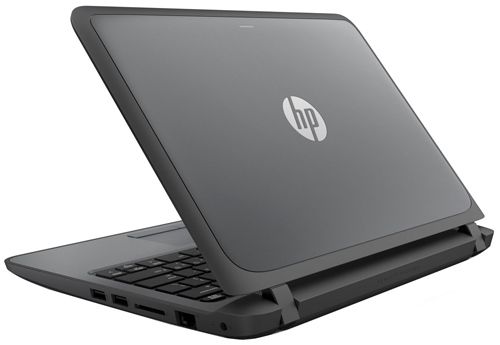 The laptop HP ProBook 11 EE G1 is installed low-voltage processor Intel Celeron 3205U. It is produced according to the norms of 14-nm process technology and is the fifth generation of Broadwell. The chip clock is 1.5 GHz while the volume of cache in the third level does not exceed 2 MB. Despite the fact that the processor can handle two cores only two data streams, performance Celeron 3205U pretty well. In general, CPU pulls not only office tasks and multimedia. I must say that there is another configuration, in which the processor family of Celeron, and Core i3.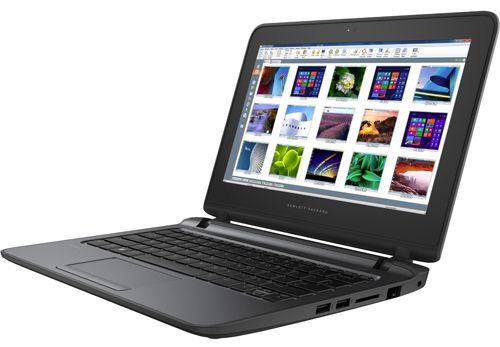 Intel Celeron 3205U is complemented by integrated graphics Intel HD Graphics (Broadwell). It has 12 unified streams and supports DirectX 11.2. To handle simple graphic tasks of its lack of performance, but with enough games or demanding applications it is unlikely to successfully cope.
The HP ProBook 11 EE G1 has enough RAM is 4 GB (possible up to 8 GB). For RAM has one slot, and the memory itself has a standard DDR3L-1600 MHz. In addition, under the storage allocated 500 GB hard drive. HDD has a speed of 5400 revolutions per minute. In general, for this laptop is more than enough. Incidentally, there is a configuration in which, instead of a hard disk installed SSD-drive.
Ports and Communications: HP ProBook 11 EE G1
On the right side of the HP ProBook 11 EE G1 review has two ports USB 3.0, as well as a card reader SD / SDHC / SDXC and a network RJ-45 connector. In the end, you will notice a nest for recharging. In addition to the interface to the right, you can see a miniature LED notebook battery charge.

On the opposite side of the HP ProBook 11 EE G1 are placed: the digital interface HDMI, one USB 3.0, VGA, composite audio jack for headphones and microphone and a slot for a Kensington lock. Front interfaces are not available, there is only the hard drive. The optical drive is missing.
Wireless communication through Wi-Fi 802.11 a / b / g / n / ac and Bluetooth 4.0.
Battery: HP ProBook 11 EE G1
The HP ProBook 11 EE G1 is 3-cell lithium-ion battery capacity of 3200 mAh. The maximum that can be squeezed is 6-7 hours of continuous work in the balanced mode. Given that the laptop is a touch screen, so the duration of the work is understandable. To charge the battery using a 45-watt power supply.
Conclusion: HP ProBook 11 EE G1
If you need a small laptop primarily for work or school, you can opt for the HP ProBook 11 EE G1. It is convenient to take with you on a trip, especially since the performance of the device will not fail while performing different tasks. And the touchscreen protected by Gorilla Glass 3, expand the functionality of the laptop. Perhaps not everyone will like it, that the battery compartment of the right does not take forth, but it is not as important to point that because of him to abandon the purchase. However, if you think that too much to give $ 600 per laptop, the main highlight of which is a touchscreen, you can always look at the options of competitors.
Source: HP
Look a video from russian roads: