LG Electronics at CES 2016 introduced its new line of LG Signature which, as they say, brings together the best of the company's technology and design under one name.
LG Signature line initially includes advanced 4K OLED TV with HDR support, improved washing machine TWIN Wash, modern Door-in-Door refrigerator, futuristic hybrid air purifier, a double oven rich features, and cutting-edge TURBOSTEAM dishwasher. The subsequent line will include more products, how the brand to develop. If you remember, this new brand we announced late last year.
LG Signature: OLED TV with a maximum of technology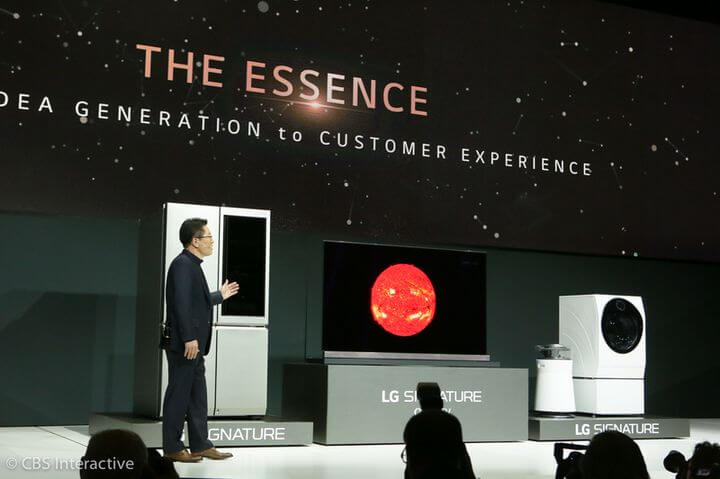 Winners of the "Best of Innovation" at CES 2016, LG Signature OLED TV boasts the ultimate elegant simplicity achieved by removing all unnecessary elements that could distract or detract immersion experience for the viewer. The TV has a unique design Picture-on-Glass, which makes the ultra-thin OLED panel of only 2.57 mm, the back of clear glass and speaker system in the form of Soundbar front. In order to achieve a modern profile TV that will fit into any interior, the designers have removed all unnecessary features and speakers placed inside its base.
LG Signature OLED TV has received the seal of UHD Alliance "Ultra HD Premium" which confirms that the device, among other things, meets the most demanding performance standards in the area of resolution, HDR, peak brightness, black level, color range and width of sound. With HDR capabilities, dimming pixels, 10-bit panel and processing power, feature ColorPrime Pro and the new webOS 3.0, LG Signature OLED TV to the latest TVs.
LG Signature: Washing machine as none so far
Washing machine LG Signature unique appearance is an advanced version of the LG Twin Wash ™, presented at last year's CES. LG Washing SIGNATURE charging front has an opening diameter of 24 inches, is durable, practical and sophisticated, and contains less washing MINI Wash beneath the main unit. The minimalist design is further enhanced user interface Quick Circle The touch and is embedded in the glass door at an angle of 17 degrees for better viewing in a standing position.
The washing machine door open to slight pressure on them and it can be done even when your hands are full, and the coating of enamel gives it a sophisticated and elegant look and refuses fingerprints and corrosion. Washing machine LG SIGNATURE comes with LG's own system Centum System ™ that improves durability and energy efficiency thanks to the advanced suspension system, but also reduces noise and vibrations during the wash cycle.
LG Signature: Refrigerator that reveals the freshness inside
Refrigerator LG Signature represents visualization of the essence to a new, fresh way that is both intuitive and evolutionary. As proof of the innovative spirit, LG went a step forward because it is its award-winning design Door-in-Door ™ feature added Knock on Door-in-Door which otherwise opaque compartment door to door becomes transparent by simply typing. So transparent surface allows users to peek into the refrigerator without opening the door which provides significant energy savings by limiting the loss of cold air. Another innovative feature is the Auto Open Door that automatically opens the door when an individual approaches the refrigerator so that the fast access possible even when hands are full of groceries.
LG Signature: Air purifier that cleans the air before your eyes
LG Signature believes that nothing is more important than clean air. Exquisitely designed air purifier LG Signature allows air cleaning process is a visual experience thanks to an innovative transparent panel. Packed with advanced features Aqua Cyclone, this air purifier uses the power of water to filter harmful chemicals and pollutants, while in the room makes a comfortable level of humidity. The device is equipped with LG's system of semi-permanent filter that allows users to remove, wash and re-use filters and up to 10 years, saving both time and money.
While the fine dust particles are usually invisible to the naked eye, users can check the air quality of their interior simply by looking at the indicator LG Smart PM1.0. Located about controlling the display, this indicator uses four different colored lights to indicate the concentration of superfine dust particles.
Source: LG newsroom
Look a video from russian roads: