On Kickstarter appeared unusual project – a digital storage medium, which, according to the creators, is capable of storing data for thousands of years. Startups from Grenoble say that the device is not afraid of the impact of water, fire, acid and other adverse factors. Compared with the stick, CD- and DVD-disks and other media that suggest, at best, the safety data for 30 years, Nanoform differs by several orders of magnitude greater stability, besides scratches and other mechanical damage he is not afraid.
Nanoform – the disc of artificial sapphire, which is processed by laser engraving. It should be noted that this material is the second strength of the planet, second only to diamond. It is used, for example, in the creation of braces for aligning teeth and gums successfully carries load for a long time without deterioration of mechanical properties and appearance. That is why Nanoform is unique – it will retain the most important digital memories and documents: birth certificates of children, the best photos, love letters, or the history of your community.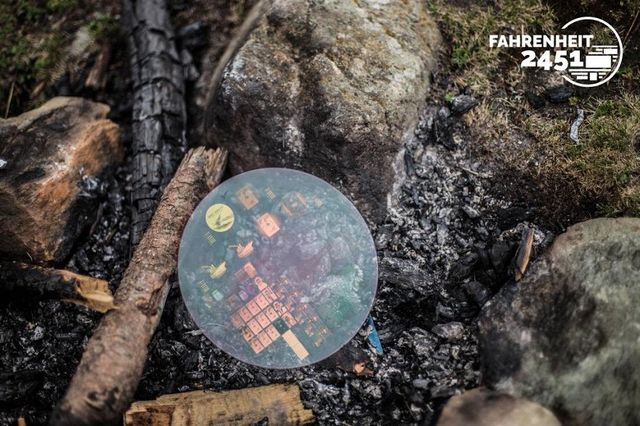 Artificial sapphire is not afraid of changes in temperature even if you dip into the lava Nanoform, nothing will happen. Slim elegant medium can become an ornament in the house, and in the event of an emergency situation (fire, flood, earthquake), you can easily find it and retrieve data.
However, there have Nanoform and disadvantages. For example, if a disc or USB flash drive, you can put your own information, the Nanoform made in the laboratory, and the amount of data is determined by its radius (although the four volumes of "War and Peace" on the carrier fit, because each letter has a height of 10 microns). Furthermore, it is impossible to overwrite the information. Finally, the drive stores only black-and-white photo or document images because of the peculiarities of the technology application.
Cost Nanoform 25 mm diameter is 130 euros; available for the application of surface – 12 000 x 12 000 pixels. 50-mm disc has fit the canvas size of 19 000 x 14 000 pixels; it will cost 250 euros. Decoded information will Microscope (100 euros extra) or digiskop (80 euros).
Look a video from russian roads: