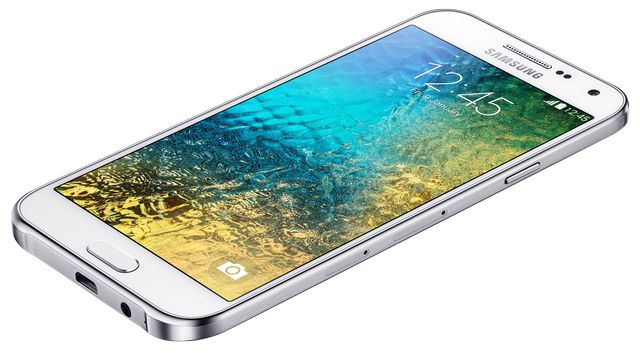 Acquainted with the possibilities of a new line of mid-price segment from Samsung. 4-core processor and 1.5 GB of RAM "under the hood", a 5-inch Super AMOLED HD-display, not the weakest battery, plus the design in the style of a metal apparatus A-series and a price tag of $ 270.How good dual sim Samsung Galaxy E5 and what it can offer to the user, see below.
Samsung Galaxy E5: Design
You should not hold their breath in anticipation of radically new design – Galaxy E5 much like gadgets more premium metal A-line, only to replace the metal here came the plastic. However, this "substitution" issues here only the frame around the body – a clear plastic with the texture "under the metal."
But the rear panel E5, as in the A-series gadgets, received a special non-slip and collecting fingerprints coating that can be painted in black, brown, or, as in our case, in white.
In its upper part to settle a little above the surface of the lens 8MP camera, LED-flash and a small square lattice multimedia speaker. Just below the logotype of the manufacturer.
Front panel device in turn remarkable metal grille earpiece set of sensors, eye 5MP camera, a mechanical button «Home» and two touch – the "Menu" and "Back", which lights up when you turn on your phone.

As for connectors and controls on the ends – the power button on the left and two slots for SIM-cards, right – volume rocker, which is necessary to "pull" the top – noise canceling microphone, and the bottom port microUSB, 3.5 mm audio jack and a second microphone.
Assembling the parts – no complaints, all the elements fit perfectly, no squeaks and not loose.
The smartphone is convenient and pleasant to hold – it is thin and lightweight, the course is short and clear buttons and plastic manufacture of high quality housing. For easy interaction with the gadget with one hand on the go, this includes just two modes: "One hand" and "Simple mode screen."
Samsung Galaxy E5: Display
5-inch Galaxy E5 is made by technology Super AMOLED. He is bright and contrast, has excellent viewing angles and thin side frames – due to what seems to be even more visually.
His resolution – 1280×720 pixels and pixel density per inch – 294. If you can not stare, pixelation is not visible – the image is smooth and very nice looking.
Automatic backlight adjustment here for some reason are not available, but you can turn auto brightness of the screen depending on the display mode to save battery, choose one of four display modes, and activate the "Outside", after which the bright sun will in no way interfere comfortable working with E5.
Multitouch technology can handle 10 simultaneous touches.
Well, another nice feature – good oleophobic coating – a finger across the screen slides easily fingerprints unobtrusive and eliminated quickly. But on the protective glass case with E5 manufacturer does not mention, but the two-week experience in the use I can say that it is durable.
Samsung Galaxy E5: Memory
The user Galaxy E5 16 GB of internal memory, and in addition to this – the ability to insert a microSD-card capacity up to 128 GB instead of one of the SIM-cards. So we'll have to choose between two SIM cards and the ability to expand the memory device.
I also note that no USB support OTG, which will not allow to connect to your phone external drives.
Samsung Galaxy E5: Features and performance
The Hardware Galaxy E5 is based on a 4-core processor Qualcomm MSM8916 Snapdragon processor with a clock frequency of 410 GHz and 1.2 Adreno 306 graphics and 1.5 GB of RAM.
Filling powerful enough, so the smartphone is easy to cope with any modern games and plays Full HD-video. Menu works quite smoothly.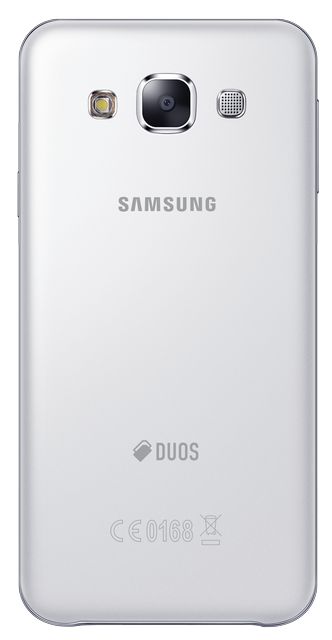 Samsung Galaxy E5: Wireless modules and communication
A set of modules wireless standard: Wi-Fi 802.11 b / g / n 2.4 GHz technology with Wi-Fi Direct, Bluetooth 4.0 (BLE, ANT +), GPS, Glonass and Beidou. So how does it all the same model of the middle segment, NFC is absent here. But the function is supported Screen Mirroring, which allows to broadcast content from Galaxy E5 on the TV screen.
Galaxy E5 supports simultaneous operation of two nano-SIM-card in the networks of the second and third generations: 2G GSM 850/900/1800/1900 and 3G UMTS 2100/1900/850/900.
Samsung Galaxy E5: Battery
Galaxy E5 is equipped with a battery capacity of 2400 mAh. To defuse it from 100% to 0 – 2:00 spend enough to watch a movie in Full HD resolution, the same amount for surfing the web, 1:00 to play Asphalt 8 plus about 3:00 conduct the conversations in 3G-networks.
Have not gone the traditional power-saving modes, among them the extreme, can conserve battery power by using the home screen theme in simplified grayscale.
Samsung Galaxy E5: Dynamics
Multimedia speaker smartphone one, and although it is small, but makes a loud enough sound, full of the whole range of frequencies. Even at maximum volume the sound is clean, but due to a projection lens camera, it is not suppressed even if lying on a flat surface.
Quality and supply volume of spoken and does not cause problems – The voice is still recognizable.
Samsung Galaxy E5: Camera
5MP camera features front Galaxy E5 enough to capture self and comfortable communicating in to Skype.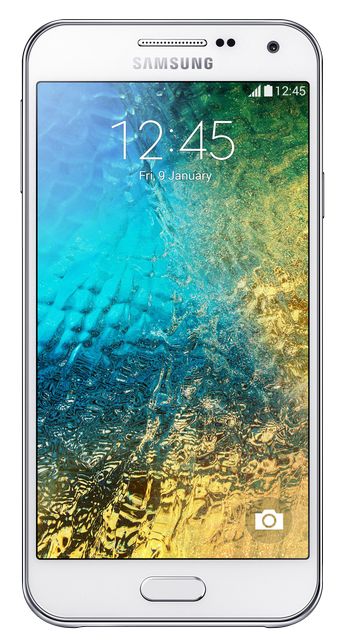 In the settings available for self-portraits with the help of gestures, voice, as well as function Avtoretush and Group Self.
The main 8MP camera smartphone complemented by LED-flash and autofocus.
In addition, as you can see in the screenshots below, in the presence of a large number of its settings and shooting modes.
In good light photos and videos are getting a good quality, but in the dark and in poorly lit room gets noisy and somewhat falls detailing subjects.
Samsung Galaxy E5: Software
Galaxy E5 is running Android 4.4.4 KitKat wrapper with firm TouchWIZ, but an upgrade to Android Lollipop manufacturer promised.
Interface, menu layout and configuration sections are similar to those in the previously tested Galaxy A3. Supports the ability to work simultaneously in two windows, control gestures, however, their set is minimal, provided the privacy sidebar virtual keys and news panel Briefing.
Conclusion
In general, we can conclude that the Samsung Galaxy E5, though pricey at the start of sales – $ 270, but by parameters such as brand reputation, reliability, assembly, appearance, comfort control, and balance work hardware and software bypasses most of its competitors in the price range up to $ 300.
What is lacking is the automatic control of display brightness, well, straight from the tin Android Lollipop. However, with respect to the axis, it is unlikely that a manufacturer with time "does not roll out" update – a smartphone to get something worthy of attention.
Look a video from russian roads: