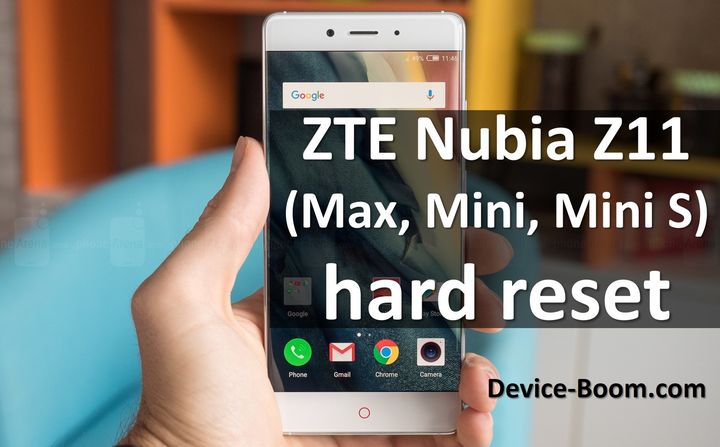 Here we explain how to perform ZTE Nubia Z11 hard reset. Also, you can use following steps to make hard reset on Nubia Z11 Max, Mini or Mini S. Further, we'll name different smartphones, but you should know that this method is suitable for each of them.
ZTE Nubia Z11 Max hard reset helps in many unpleasant situations: user forgot lock pattern; the smartphone hangs; sound does not work and much more.
You can use ZTE Nubia Z11 Mini hard reset for solution of any kind malfunctions, but remember that factory reset deletes all personal files from phone's memory. What are the personal files? Absolutely everything that you downloaded or installed from the moment you bought your smartphone: photos, contacts, videos, messages, applications, wallpapers, music and much more.
If you do not want to lose important files, then back up data. After performing ZTE Nubia Z11 Mini S hard reset, you can restore your personal files from a backup.
And one more important thing – be sure to log off from your Google account before ZTE Nubia Z11 hard reset. If you don't do this, then you will need to enter your login and password from Google account to get access to smartphone.
Are you ready? Let's start!
ZTE Nubia Z11 hard reset
Turn off ZTE Nubia Z11 (Max, Mini, Mini S).
Now press and hold Volume Down + Power keys.
After a few seconds you'll enter Fastboot mode.
Here you need to select "reboot to recovery mode".
Then choose "English".
ZTE Nubia Z11 Max hard reset is completed! The smartphone should be rebooted to exit the recovery mode, and you can use it as a new one.
Look a video from russian roads: