Class Platform All-in-One has long ceased to be regarded as some kind of exotic. Monoblock are becoming increasingly popular and this is not surprising. Productive functional system in the cabinet is convenient format for a variety of tasks. Of course, much depends on the particular implementation. Let's see how this system from all in One ASUS Vivo AiO V230IC, based on a new hardware platform with Intel Skylake processors and equipped with a host of useful options.
Design and layout: all in One ASUS Vivo AiO V230IC
The overall layouts of the class all in One ASUS Vivo AiO V230IC systems are already familiar. Before us dimensional display in which all the components are placed body. All you need to master, to start working with the system – connect the power supply and miniature transmitter to communicate with wireless peripherals.
System unit holds graceful legs. In spite of very modest size, it copes with this task. There is no backlash and wiggles. Hinge hard to measure the position of the screen is fixed perfectly. The overall design adds stability and a massive square base area.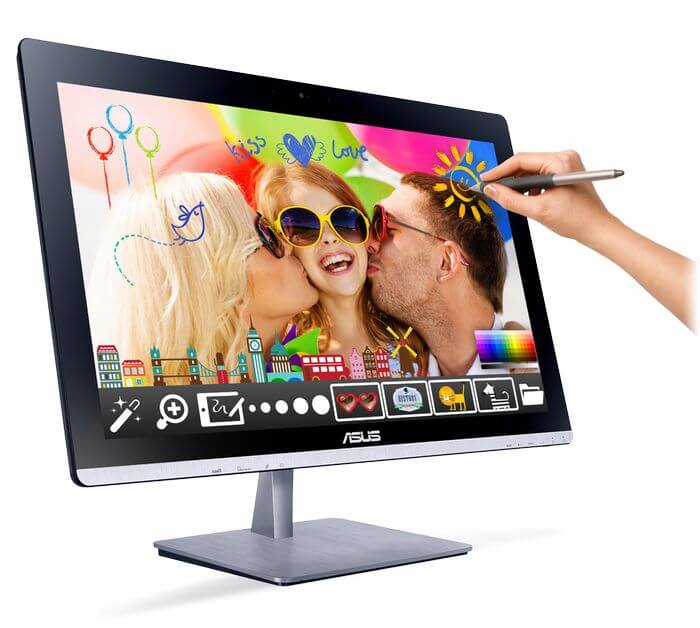 The system unit has a thickness of only 50 mm, but planning placement PC, you need to take into account the size of the stand, increasing the overall dimensions of width up to 200 mm. Approximately the same place can take the screen itself while changing the tilt.
The back panel of the all in One ASUS Vivo AiO V230IC is made of matte plastic, for which you can thank the developer. It is practical. Let's hope that the age of rampant shining gloss is over. Small glossy bezel running along the perimeter of the block, but it is so, echoes. The front panel is covered with glass. Screen Frames wide enough – 30-35 mm. The lower edge of the band highlighted in gray, on which additional symbols are applied.
The main part of the interface connectors located on the rear panel. There are 4 ports USB 3.0, one USB 3.1 with up to 10 GB / c, HDMI port, Ethernet socket and a connector for connecting an external power supply. An additional video output allows you to connect another monitor to display the image on a screen or using the projector.
On the bottom edge of the candy bar are also several interface connectors are located. In particular, there is one high-speed port USB 3.1, card reader slot, and connectors for headphones and microphone.
By using these connectors need to get used to at first just finding them by touch. The decision of non-standard, but that's exactly convenient option when all interface connectors are located on the rear panel. In the latter case, even the connection stick becomes a non-trivial task.
Just for situations where you need a USB to connect any storage device or a periphery, an additional port on the side of the stand. It's comfortable.
In the lower right corner of the available controls. This power button and the buttons are adjusted the brightness and audio volume. The panel also has not to attract additional attention to the indicators of the system and drive activity.
Qi wireless charging and NFC support: all in One ASUS Vivo AiO V230IC
The maximum equipped version of the candy bar got a functional stand. Besides the fact that it has a considerable size and copes well with its task, at the base of integrated module for wireless charging of mobile devices that support the Qi standard, and the ability for NFC communication.
A sure sign of additional features will be a small interface cable sticking out of the candy bar rack. It must be noted at the time of attaching the base. After connecting to the port, it fits neatly in a special niche, closed by a plastic cover.
After a simple procedure, we are able to replenish the battery power of smartphones that support the Qi wireless charging standard. By placing the appropriate unit on the left side of the stand, charging begins automatically. In the corner of the court lights up orange LED on your phone the message and the beginning of the process.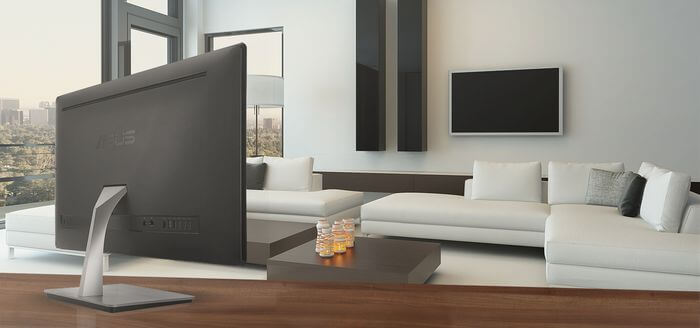 The beauty of this method of charging not appreciates until, until you start to use it in practice. It is very convenient to throw your smartphone on the platform and not worry about wires. In practice, the device is charging more slowly than from a good power supply with a wired connection. For example, in order to recharge battery 3000 mAh LG G3 from 20% to 100% took about 2.5-3 hours. Once energy balance replenished the warning lamp lights up in green.
Yes, wireless charging, not all are willing to smartphones, but the owners of vehicles for which it is, will certainly appreciate this additional opportunity.
Another interesting option is NFC module that is built into the right side of the stand. In this case, it may be possible to use for authentication on Windows, run the pre-configured application or transfer photos / videos from your phone to a PC.
Display: all in One ASUS Vivo AiO V230IC
Bar has a 23-inch display that uses IPS-matrix with a resolution of 1920 × 1080. Touch screen with multi-touch function, which supports up to 10 simultaneous touches.
High-quality screen – a prerequisite for the one-piece systems, because to replace this item is not no way. In this case, it applies a decent level panel. IPS provides wide viewing angles. As part of the color and no particular complaints, the matrix provides a color gamut, are close to the sRGB standard.
The color temperature is a little higher than the reference. Measurements are recorded 6800K. Barely noticeable minimum roll to cold shades. Gamma curve is not ideal, but the degree of this same curvature in the acceptable range, the image is well balanced. Contrast Ratio – 700: 1. The screen brightness is adjusted in the range of 26-212 cd / m2.
Given the presence of the protective glass, the display panel is glossy. Anti-reflection coating, in this case, and if used, the minimum because it will be necessary to find the optimal position of the candy bar, not to see the bright glare from light sources.
Platform: all in One ASUS Vivo AiO V230IC
The all in One ASUS Vivo AiO V230IC can be equipped with a variety of processors from Intel with Core 6th generation architecture. Starting from Pentium, ending with the Core i7. For the considered modification uses energy-efficient version of the Core i7-6700T.
Quad chip with TDP of 35 watts has a base frequency of 2.8GHz and can be accelerated under load up to 3.6 GHz. Hyper-Threading Technology enables the processor to process up to 8 threads simultaneously. Nominally, this desktop version of the chip with reduced energy consumption, which is a regulated reduction in operating frequency and supply voltage. The rest of it is actually no different from the classic top CPU models for desktop systems, so you can rely on the proper performance of the amendment to the operating frequency. Used for monoblock motherboard based on chipset Intel H110.
The all in One ASUS Vivo AiO V230IC can be offered in versions with 4 GB or 8 GB of memory. In our case it is 8 GB, the memory is used DDR3L.
With this operational processors Skylake standard work quite correctly, although its capacity is slightly lower than that of the DDR4. A pair of 4-gigabyte modules So-DIMM from Hynix operates in dual channel mode.
Considered all in One ASUS Vivo AiO V230IC version is equipped with a discrete graphics GeForce 930M. Mobile version of the video card is based on a Maxwell GM108 chip architecture, which includes 384 CUDA-calculator. Basic GPU frequency is 928 MHz, the chip during the operation can be accelerated up to 940 MHz. The adapter has an on-board 2 GB of DDR3 memory and a GPU communicates over a 64 bit bus. This entry-level discrete graphics, so too much should not be expected of it in terms of performance. Of course, it will increase the number of gaming features candy bar, but to a greater extent GeForce 930M is used to extend the functionality.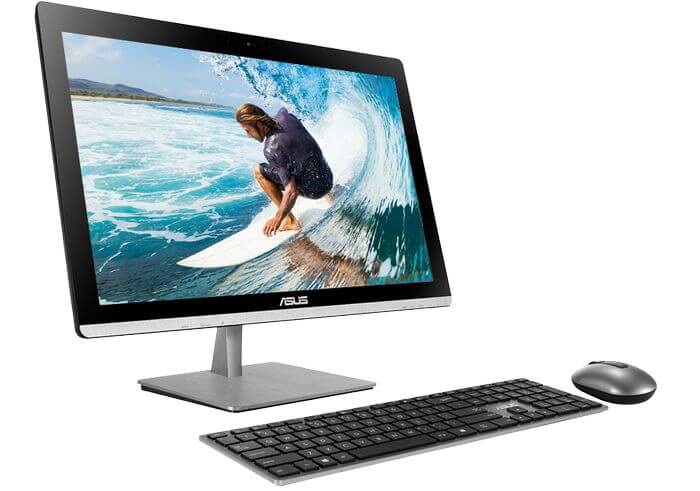 Also available is a processor and integrated graphics. Intel HD Graphics 530 is used in a mode with minimal impact to reduce power consumption. In addition, Quick Sync resources may be useful for video processing.
In the list of available drives for all in One ASUS Vivo AiO V230IC appear hard drives with capacity from 500 GB to 2 TB, as well as hybrid SSHD on a 1TB. This version is equipped with a HDD to 2TB. Interestingly, in this case a 3.5-inch model Toshiba DT01ACA200 with rotation speed of 7200 rev / min. The disc provides linear transfers at the level of 160-170 MB / c at the beginning and about 100 MB / c on the inner radius. In general, it is quite good for its class.
The "Great" HDD probably came as a surprise, for the candy bars are increasingly being used compact drives noutbuchnogo format. Here was a place for desktop hard drive respective dimensions. Drive by default transferred to the regime with a minimum of noise, because of the activity of the device often can be judged only by the signal indicator on the housing. Light chatter can be discerned only during the intensive search.
Unfortunately, the candy bar is not equipped with a solid state drive, the SSD is not provided, even as an option. Large volume – an obvious advantage of hard drives, but in terms of speed performance with SSD they cannot compete.
Bar also has at its disposal an optical drive – a multi-format DVD-RW x8 (Slimtype DA8A6SH). The device is housed in the right-hand side of the casing. The convenience of using a traveling drive tray, which is placed in a vertical position, cannot speak. Fortunately, the need for optics now minimized. But, if it does occur, the built-in drive is a godsend.
Performance: all in One ASUS Vivo AiO V230IC
System-wide performance is largely determined by the central processor. In our case, this is a very fast Core i7-6700T chip. There is no intrigue.
Economical version of a desktop CPU is different from the classic series models only minimally reduced operating frequencies, because of its high performance expected. Hence, the corresponding results in PCMark and CineBench.
Video card GeForce 930M 2GB – entry-level solution, because of the high results do not count in games and 3D-tests. The performance of this adapter is about 1.5-2 times higher than the integrated graphics Intel HD Graphics 530. Yes, in this case, any increase would be appropriate, but it is not a dramatic improvement, but rather the possibility to use NVIDIA technology for specific tasks.
However, increasing the frame / c as is. For example, with a native resolution mode with an average quality graphics in BioShock Infinite game, you can count on 25-30 frames / c; while the built-in videyadro provides about 15-20 frames / c. Modest GeForce 930M rescue is not in all cases. In Fallout 4 with Full HD graphics and minimal as we get a total of 20 shots / c. Although, to get playable 30 frames / c can be reduced resolution up to 1366 × 768. In general, much depends on the willingness of the owner to experiment with the graphics settings.
In any case, all in One ASUS Vivo AiO V230IC still not game the system, but rather a universal platform. In the considered configuration on the shoulder system virtually any task, with the exception of heavy toys.
Periphery: all in One ASUS Vivo AiO V230IC
The set comes with a monoblock set of wireless peripherals: keyboard and mouse ASUS AK1L ASUS AM1L.
Full-keyboard with extra number pad has a classic layout. Keys island type although reminiscent of notebook, but have a greater stroke length. In general, it is convenient to use. Mouse compact size and simple form with an optical sensor. To communicate with the radio system on a miniature receiver which is installed in one of the available USB connectors. For stand-alone power supply keyboard and mouse need two pairs of batteries / accumulators AAA format.
Heat and power: all in One ASUS Vivo AiO V230IC
The power consumption of the system in idle mode with minimum screen brightness is only about 30 watts. At the maximum level, the backlight will increase consumption to 45 watts. No-load the CPU temperature and graphics chip is at 40 degrees. Cooling system fan speed in such conditions is of the order of 1800 rev / min. Bar is very quiet.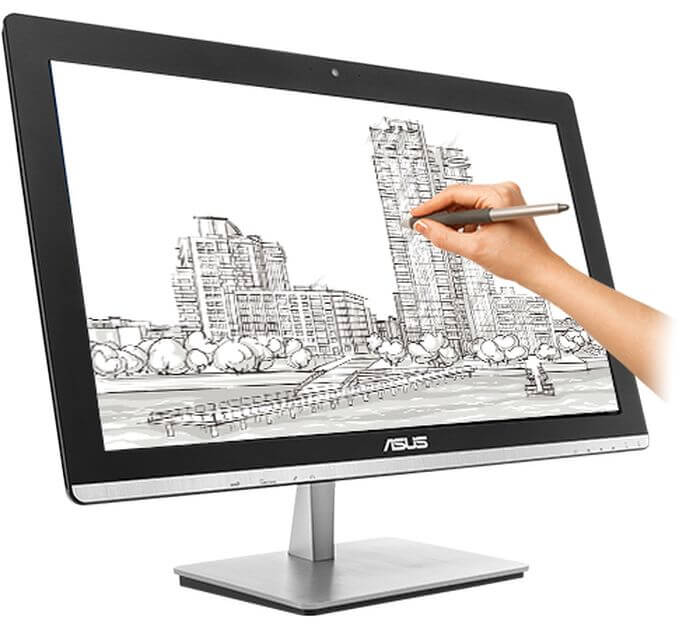 When maximum CPU load (stress test AIDA64), the temperature rose to 80-85 degrees. The fan speed will be increased to 3200 rev / min. Shelest CO is already well visible in a quiet room, but even in this case, some complaints of noise level does not cause. Consumption of such time is up to 90 watts. But it is rather a special case. In games monoblock consumes about 60-70 watts. In this case, the maximum load is on the card, while the processor is running is not at full strength. In the game cooling fan rotates at a speed of 2300-2500 rev / min. Noise minimally different from that in the rest mode.
Note that using a wireless charging system power consumption is further increased by 5-7 watts. In any case supplied with monoblock external power supply 180 W will be enough with a large margin. For models with integrated graphics unit is proposed capacity of 90 watts, for versions with discrete graphics – at 120 watts, and if a stand with wireless charging, it is suggested that the most powerful version.
Pros: Interesting design; Touch IPS-screen with a resolution of Full HD; Processor performance; Available USB 3.1 port; Location interface connectors; Support for wireless charging and NFC;
Cons: Price; Not available with options for SSD; Performance video
CONCLUSION: all in One ASUS Vivo AiO V230IC – a versatile 23-inch piece with a quality touch screen, the new platform Intel and enhanced functionality. The system has distinctive design neat and good equipment. Separately, we note the presence of USB 3.1 high-speed ports, wireless charging for mobile devices and the ability to use the advantages of NFC. As a serious gaming platform this model to consider is not necessary, but as a versatile PC that can even cope with demanding tasks, candy bar looks very convincing. Attraction system would add the availability of SSD, but as the drive is only offered capacious hard drives or hybrid SSHD.
Source: Asus
Look a video from russian roads: