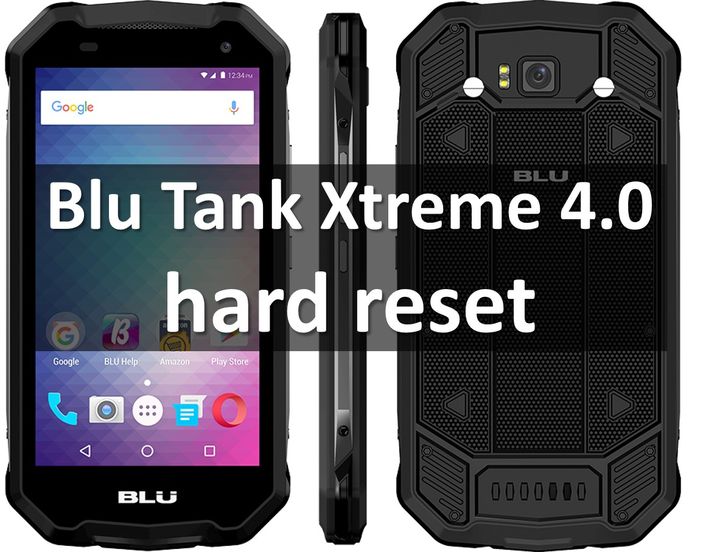 Here you will find instructions on how to do Blu Tank Xtreme 4.0 hard reset. You can use the steps below to restore factory settings, thereby fix software and system errors on your smartphone, or remove lock pattern.
The smartphone Blu Tank Xtreme 4.0 was released in January 2017. It is budget rugged smartphone with 4 inch screen and IP65 certification. You can use Android device under the water for some time, but not too long.
Blu Tank Xtreme 4.0 hard reset can be useful to every user of this smartphone. But before you begin to follow steps below, you need to backup data. Hard reset removes absolutely all files from the phone (except system), so you must save photos, contacts, messages and other important data.
Blu Tank Xtreme 4.0 hard reset
Turn off Blu Tank Xtreme 4.0. It is also recommended to remove the battery from the back panel, and insert it back.
Next, simultaneously press Volume+ and Power keys.
When you see several lines on the screen, release the keys.
Here you need to select "Recovery". Navigate through the menu using Volume+ key, and select Recovery using the Volume- key.
Next, robot appears with the inscription "No command". You need to press the Volume+ and Power button once.
As a result, you should be in Recovery menu. Here you choose "Wipe data…", as shown in the image below.
In the next window, choose "Yes…".
Wait until wiping is completed, and then choose first option "Reboot…" to exit Recovery menu.
Done! Blu Tank Xtreme 4.0 hard reset is completed. The manual is quite simple, and can be used on all Blu models.
Also, you can read about two others methods to perform hard reset on Blu smartphone.
Look a video from russian roads: