Karbonn A27 is available in several models, such as Karbonn A27 Plus and Karbonn A27 Retina. In this article you will find instructions on how to perform hard reset for all versions of Karbonn A27 smartphone.
Hard reset (aka factory reset) is a built-in function of Android operating system. Each user can perform a hard reset on their Android smartphone. However, some models of smartphones can have a slightly different principle reset to factory settings.
Warning: Karbonn A27 hard reset erases the internal memory of smartphone. Make sure that you have copied all important files from your phone to a computer or another safe place.
Now let's see how to perform Karbonn A27 hard reset.
Karbonn A27 Hard reset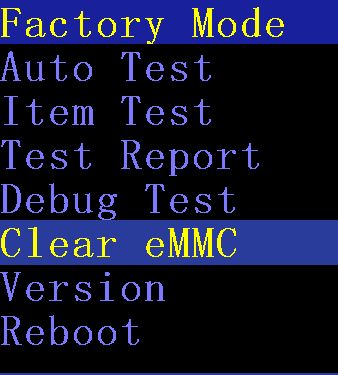 Remove battery from the rear panel of smartphone. After some seconds insert the battery back.
Press and hold Volume Down and Power buttons simultaneously.
Phone screen lights up and you will see company logo. Continue to hold buttons.
You can release buttons just after recovery menu appears.
Select menu item "Clear EMMC".
Wait until the process will be completed.
That's all! Karbonn A27 hard reset has done. Now you can turn on your phone and use it as good as new one.
Karbonn A27 Features
As we mentioned, several models of smartphone Karbonn A27 is available on the market. Each of them has its own features.
Karbonn A27 Plus is equipped with 5-inch display and resolution of 540 x 960 pixels. It has 1GHz dual core processor and 512 Mb of RAM. The rear camera of Karbonn A27 plus has 8-MP sensor. Smartphone runs on Android 4.1.
Karbonn A27 Plus has a slightly smaller screen size (4.2 inches), but the same resolution (540 x 960 pixels). Other features are almost identical to the previous model.
We can say that Karbonn A27 is a good budget Android smartphone. Karbonn A27 hard reset will help you solve a lot of problems with device.
Look a video from russian roads: