The official date of the presentation of the next flagship device from LG is getting closer, and leaks in the network – more and more. After flowed and spread rapidly official renderings LG G4, manufacturer gave up and started their own teaser main mobile product in 2015, first releasing various teasers and then does running a test drive lasting 30 days in India. Today, in a series of leaks regarding LG G4 arrived – there was a picture of the smartphone with an open popular system utility CPU-Z, which is able to tell you all about the hardware of Android-smartphone or Android-tablet photo shows, on the basis of the processor will operate G4.
According to the database CPU-Z, a new flagship smartphone LG G4 does not get top model series processor Snapdragon by American Qualcomm. Instead LG reasons unknown to us equip G4 six-core Snapdragon chipset 808, the composition of which has six cores such as ARM Cortex-A57. As a graphics accelerator perform Adreno 418. The application also claims that the process will build 28 nanometers, although in the case of the Snapdragon 808 assumes that this chipset will be built on a more energy-efficient 20 nm process. In addition, it should be noted that the accuracy is questionable hardware detection software, so, for example, never mind the label «Krait 450″.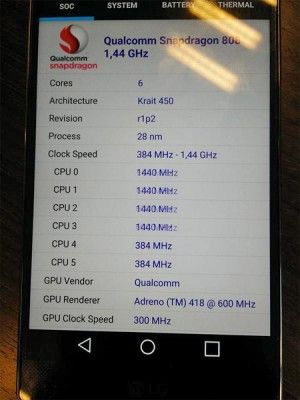 Clock operating frequency Snapdragon 808 is 1.44 GHz for LG G4 against 2-2.2 GHz core flagship competitive companies. Reportedly, LG goes towards throttling to G4 showed no high heating levels during operation with energy intensive tasks. Moreover, as revealed through the results of benchmark GFXBench, Adreno 418 graphics system was better as compared with Adreno 330, which is installed now in the LG G3, but remains behind the Adreno 430, which is equipped with a curved last flagship LG G Flex 2. Recall that all official Details will be announced soon – 28 April.
Look a video from russian roads: