In the era of large and insanely expensive smartphones, the size of a shovel, many users have a need for a compact and affordable gadget. If you do not need the power of the atomic icebreaker, a camera like a reflex, and a screen with a resolution greater than that of a home TV, it is possible to look at the model Lumia 532 DualSIM from Microsoft.
Lumia 532 Dual-SIM: Outward appearance
Lumia series of devices from Nokia, and then from Microsoft, has always differed from competitors bright appearance, found its expression in cheerful multi-colored buildings, which is a big plus for the available models. Also do not disregard the high build quality, regardless of the cost models. This fact adds a couple of points in the treasury gadgets Lumia. Since Lumia 532 does not look like a white crow, because in addition to the white body, there are other: green, orange and black. Will not be bored!
At the ends of the insert are translucent, giving the machine a bit of individuality. Small size smartphone weighs 136 grams, which is acceptable not only for affordable gadget, but for expensive flagship. Case thickness 12 mm and does not cause problems, especially in pricing for 532 minutes. The build quality is traditionally at a height – back cover is very tight, "sits" on the body, with the daily operation does not creak, and its matte surface in the case of contamination can be cleaned easily. However, it should still use your smartphone carefully to avoid causing and scuffs.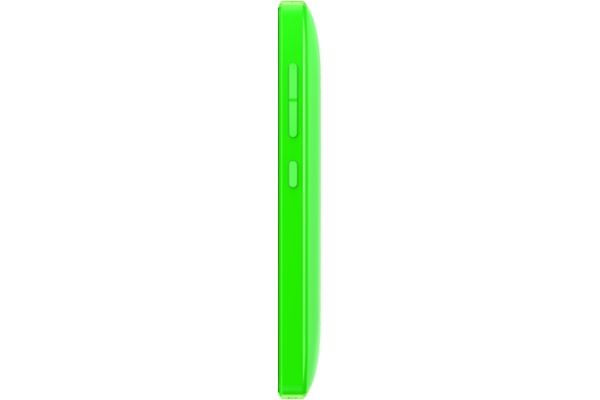 Under the hood, a removable battery, dual-slot mini SIM-cards and unobtrusive slot MicroSD. Mechanical power button and volume controls on the left side comfortable – the size is just right. Of course, it would like to see more camera flash or light, but neither one nor the other 532 minutes there. Although the app "Flashlight" can be downloaded from the store and use to illuminate the dark places of the screen of the smartphone. Overall, the gadget has an interesting, bright recognizable look that definitely sets it apart from the dull gray-black budget smartphones.
Lumia 532 Dual-SIM: Screen
By tradition in affordable smartphones Lumia put fairly simple screens. Who is tired of the "TV" 6 or 5.5 inches, welcome! Matrix with multitouch five clicks, a resolution of 480×800 pixels, coupled with 4-inch screen is surrounded by large frames – quite the expected choice for a budget model. The picture quality, as they say, "on the basis of price."
Color reproduction is more or less natural, you can without breaking sight, surf, pictures. The horizontal viewing angles are small, smooth adjustment of brightness is not as it is replaced by a three-tier.
Illumination power enough to work on the street.
Lumia 532 Dual-SIM: "Iron"
Lumia 532 DS built on a 4-core processor Qualcomm Snapdragon 200 processor with a clock frequency of 1.2 GHz. 1 GB of RAM is more than enough for most everyday tasks, as in standby mode without running applications is available 977 MB. There are no brakes during the test was not observed, the interface works smoothly, brake applications are not detected. Performance tests clearly confirm this.
Of the 8 GB flash memory 3.8 GB is available to the owner, plus you can use a memory card of up to 128 GB. This was not at hand, but on the 64 GB worked fine.
Small battery to 1560 mAh in the not the most active work with the included GPS and 3G lasts for two days. At extremely active work (if not literally clean up the smartphone in your pocket), the battery will ask for mercy after 10-11 hours. Support LTE is not fashionable, but in networks 3G Lumia accelerated to 16 Mbit / s at night.
The speaker is not too loud, but when the gadget is in a jacket pocket, the call can hardly miss.
With regard to the possibilities for navigation, the GPS-receiver copes with its task – with a "cold" start of the determination of the location takes about a minute. Visitors can use a proprietary navigation Here for movement by car and on foot.
The operating system Windows Phone 8.1 is more refined, than in the past. It has become easier to sort applications by combining them into folders, partly relieve the user to scroll through a long list. Now, the application of some specific topics will be in where the owner wants.
Lumia 532 Dual-SIM: Entertainment
Due to the fact that the display has a modest size and resolution, the model can not be required features theater as of gadget with a 6-inch screen. But if you really want, it is best to put the VLC player, play almost all formats. However, it should be borne in mind that the HD-video (720p) gadget will not pull – The picture will be played with jerks, but the lower resolution videos is no problem. Fortunately, finding the right quality content on a vast web – no problem.
For music, you can not install additional player, as a preset and so normal.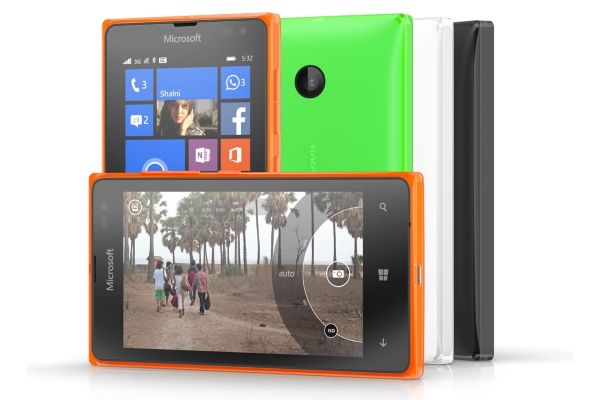 Decent sound quality through headphones Jabra Sport Plus and quality wired 'ears' suit most users, and the volume reserve will block noise metro and other transport. Equalizer is available, and even good, so do not be lazy to find the settings to your liking.
FM-radio standard works when headphones are connected, supported by RDS, and very much like the recording function with ether.
5 megapixel camera with fixed focus – not a strong point of the smartphone, but it does its job fine. But by relieving it is also something that depends.
Lumia 532 Dual-SIM: Result
For a modest fee, you get not the most powerful, yet stable operating smartphone – a kind of advanced "dialer" with extended functionality. It does not replace the camera and will not be portable cinema, but their direct duties will perform at a decent level.
Look a video from russian roads: