With the latest Android tablet, Samsun decided that the only way to defeat his main rival, Apple, confront him on all fronts. Samsung Galaxy Tab S2 9.7 offers the same screen size, the same resolution and the same price as the iPad Air 2, while the Samsung Galaxy Tab S2 8.0 offers the same screen size, screen resolution, and a price tag that is you guessed it, iPad Mini 4.
I liked the 9.7-inch Galaxy Tab S2, but he lost several rival Apple, in terms of performance, not to mention the fact that he had a strong opponent on the other side, represented by the smaller Google Nexus 9, which promises a much smaller price tag, inter alia. Samsung Galaxy Tab S2 8.0, the review we conducted, no longer feels the threat from Google and its "budget" tablet. The difference between the diagonals of an inch, which corresponds to 30% of the useful screen area, however, Galaxy Tab S2 8.0 to 2.4 mm thinner and lighter than 35 grams Nexus 9, however, it is a much more compact device, along with other advantages. Review Samsung Galaxy Tab S2 8.0 more …
Build quality Galaxy Tab S2 8.0
The tablet seems incredibly thin and light, it is very pleasant to hold and use. Compared to the 9.7-inch version, Galaxy Tab S2 8.0 is much easier to hold with one hand in portrait mode, and the fact that you can easily stretch your fingers on the side of the tablet, the device makes you feel better protected. The size of the display that you prefer is a matter of taste – some office workers prefer larger screens for watching movies – at least you will not lose in the resolution of the screen, selecting a smaller model of the tablet Samsung.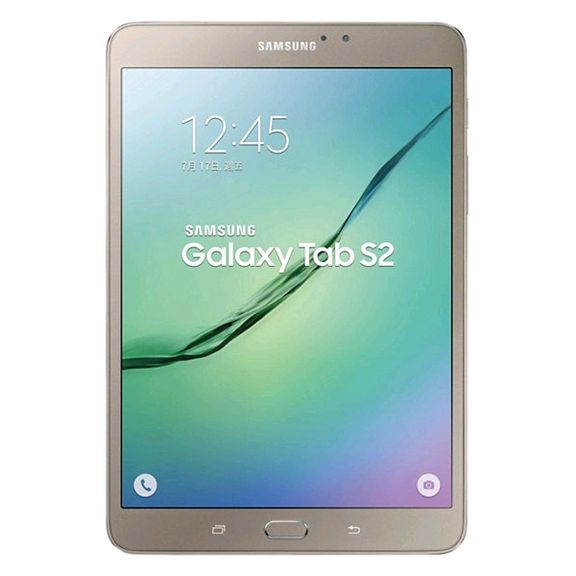 One striking aspect of the new tablet Samsung – excellent build quality. Like his older brother, Samsung Galaxy Tab S2 8.0, we conducted a review which feels hard, no caving in the body. On the contrary, most artifacts appear on the screen iPad Mini 4 when you squeeze the back of the tablet on the right side. Galaxy Tab S2 8.0 is slightly thinner iPad Mini 4, 5.6 mm compared to 6.1 mm. Rounded edges iPad Mini 4 potentially finger-friendly, but the sharp edges Galaxy Tab S2 facilitate the capture of the tablet.
Display Galaxy Tab S2 8.0
In terms of size and resolution, the panel Samsung Galaxy Tab S2 8.0 corresponds to a competitor from the camp of Apple. This 8-inch panel with a resolution of 2048 x 1536 and a ratio of 4: 3; Until recently, the majority of Android-plates have a ratio of 16: 9, but the rectangular 4: 3 screen are becoming more popular. Some argue that the 16: 9 ratio better for watching movies, but I think that the 4: 3 is much more convenient to view web pages in portrait mode.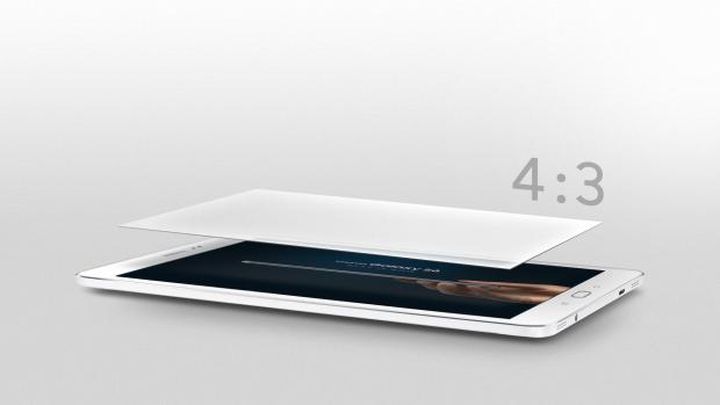 This is an excellent screen. Its AMOLED-technology means that black is really black, unlike clarified black LCD panels. The technology also offers a high level of contrast. The display is not as bright as LCD panel iPad Mini 4, with a maximum brightness of 346 cd / m2, compared to 439 cd / m2, but the panel is still bright enough for use outdoors. Some differences can be seen when comparing the tablets side by side; the iPad screen was a little cool, but warm display tablet Samsung forced to give the yellowish image. Both screens are equally fun to use, they also demonstrated the same volume on the test images.
Performance and battery life
The new Samsung Galaxy Tab S2 8.0, equipped with 8-core Samsung Exynos 5433, as the Galaxy Tab S2 9.7. This processor has a quad-core 1.9 GHz with tact for high load and four cores with a clock speed of 1.3 GHz, designed to save battery power when the smartphone is working with resource-intensive tasks. Since the Galaxy Tab S2 8.0 has the same chip as the 9.7-inch model, I expected to see a similar performance on the tests, mainly justified. The figure of 1012 points on the tests Peacekeeper, and 4182 points on multi-core test in Geekbench, were almost identical, but smaller tablet given on graphics tests: GFXBench collected 957 points with the Galaxy Tab S2 9.7, but an 8-inch tablet Samsung scored only 569 points. We suspect that the blame for the problem to remove heat in a smaller package, but it's just a guess. You will not have problems with the game Hearthstone on this tablet.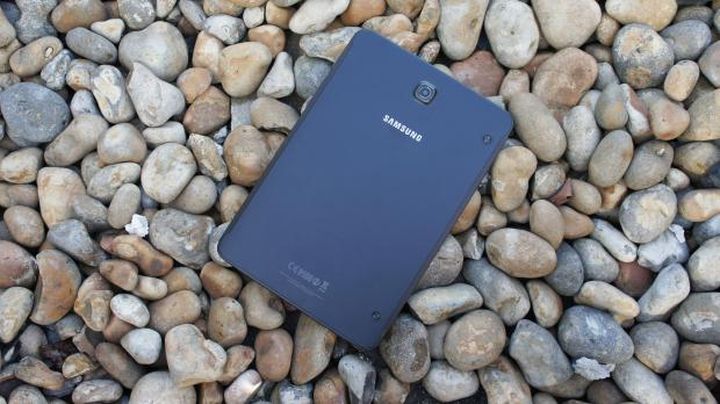 Review Samsung Galaxy Tab S2 8.0 also showed that the tablet slowly iPad Mini 4. While Apple tablet has proved to be slower on multi-core benchmarks Geekbench, typing just 3058 points compared to 4182 points Galaxy Tab S2 8.0, on a single-core tests, it turned out to be faster, than twice, and offscreen tests GFXBench, Mini 4 marked in 1330 points. iPad Mini 4 is also much faster in the test browser Peacekeeper. While the Samsung Galaxy Tab S2 8.0 only managed to score 1012 points, iPad Mini 4 raked in a whopping 3064 points.
Peacekeeper tests particularly good coverage of the difference in performance of the two tablets. However, in practice, both the tablet showed a smooth performance on web-pages, but the Galaxy Tab S2 occasionally suffered from interruptions during zooming, and are not always immediately responded to some gestures. iPad Mini 4 did not experience such problems.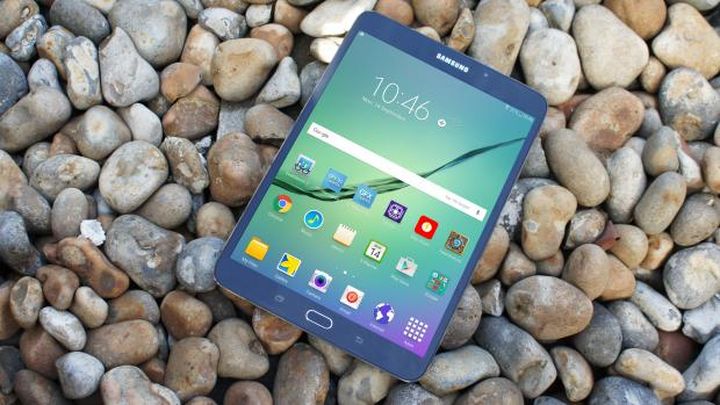 And while it may be a little slower, the new Samsung Galaxy Tab S2 8.0 wipes the floor plate Apple, when we talked about the division of the battery. On tests of continuous video playback, tablet Samsung served 14 hours and 7 minutes, and a competitor of Apple gave up the ghost after 10 hours and 43 minutes.
Verdict: Samsung Galaxy Tab S2 8.0
If you are looking for a compact Android tablet, there is no doubt that the Samsung Galaxy Tab S2 8.0 the best you can find. The plate, of course, has a high price, but a great screen and excellent battery life should not be overlooked. We would like to recommend this tablet, buyer. However, if you are not tied to the platform Android, I believe, iPad Mini 4 has advantages. Apple's tablet can play in the field of battery life, but with a similar screen as it is much faster. If you are looking for something completely different, take a look at our review of the best tablets.
Source: Expert reviews
Look a video from russian roads: