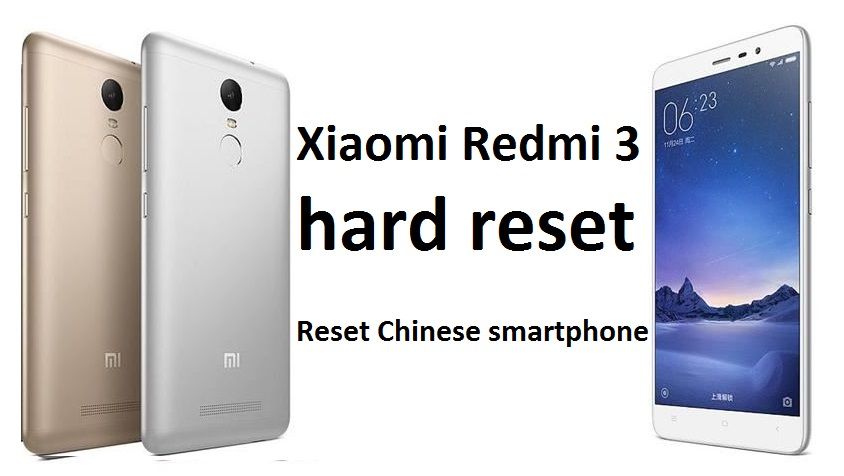 Xiaomi Redmi 3 hard reset is the best way to restore original settings of smartphone.
Like any other Android smartphone, after some time of use Xiaomi Redmi 3 starts to run slower, or system errors occur. If you faced with one of these problems, then hard reset is ideal solution. After you perform Xiaomi Redmi 3 hard reset, your smartphone will be back to factory settings, and it will work like new, just bought at the store.
Please note that after hard reset all your personal data, including photos, videos, contacts, applications, etc., will be deleted. Therefore, before proceeding to the instructions on how to make Xiaomi Redmi 3 hard reset, you should back up your smartphone data.
Note: Instructions may not be suitable for Xiaomi Redmi 3 with MTK processor and locked Bootloader. Before peforming hard reset you need to unlock Bootloader. How to do it you can read in this article – "How to Unlock Bootloader Xiaomi – Detailed instructions".
Xiaomi Redmi 3 hard reset via the recovery mode
First, you need to turn off your smartphone Xiaomi Redmi 3.
Further it is recommended to remove the SIM card and MicroSD card, not to damage the data on them.
Now press and hold the power button until you feel the vibration from the smartphone. Then, press the Volume Up button and hold for 10 seconds.
You can release Power button when you see Mi logo on the screen of your smartphone, but continue to hold Volume Up button until the boot recovery mode.
Then you must select English language by using the volume keys, and press Power button to confirm your choice.
We are interested in the menu item "Wipe and Reset". Select it with Volume keys and press Power button for confirm.
In the new window, you must select the menu item "Wipe user data".
Press "Yes" button, you agree to delete all user data.
Wait until the process Xiaomi Redmi 3 hard reset is completed.
The final step – select "Reboot"
That's all! You have successfully completed Xiaomi Redmi 3 hard reset. You can turn on your smartphone, and ensure that all data, settings and errors removed.