Samsung is within the MWC 2015 introduced the newest flagship 2015 GALAXY S6 and S6 Edge. Manufacturer heard the wishes of consumers and are now deprived of the flagships of plastic – in front of us a combination of glass and metal. The Koreans, however, decided to "decorate" a barrel of honey spoon of tar – they fight with customers 22 000 more than only green and engraved number device. The company did not stop with experiments and now appeared limited edition GALAXY S6 edge of the universe Marvel.
Concept GALAXY S6 Edge Avengers Edition, seems so pleased with Samsung, they have decided to implement it, even if only in the version of Iron Man. The device has received a corresponding red-gold color, and the kit includes several bonuses (apart from the spectacular package), including a stylized wireless charging.
From the regular version of the smartphone there is a small difference – on the back of the smartphone is shown instead of the mask Iron Man already hackneyed labels. However, the company's logo on the front side of the gadget not gone anywhere. That several countries, there is not a maximum storage – 64 GB. What is the reason, it is very difficult to say.
In Korea, the GALAXY S6 edge Iron Man Limited Edition will go on sale on May 27 and June gadget gets to China and Hong Kong.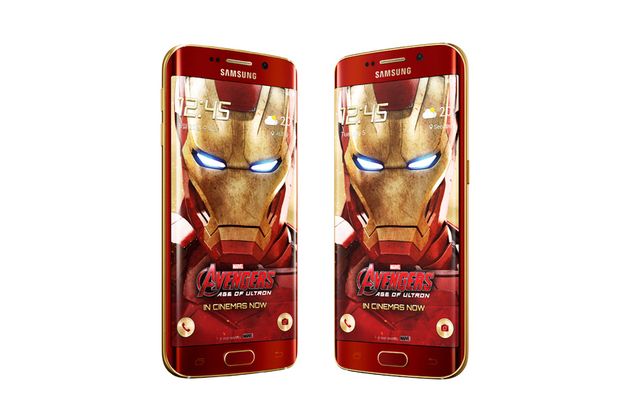 At Samsung already has experience in producing limited collections from the past, for example, it marked GALAXY Alpha, which was leather "backs." Note, the South Korean manufacturer has already integrated the characters of the popular series of comic books and movies to your planshetofon GALAXY Note 4 – you can install them as a pointer pen (in the software Pentavar). For the current flagship, the company has a scattering of stylized accessories, including covers.
Recall, Samsung GALAXY S6 Edge made in the case of glass and metal, and has a 5.1-inch curved AMOLED-display resolution Quad HD (2560×1440 pixels), which is equipped with a protective glass Gorilla Glass 4. Inside – 8-core Samsung Exynos 7420 processor frequency 2.1 GHz and 3 GB of RAM.
The device is equipped with a fingerprint scanner, combined with one of the touch keys, as well as two cameras – front and 5 megapixel main 16 megapixel. Another feature of the model – the possibility of rapid recharging in 10 minutes to a level that provides up to 4 hours of battery life (its full capacity – 2600 mAh).
Look a video from russian roads: