The Redmond company introduced five new models of smart-line technology in Sky Home. The device supports remote management from a smartphone. Sky Home – series, which was a continuation of the line Sky Kitchen, announced earlier. It will complement the organic system of "smart" home and turn the room into a single intellectual space.
SkyAirClean 3706S – a unique air cleaner, which provides air purification at the level of 99.95%. It not only eliminates dust and dirt, and ionizes air, removes the bacteria, allergens and particles that cause odor. The level of air pollution can be monitored from a smartphone, the addition of a proprietary software Ready for Sky – universal for all smart-device line. The smartphone is also used for remote device management. The data on the screen to help you know when cleaning the air is really needed, and when SkyAirClean 3706S for energy savings can be turned off.
SkyDew RHF-3310S – a humectant, which is controlled remotely (smartphone), or manually. The display device displays the temperature and humidity, as well as a number of other parameters. The device can maintain comfortable conditions in the room and water tank capacity of 5 liters enough for 10 hours of continuous operation.
SkyFan 5005S – columned outdoor fan. In the application, you can adjust airflow power by choosing one of three operating modes, set the direction of the device, set the timer on and off. The fan has a built-in thermometer, which transmits the actual data on the smartphone. Function Breeze natural circulation prevents the occurrence of drafts, so you can even use a fan in the room for children.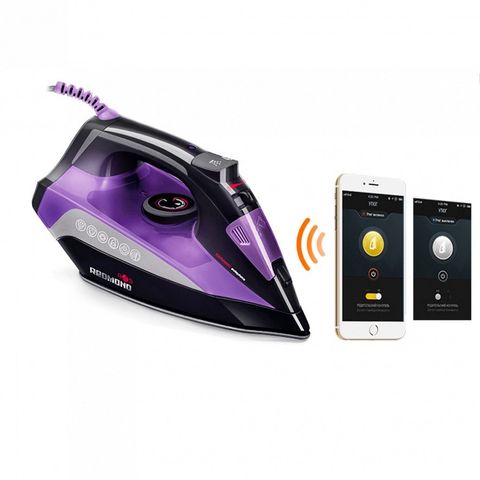 Heater SkyHeat C4519S ceramic heater – another representative of the line smart-technology Redmond. He has a high level of fire safety, does not consume oxygen in the room and does not dry the air. Enable and disable the device can also be from a smartphone – it is the manufacturer offers application Ready for Sky. In addition, the heater is equipped with an intelligent heating, which responds to the appearance of people in the room, and starts the device into operation only at the right moment to save electricity. SkyHeat C4519S has two modes of operation, the possibility of deferred start-up and shutdown timer.
Finally, iron SkyIron C250S with remote control – a clever technique that eliminates the experience. The application for the smartphone is displayed in what position is currently irons (vertical, horizontal or side); of course, turn on and off it can be remote. Another safety feature – remote lock iron with ceramic sole: when it was installed, no one can turn on a "smart" appliance while attached to SkyIron C250S smartphone will not appear in a radius of 10 m.
Look a video from russian roads: