Stabilize racks automated impossibly so-called «actioncam» increasingly becoming common in the network (on-line in this case) stores, despite the fact that the predominant part of them are portable systems. GoPro StabCam slightly different from the mass of the whole, however, it can be attached to any existing apparatus for GoPro. As an added bonus, this device can automatically keep track of a moving object.
StabCam 3-axis corresponds to all models GoPro Hero, provided that they are not a standard feature and housing some additional lotions. Since this device works with mounts GoPro, which means it can be mounted on a helmet for any sport, to attach the suction cup to the windshield of the car. A protection against the effects of weathering, as well as moisture, does StabCam just the perfect way to create stunning digital chronicles their sessions holiday in the mountains, the sea, the desert, the mountains, yes anywhere in general.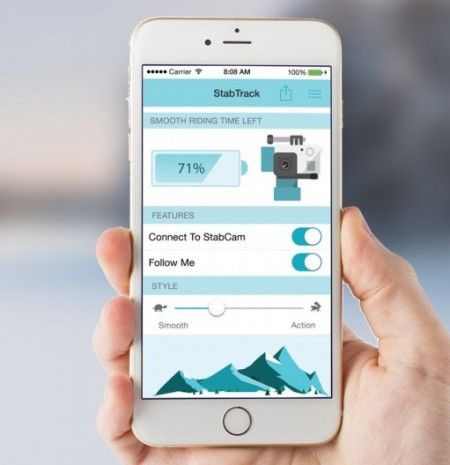 Energy supplies and removable replaceable battery, which, according to preliminary reports, can last on a single charge for about two hours, if not too frequently switch between different modes. As with some cameras to drones, this device is an optional function tracking withdrawn purpose. In this mode, the camera focuses on the position of the moving smartphone user or someone else. Using data from the GPS and accelerometer in the phone, the system fails to measure their whereabouts. The camera will select a shooting angle best suited for specific given situation.
Designers are planning to start a campaign StabCam Crowdfunding to raise money for the project. The first will be able to qualify for such a device for $ 179, with a projected sales price of $ 279.
Look a video from russian roads: