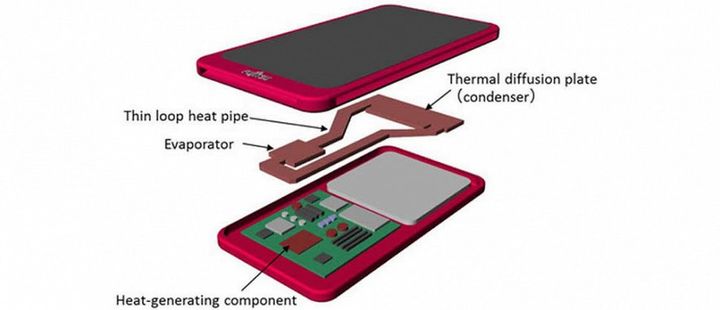 While HTC is desperately struggling with the problems of overheating in the recently launched flagship HTC One M9, other manufacturers offer their solutions to combat the lack of data. So, Fujitsu has developed a water cooling system, which is adapted for use in smartphones.
According to the manufacturer, the technology loop heat pipe (loop heat pipes) can achieve up to five times more heat than when using conventional metal or graphite heat sinks, which are sure to Fujitsu, have reached their limits. Thus, it is thin enough to no noticeable increase in the thickness of the heat exchange system set with a liquid coolant which makes it move the hottest heat to cooler portions of the device.
The liquid is contained in a closed circuit, in which it is moved. Loop heat pipe includes an evaporator, absorbing heat from its source and the capacitor discharge, which dissipates heat to the two component tubes are connected in a closed loop. In the place of the heat source begins to evaporate the refrigerant, and the energy that appears in the process is removed from the source, thereby lowering its temperature.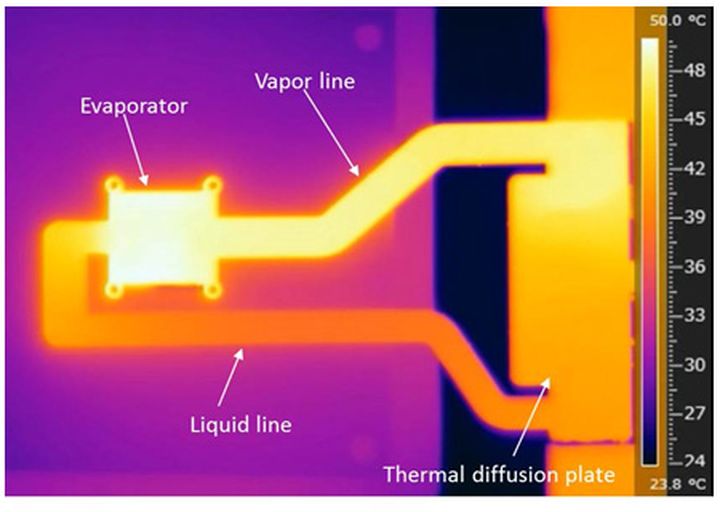 Composed of copper sheets (six components) with tiny pores inside the evaporator mimic sponge to create a capillary action, which leads to fluid movement through the tube, ensuring availability of the system regardless of the position in space of the gadget.
Cooling system with the liquid element is not new for the electronics industry, but here the company managed to reach a new level – the thickness of the unit is slightly less than 1 mm. In addition, Fujitsu claims that the battery life loop heat pipe is not affected since the motion is provided by heating the cooling element.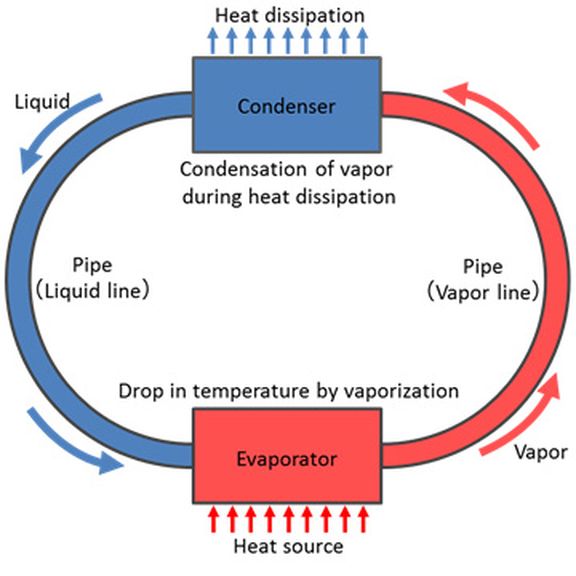 High heat also causes a fire smartphone – recently a Chinese phone exploded in the hands of women, LG G3 on fire in front of its owner, iPhone 5c injured his owner, and earlier Apple iPhone 5 exploded during a call on it. Potentially, such a system would reduce the already small number of cases if it will be possible to place in the battery.
Craze minimizing the thickness of smartphones and the emergence of more productive chipsets, video recording in 4K resolution and 3D-demanding games leads to the fact that modern gadgets sometimes noticeably hot. Development of Fujitsu, in the case of its promotion will be able to eliminate this problem, but for the record with the thickness of the structure inside the fight will not work.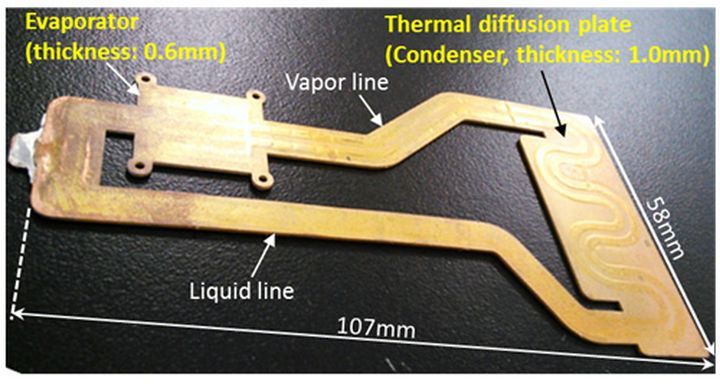 Moreover, the unusual decision will bring the performance of smartphones to a new level, as the problem of high heat and inability to install active cooling seriously hampering companies producing chipsets. The main thing that the batteries were ready for that, in turn, had to take.
Source: ZDnet
Look a video from russian roads: